Unbeatens clash with DODEA-Japan football bragging rights on line
by
Dave Ornauer
Stars and Stripes
September 16, 2021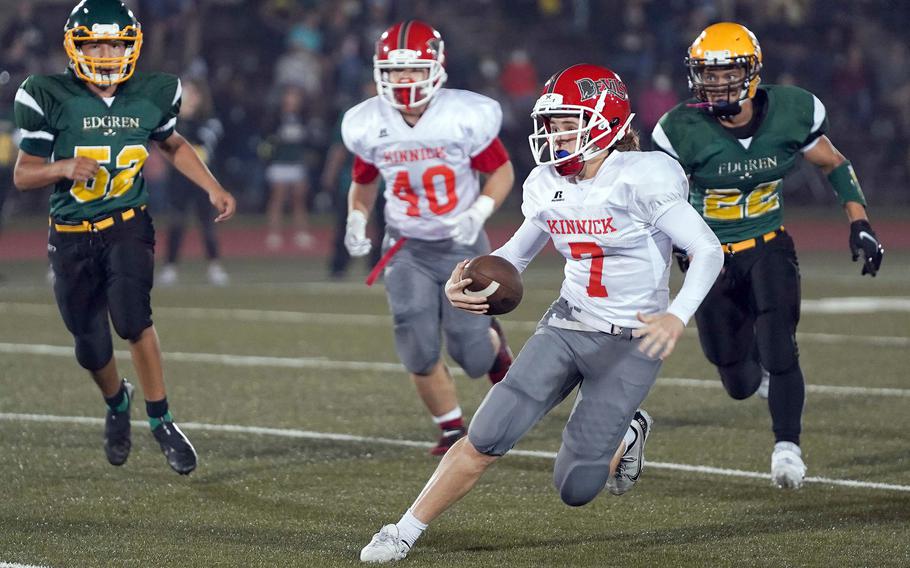 Nile C. Kinnick's spread-option takes on Matthew C. Perry's ground machine in a battle of football unbeatens at Yokosuka Naval Base, with command of the DODEA-Japan race at stake. Kickoff is at 6 p.m. Friday at Berkey Field, with the forecast calling for rain, heavy at times.
While both teams feature potent offenses, coaches say the outcome will likely come down to winning the battle in the trenches.
"This is going to be a well-coached game with players as tough as nails and we're going to have to fight for every stop," Kinnick defensive coordinator Gary Wilson said Wednesday, two days before the game.
"We need to win the battle in the defensive line and be mistake-free on offense," Red Devils head coach Dan Joley said.
The Red Devils' attack centers around senior first-year quarterback Zeke DeLaughter, who's 27-for-40 for 526 yards and 11 touchdowns in three games, all Kinnick wins, with a band of four tall, quick receivers: Twins Ryo and Kou Nishiyama, Daniel Burke and Justin Rose.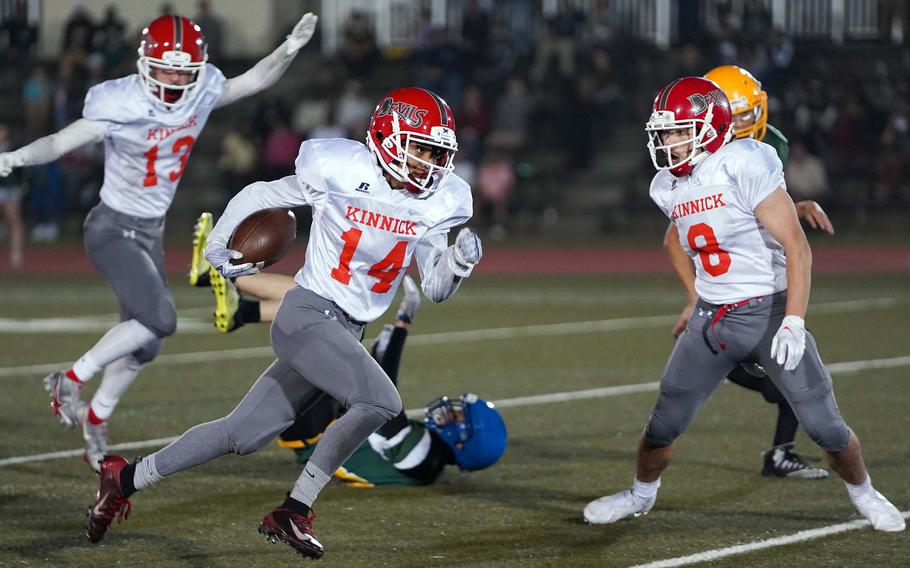 The Samurai, meanwhile, have traditionally gone with a grind-'em-down double-wing set that gains a few yards at a time and eats up the clock, to the tune of 391 yards and two TDs on 93 carries in two games, both Perry victories, one at home, one on the road.
Yet Kinnick is also efficient on the ground, thanks to running backs Branden Euceda and Kaito DeMoss. And the Samurai can also spread things out, with receiver Shion Fleming (three catches, 120 yards, three touchdowns) and running back Denzel Gray (257 total yards, two TDs).
It's a question of which team can control the line and shut down the opponent's offense, Joley, Wilson and Samurai coach Frank Macias said.
"It depends on their physicality," Macias said. "We can control their time of possession if we can control the line of scrimmage."
The Samurai plan to play keep-away if they can, keeping the ball out of DeLaughter's and Kinnick's offense's hands, Macias said. "But we will need some big plays" like Perry had in its 42-28 opener against Zama on Sept. 4. "They (Red Devils) can score points fast."
If DeLaughter has trouble finding open receivers, "he can scramble and pick up yards as needed," Wilson said.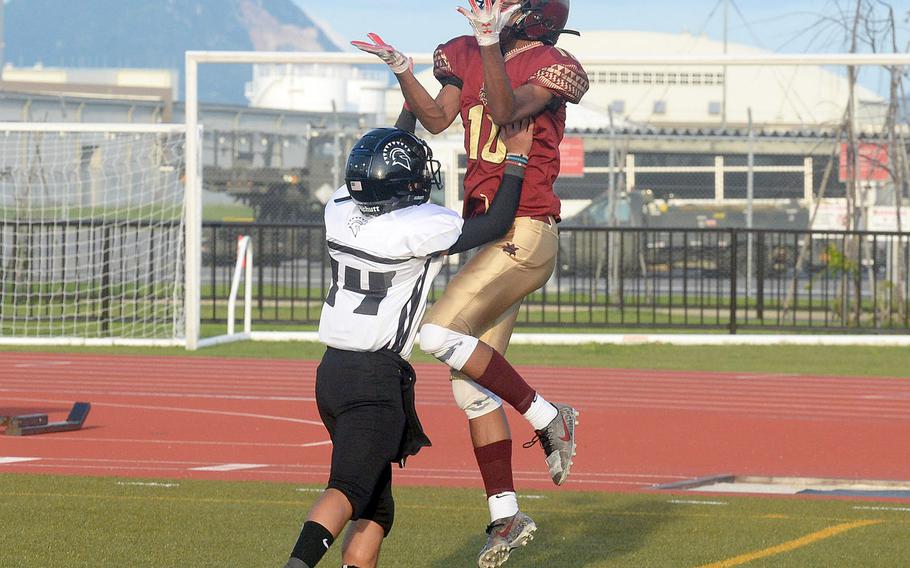 Matchups may also factor in, Wilson said, with the threat of Fleming looming large. "They (Samurai) have a running game that's tough, (but) if they go into a spread, that can cause matchup problems," he said.
"You stop one thing, but how do you shift from their wedge to their spread? That's a challenge, how to match their changes in formation. And I think they're faced with something similar, us going from a two-back to a four- or five-receiver set, that can cause matchup problems."
Kinnick also has home-field advantage, while Perry for the second straight week faces a long-haul bus ride followed by the game a few hours after; the Samurai beat Yokota 17-6 after a similar long-haul trip last weekend.
"Any of those long hauls, kind of an advantage to the home team," Wilson said. "We'll see who shows up on top at the end."