Will it be divide and conquer for Humphreys?
by
Dave Ornauer
Stars and Stripes
September 10, 2021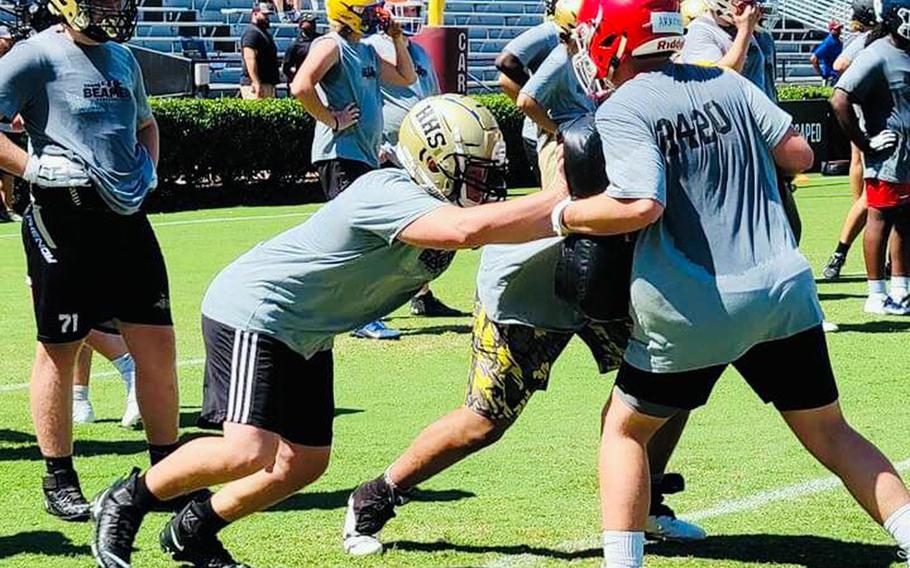 Sixth in a series of DODEA-Pacific high school football previews.
Ethan Elliott was a standout for Humphreys' golf team last fall. Then a sophomore, Elliott captained the Blackhawks' Gold split-squad team and was named Humphreys MVP in the first season the sport was played by DODEA-Korea schools.
Turns out, golf was just a detour for Elliott while he awaited football's return for the 2021 season. The 2020 season was canceled due to the coronavirus pandemic; he played for the Blackhawks as a freshman.
"It's a little bittersweet," said Elliott of leaving the links for the gridiron. He's an offensive lineman for one of Humphreys' two split squads. "I like golf and was thankful for the opportunity, but I love football and really missed it last season."
Elliott, son of former Blackhawks coach Steven Elliott, spent part of the summer at University of South Carolina's Shane Beamer football camp, "and I've been in the gym lifting and keeping in shape for the season," he said.
Only two DODEA-Korea schools are playing football this season, Osan and Humphreys.
For the first time since DODEA-Korea began sponsoring football in 2003, Daegu, citing too few available players bodies out of a total enrollment of 130 as of Sept. 6, will not field a team.
"Hopefully, we'll have it back next year," Daegu coach and athletics director Blake Sims said late last month.
To ensure there would be more than two teams playing this season, Humphreys – with its enrollment of 656 – divided its player pool into two teams. Osan's enrollment is 267.
"We have formed two varsity squads within our ranks, while keeping our 'One family, one team, never quit' mindset," said Wilburt Key, head coach of Humphreys 2. Tyler Greve, a former Arkansas State offensive lineman, is coaching Humphreys 1.
Only five total players return from Humphreys' 2019 season, which ended in heartbreaking fashion, an 18-14 loss at Kadena on Nov. 9 in the Far East Division I championship game.
Key said he considers the entire Humphreys program "in the rebuilding stage" to eventually return to their championship contending form. The Blackhawks have one Far East title to their credit, the 2017 Division II crown; they moved up to D-I in 2018.
Elliott plays for Humphreys 1. Junior Sean Cook will quarterback Humphreys 1, while sophomore Thomas Benesse calls signals for Humphreys 2.
The two Humphreys teams begin the DODEA-Korea regular season by facing each other Friday. Humphreys 1 visits Osan in the first inter-school game Sept. 24.