Ground-bound Perry gets a bit of air as well to top Zama
by
Dave Ornauer
Stars and Stripes
September 4, 2021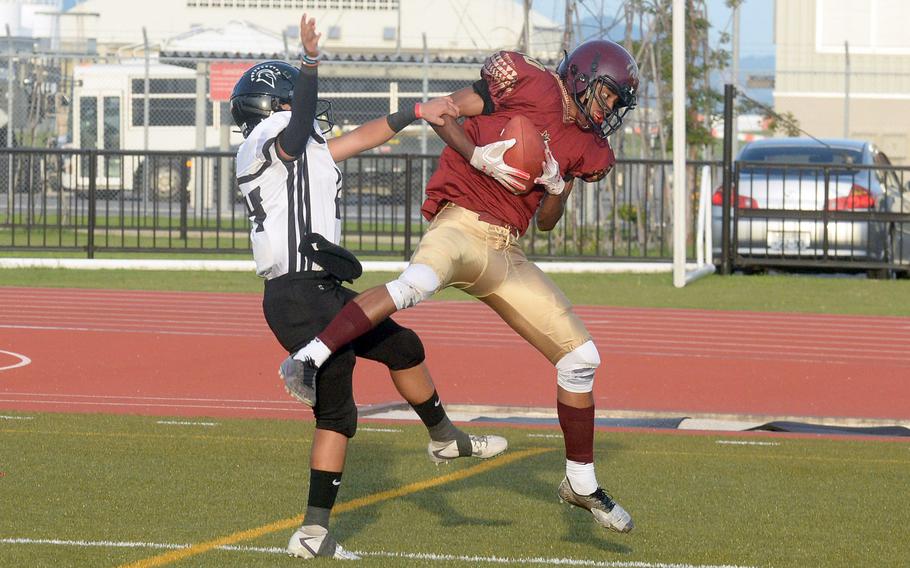 MARINE CORPS AIR STATION IWAKUNI, Japan – Needing quick-strike specialists to help balance Matthew C. Perry's run-oriented football offense, coach Frank Macias turned in the offseason to – of all things – soccer players.
On Saturday, they helped the Samurai return to the gridiron in style following the 2020 coronavirus-induced gap year, and avenge a loss in the 2019 Far East Division II title game.
Speedster Denzel Gray ran back the opening kickoff 85 yards for a touchdown and tall, lanky receiver Shion Fleming snagged two touchdown catches and Perry held off a late fourth-quarter charge to beat Zama 42-28 before more than 400 fans at Samurai Field.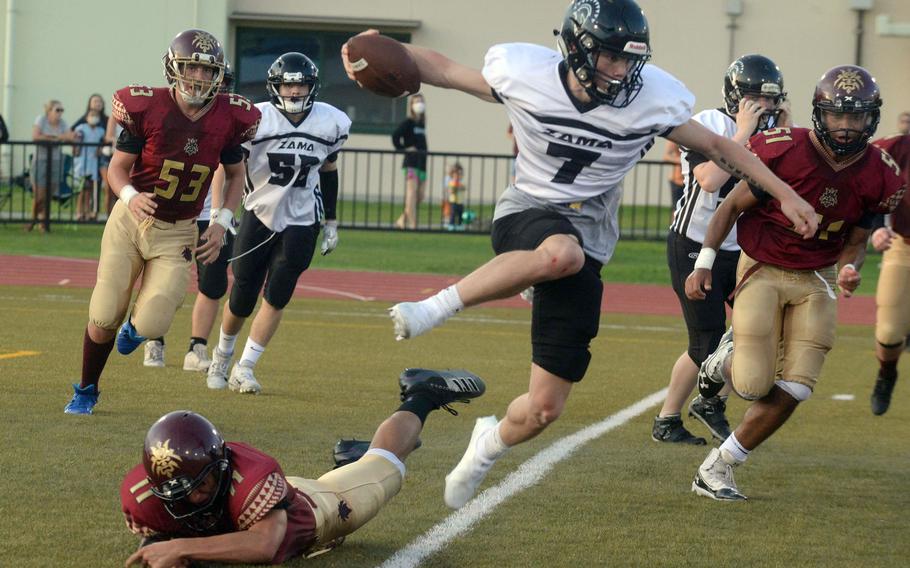 "These soccer players came over to us and they've really helped," Macias said of Fleming, Gray and Ryan Livengood, all seniors, plus sophomore Logan Lewis.
"These guys are athletic, they have speed, they have the ability to make people miss. We have a little more talent (at receiver and on returns) than we've had in the past," Macias said.
Gray handled the opening kickoff, found a seam up the middle and went up the right sideline untouched for the TD eight seconds into the game.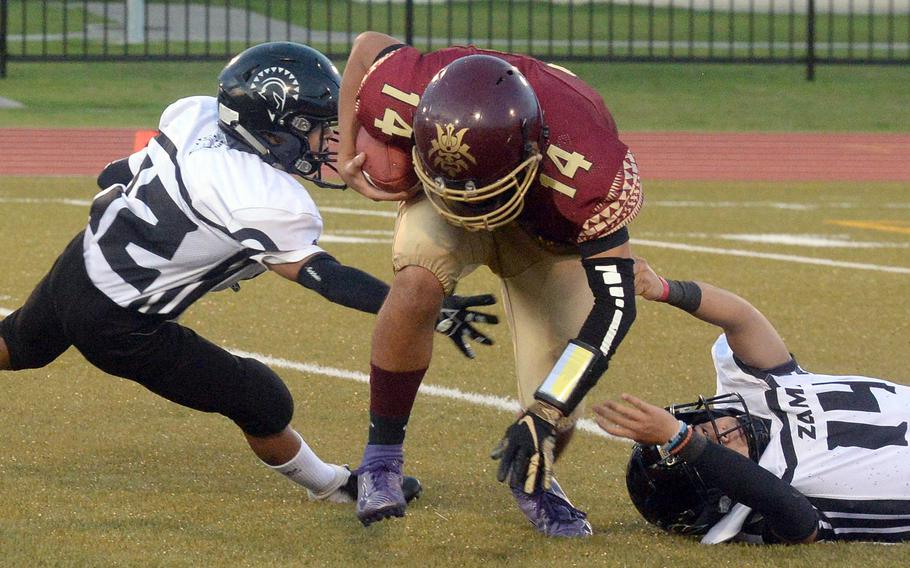 Macias says he can't recall in his more than 30 years of coaching any of his players returning an opening kick for a touchdown. "But I've never had anybody as fast as Denzel," he said.
Fleming capped the Samurai's first offensive possession by outleaping Zama defender Kai Kuroki for a 29-yard TD catch. He did the same late in the first half, outjumping two defenders for a 30-yard touchdown.
But don't take this to mean the Samurai plan to live large with the passing game, Macias said. The statistics bear him out; the Samurai did rush 46 times for 254 yards, as opposed to just four pass attempts.
"We still have the line and we still have the fullback," Macias said of Zeke Santoscoy, a senior who ran 29 times for 106 yards and a touchdown, reminiscent of the Samurai's glory years of 2016-17 when they reached two straight Far East Division II finals.
The ground game also produced two big plays: Quarterback Roy Clayton shrugged off two Zama would-be tacklers and raced up the left sideline 75 yards for a score. And Nickolas Elizondo took a sweep to the right, then cut back left, going in untouched from 48 yards out.
Perry's defense forced two turnovers, a fumble recovered by Maddix Larue and a Santoscoy interception. Tyler Ortiz had three of the Samurai's four sacks.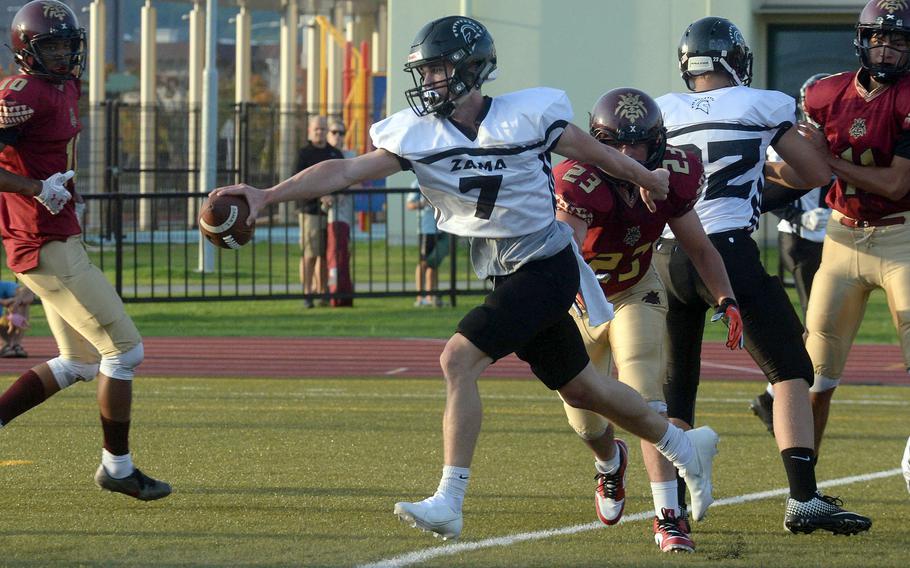 Zama (0-2) didn't quit after falling behind 42-12 in the third quarter. Senior receiver Keshawn McNeill caught a 16-yard touchdown pass and returned a fumble 54 yards for a score, finishing with 203 yards on nine catches and 257 all-purpose yards.
Quarterbacks Dominic Peruccio and Kuroki combined to go 20-for-40 for 256 yards. They each ran for touchdowns, and Peruccio finished with 209 yards of total offense. In addition to McNeill, Chris Nagle recovered a fumble for the Trojans.
"The way we fought back in the second half, it demonstrated that we're competitive," Trojans coach Scott Bolin said. "But we need to be mistake-free from the beginning."
Zama beat Perry 47-13 in the D-II final on Nov. 8, 2019. The Trojans have next week off, while the Samurai travel to play Yokota on Friday.
---
---
---