King spikers get rare victory over Kinnick on way to 6-0 start
by
Dave Ornauer
Stars and Stripes
September 4, 2021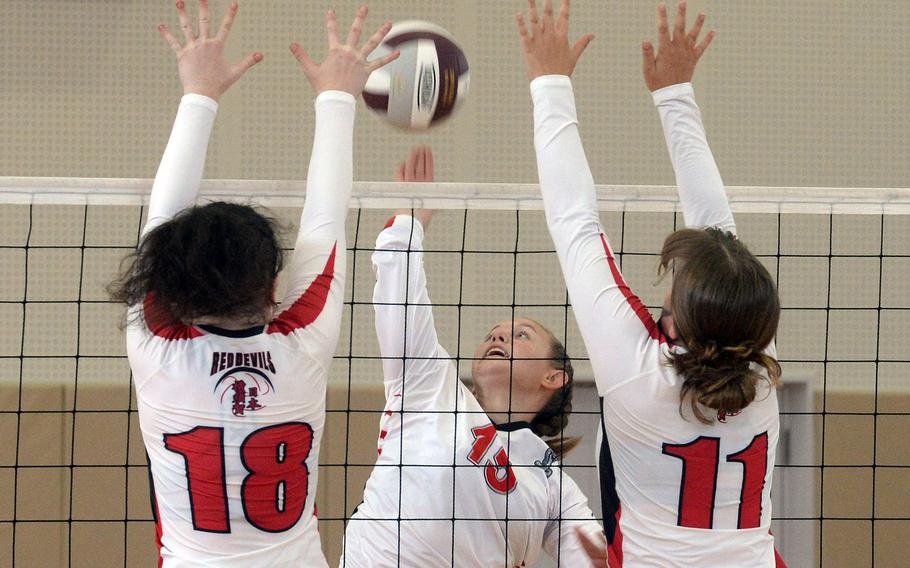 MARINE CORPS AIR STATION IWAKUNI, Japan – At first glance, they don't look like a typical volleyball team; there's not much height, for one. And for another, there's not one particular go-to player who stands out.
E.J. King's girls have simply gotten things done, winning their first six matches this season without dropping a set. All at their new home away from home: Matthew C. Perry.
Among those victories was a back-and-forth thriller on Saturday, in which the Cobras outlasted Nile C. Kinnick 29-27, 25-12, 29-27. It was King's first victory over the Red Devils in 19 years.
"I heard about that," said Madylyn O'Neill, a freshman transfer from the States who just became eligible with the required 10 practices this week. "It's pretty cool, actually. I'm just glad to be a part of it."
O'Neill averaged nine kills over the weekend, which included two wins over host Perry. And though it's a senior-laden team, the Cobras' veterans are glad to have O'Neill among their ranks.
"She's our little treasure," senior Hanna O'Mara said of O'Neill.
It wasn't just the O'Neill show; O'Mara contributed nine kills and senior Kathryn Kindt added six.
The Red Devils didn't go down without a fight; they fought off four match points before the Cobras put it away.
Entering the weekend, the Cobras as a team had 90 kills and 63 aces, split among the ranks.
"We aren't big, but we're pretty solid all the way around," coach Ricky Andrew said. "I told them we're turning the corner in the right direction."