DeLaughter tosses 4 TDs as Kinnick improves to 2-0
by
Dave Ornauer
Stars and Stripes
September 3, 2021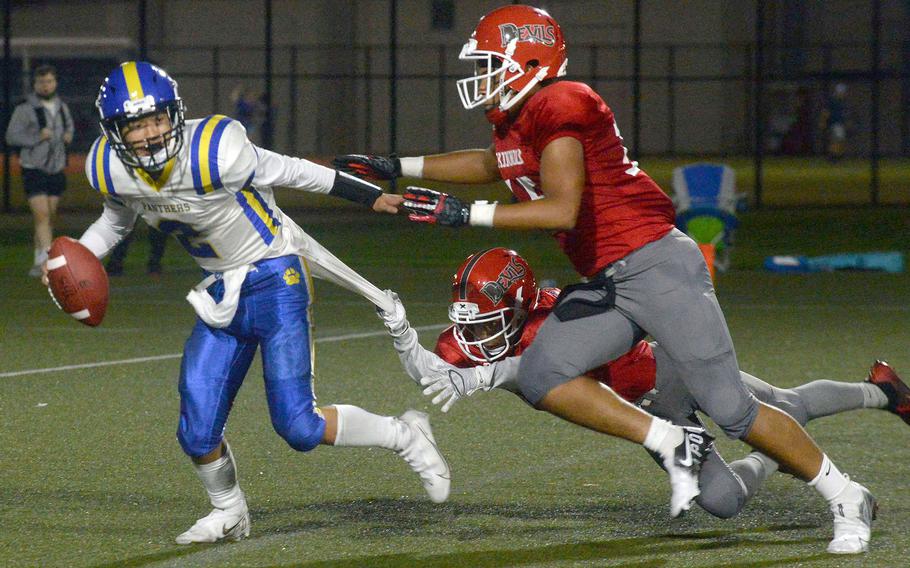 YOKOSUKA NAVAL BASE, Japan – Call Friday's Nile C. Kinnick football victory the Zeke Show.
Zeke DeLaughter, the Red Devils' senior first-year quarterback, went 9-for-11 for 177 yards and four touchdowns - three to senior Daniel Burke - as Kinnick won its home opener 34-7 over Yokota. The game was played with a running clock through most of the second half.
"He had a great game. I was really impressed," coach Dan Joley said of DeLaughter, who in two games – both Red Devil victories – has gone 19-for-26 for 365 yards and six touchdowns.
Joley says he and DeLaughter engage in sideline conversation during the game, "talking about what's working, what he sees on the field. He's really growing … he's really understanding defenses. It's really impressive for somebody in his first year as a quarterback."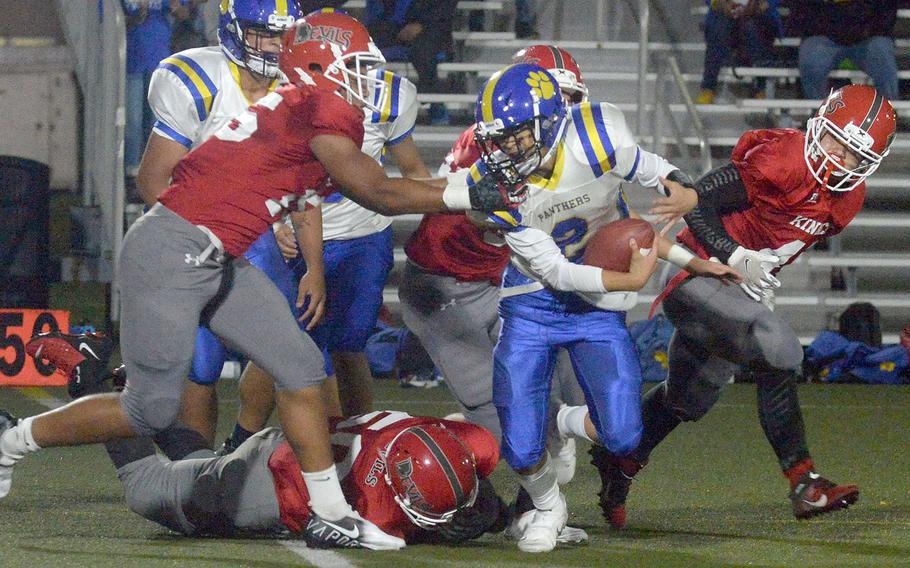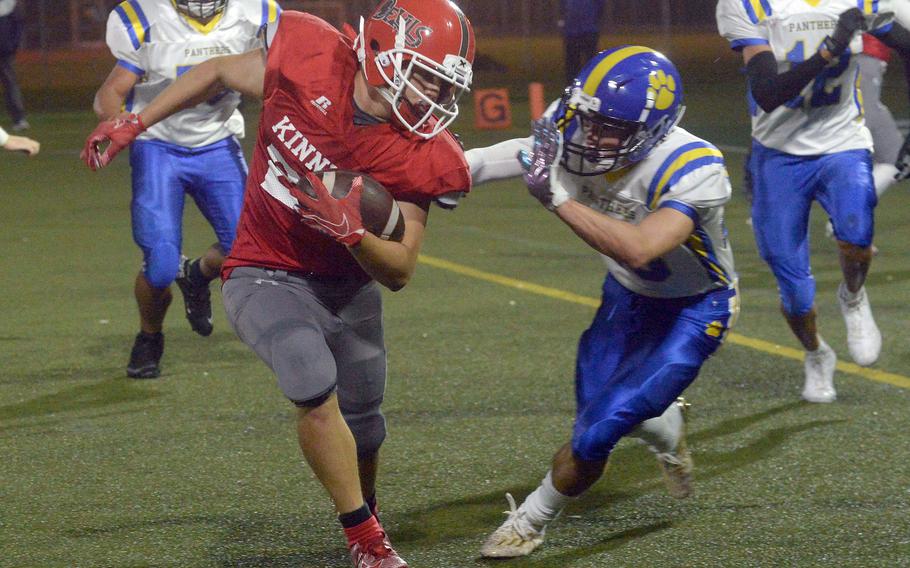 DeLaughter threw three of his touchdowns in the first half: 9 yards to senior Ryo Nishiyama - who finished with 36 yards on three catches - and 22 and 15 to Burke, who also caught a 34-yard TD pass on the first possession of the second half.
That made the score 34-0 and triggered the DODEA-Pacific mercy rule for football and the running clock.
"He had a great game," Joley said of Burke, who had four catches for 73 yards. "He's one of the quiet leaders on the team."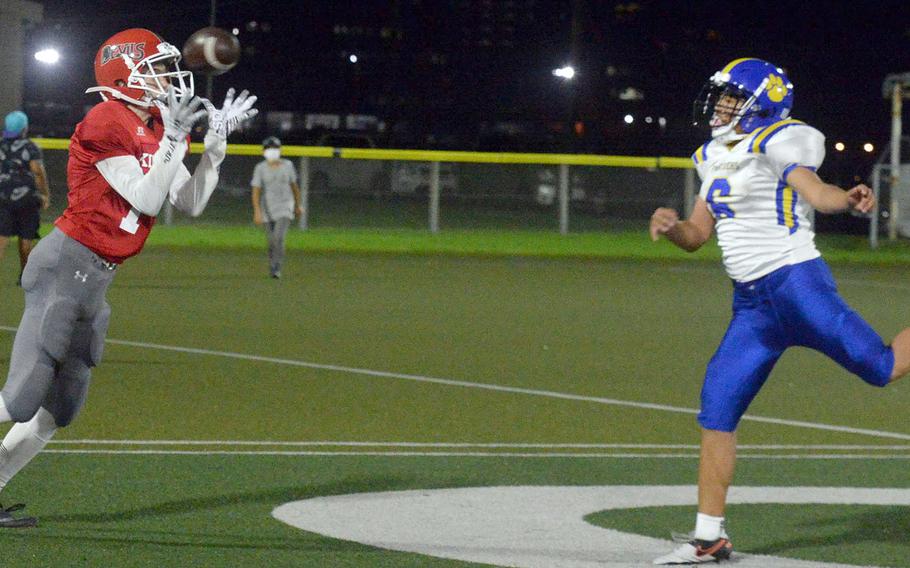 Running back Branden Euceda scored the game's first touchdown, a 2-yard run, capping a 10-play, 87-yard drive in 6:17 on Kinnick's second first-half possession. Kinnick outgained Yokota 279-172 on offense.
The Red Devils' defense recorded two sacks and three takeaways and kept the Panthers off the scoreboard until the 4:53 mark of the fourth quarter when Yokota quarterback Dylan Tomas hit Caleb jones on a 60-yard touchdown pass.
While Kinnick was playing for the second time, Friday's game was Yokota's season opener; the Panthers' first scheduled game, last Saturday against Robert D. Edgren, was postponed to Nov. 5 due to equipment issues that kept the Eagles from playing.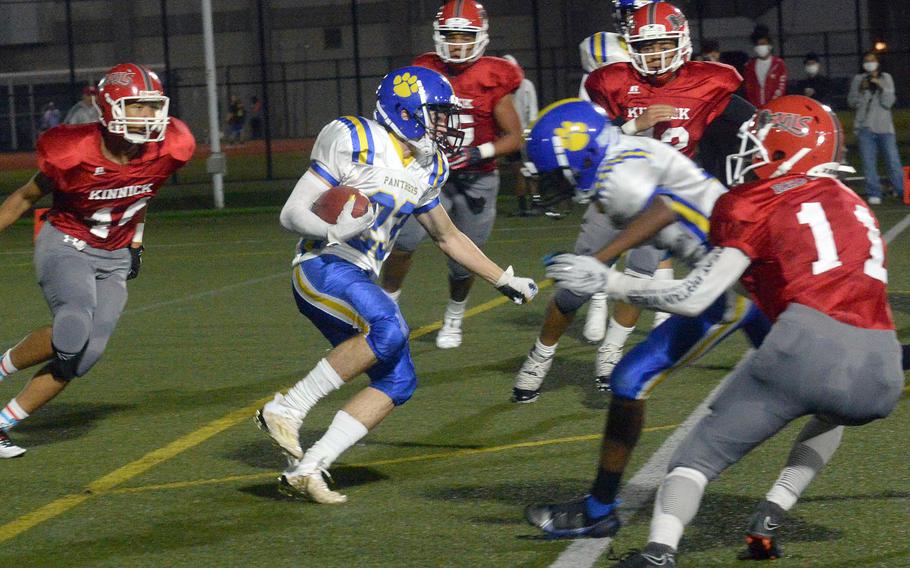 "Your first real game exposes a lot of things we need to work on, and we identified those," Panthers coach Tim Pujol said. "You have to hand it to Kinnick. They played well, they threw well and they played tough defense."
Tomas was 3-for-11 for 89 yards, all to Jones, with one pass picked off by Nishiyama. Owen Taylor led the Panthers' ground game with 58 yards on eight attempts.
Yokota next hosts Matthew C. Perry while Kinnick travels to Edgren next Friday.