Edgren earns sweep after long journey south
by
Dave Ornauer
Stars and Stripes
August 28, 2021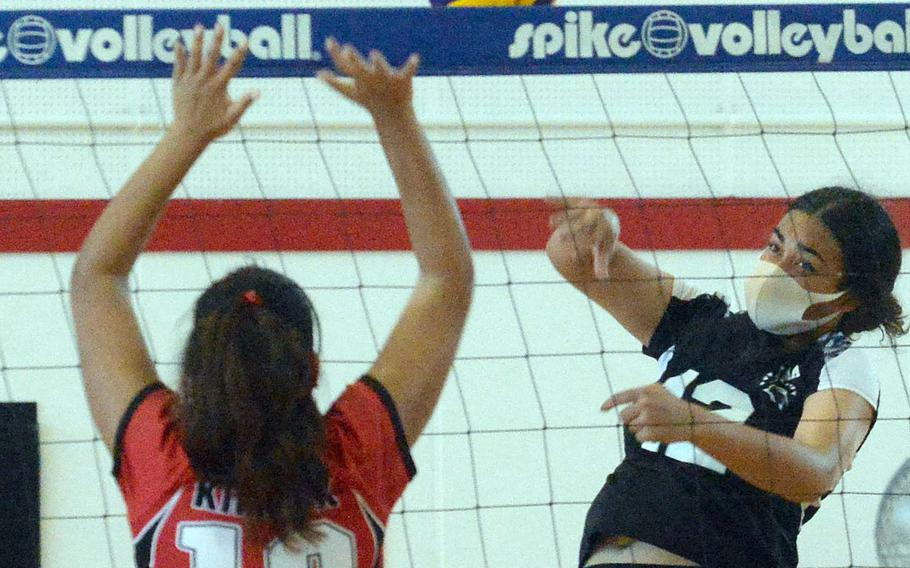 CAMP ZAMA, Japan – They were expecting a difficult test following a 10-hour bus ride south from Misawa Air Base, Elizabeth Johnson said of her Robert D. Edgren Eagles' DODEA-Japan weekend volleyball series.
What they got instead was a four-match sweep, two apiece over host Zama, the 2019 Far East Division II Tournament champion, and Nile C. Kinnick, which the Eagles hadn't beaten in five years.
"We expected Zama and Kinnick to be tough games," said Johnson, a freshman who averaged more than eight kills in the Eagles' four straight-set victories. "Our practice paid off."
Edgren began the weekend by beating Zama 25-19, 25-11, 25-18 and Kinnick 25-21, 25-9, 25-13 on Friday. Then came Saturday morning, when the Eagles almost blanked the Red Devils in the second set of a 25-11, 25-3, 25-13 win, then swept the Trojans 25-14, 25-18, 25-15.
It was also a spectacular debut for Paul McCarthy, who assumes the reins from Sarah Richardson - who retired in June after 33 years of teaching and coaching in DODEA. The Eagles also got off to a 4-0 start for the first time in school history.
"I wasn't expecting anything," McCarthy said. "I knew they were ready. They just played fantastic."
McCarthy was effusive about Johnson's performance. "She was on fire," he said. "She was killing it from the front to the back row. She'll be the one to watch for."