Pacific H.S. football: Seoul American runs wild; Yokota hands ASIJ first loss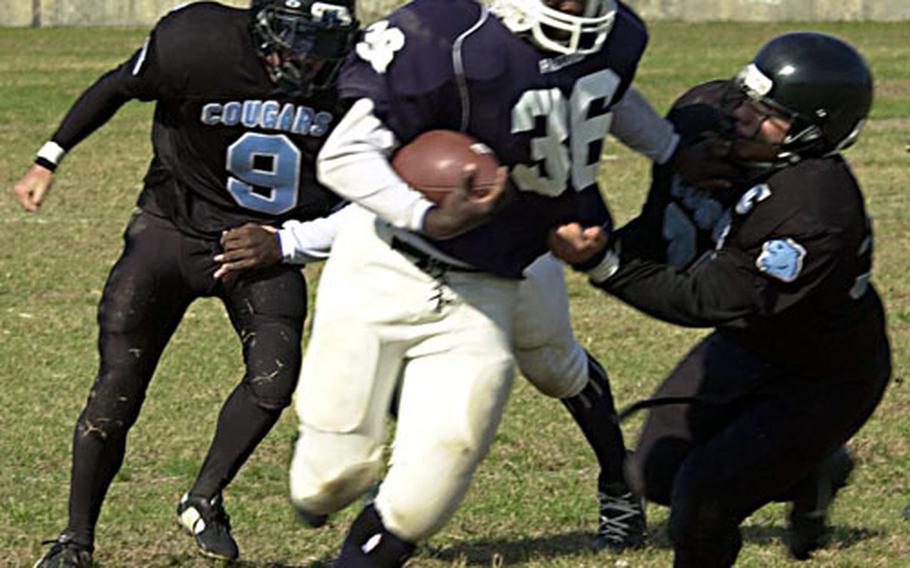 Seoul American running backs David Smalls and Calvin Lasane combined for 265 rushing yards and five touchdowns Saturday to propel the Falcons (3-0) to a 33-0 victory over Osan American (1-2) and their third straight DODDS-Korea Football League title.
"I don't know if we caught them on a bad day but our offensive line made some big holes in their defense," said Falcons coach Julian Harden. "We were able to capitalize on some mistakes that Osan made."
In Japan, Yokota won a battle of unbeatens, defeating American School In Japan 17-7 at Mustang Valley.
Yokota (5-0, 4-0 Kanto) can secure its seventh straight Kanto Plain title by beating Nile C. Kinnick on Oct. 28. The Mustangs (4-1 overall, 3-1 league) were 4-0 for the first time.
In the Guam Interscholastic League playoffs, two-time defending champion George Washington defeated Simon Sanchez 7-6 to earn a berth in Bamboo Bowl II. The Geckos will host Father Duenas Memorial, a 21-0 winner over John F. Kennedy, Saturday at 7 p.m.
Seoul American 33, Osan American 0YONGSAN GARRISON, South Korea — After viewing film of last week's 20-6 victory over Taegu American, Seoul American coach Julian Harden realized his team needed some work.
"We struggled with Taegu last week," Harden said. "We viewed the tape and saw that we had problems with downfield blocking. So we went to work in practice on fundamentals and techniques. And it paid off."
Smalls carried the ball nine times for 93 yards on Saturday, scoring on a 17-yard run in the first quarter and a 65-yard punt in the second.
Lasane finished with 172 yards on 10 attempts, including TD runs of 80, 39 and 34 yards.
The Falcons defense, meanwhile, shut down the Cougars. David Cain led the way with 10 tackles and two quarterback sacks. Charles Jones added 10 tackles, Justin Lee recorded nine stops, two fumble recoveries and one forced fumble. Michael Blyzniuk added seven tackles.
"This was a good learning experience for our young team," said Osan coach Tony Alvarado. "So many broken tackles. So many missed tackles. So many arm-tackles. You get those guys coming at you with a full head of steam, you aren't going to bring them down with an arm-tackle."
On offense, Alvarado said, "We'd move the ball, then fumble it. We'd move the ball, then throw an interception. We'd move the ball, then have a false-start penalty. We kept shooting ourselves in the foot."
Yokota 17, ASIJ 7For Yokota, Jason Ricks ran for a 2-yard first-quarter touchdown, Stefan Welch booted a 35-yard second-quarter field goal and Patrick Pamintuan scored from the 1-yard line in the third quarter.
Anthony McNeill gained 124 yards on 22 carries for the Panthers while Doug Bloom went 7-for-10 for 107 yards. Kyle Shimabukuro recovered a fumble and Scott Monahan intercepted a pass and returned it 41 yards.
ASIJ got on the board on the first play of the fourth quarter, a 30-yard pass from Shawn Seevers to Ken Gibson. The Mustangs got inside the Panthers' 20-yard line six times, but two Seevers passes were dropped in or near the end zone.
"They gave us a heckuva game," Yokota coach Tim Pujol said. "We've played a lot of close, tough games with them on this field. They're fundamentally sound."
Japan Football League
Japan Football League
W L Pct. PF PA
Yokota 4 0 1.000 178 14
Kinnick 4 1 .800 75 78
Edgren 1 3 .250 28 117
Zama 0 5 .000 25 97
Kanto Plain Association
W L Pct. PF PA
Yokota 4 0 1.000 139 14
ASIJ 3 1 .750 80 30
Kinnick 2 3 .400 27 95
Zama 0 5 .000 25 131
Friday, Oct. 14
Nile C. Kinnick 13, Zama American 6
Saturday, Oct. 15
Yokota 17, American School In Japan 7
Friday, Oct. 21
ASIJ at Zama American, 7 p.m.
Robert D. Edgren at Yokota, 7 p.m.
Guam playoffs
Semifinals
Friday, Oct. 14
Father Duenas Memorial 21, John F. Kennedy 0
Saturday, Oct. 15
George Washington 7, Father Duenas Memorial 6
Saturday, Oct. 22
Bamboo Bowl II
Father Duenas Memorial at George Washington, 7 p.m.
DODDS-Korea League
W L Pct. PF PA
Seoul Amer. 3 0 1.000 82 18
Osan Amer. 1 2 .333 39 85
Taegu Amer. 0 2 .000 29 47
Saturday, Oct. 15
Seoul American 33, Osan American 0
Saturday, Oct. 22
Seoul American at Taegu American, 2 p.m.