Other teams might have more realistic shot at toppling Royals
by
Gregory Broome
January 16, 2020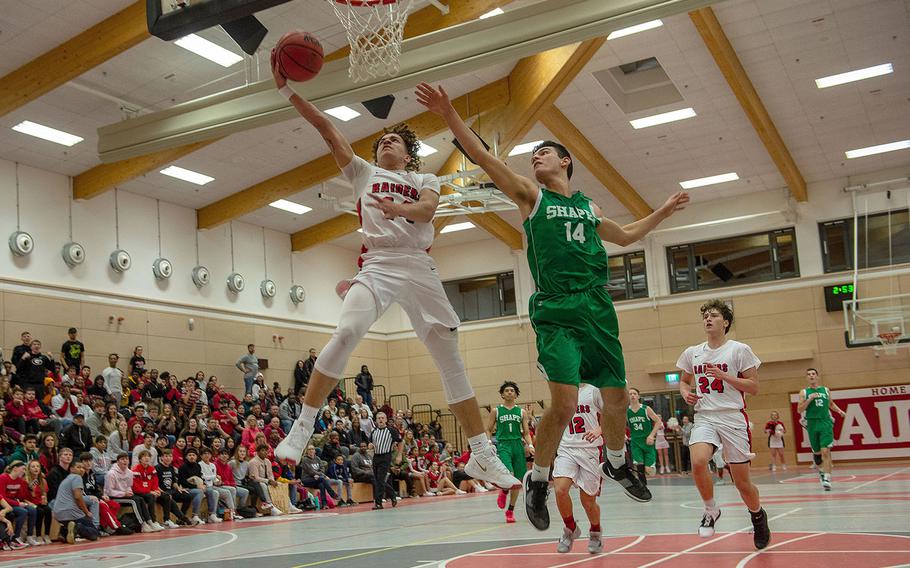 The 2019-20 DODEA-Europe Division I boys basketball season got a lot more interesting over the weekend.
Coming out of the holiday break, the large-school hoops race looked very similar to those of previous seasons. The Ramstein Royals were on a tier of their own, chased by a handful of solid but ultimately lacking title contenders. Versions of that formula have produced five straight European championships for Ramstein.
This weekend's results flipped that script, displaying a level of parity the division hasn't seen in a long time.
Six of Division I's eight teams spent the first post-intermission weekend locked in head-to-head divisional doubleheaders, and all three of those series - Black Forest versus Kaiserslautern, Wiesbaden versus Vilseck and Ramstein versus Stuttgart - ended in a 1-1 draw.
Those outcomes were a boost for Black Forest and Vilseck; their splits against perennial Division I contenders cemented their status among that group. Black Forest, a former Division II dynasty, has fared well in its large-school debut, winning three of its first four games at the new level. Vilseck, long on the outs in the Division I elimination round, now boasts encouraging doubleheader splits with both Wiesbaden and Kaiserslautern on its record.
But the weekend's results were even more profound for Stuttgart. The Panthers earned their first divisional win of the season Saturday at the expense of the previously undefeated Royals, snapping a Ramstein winning streak, including regular-season and postseason games, that dated back to December of 2017.
The Panthers have been respectable and competitive throughout the winter despite a five-game losing streak to start their Division I campaign. Stuttgart lost a pair of close games to Black Forest, including an overtime decision and another by a two-point margin, and gave Ramstein a scare in a 42-38 setback Friday. But Saturday's 44-35 defeat of the reigning champions provided the boost the Panthers needed.
"After Saturday's win my boys couldn't wait to get back to practice and continue to improve," Stuttgart coach Christopher Jackson said. "What the win did for us was verify that the hard work we're putting in every practice is paying off."
Jackson went on to compliment the Royals, calling the reigning dynasty "well-coached with great athletes and multiple shooters." That only made the victory sweeter for the hungry Panthers.
"To beat them in basketball would be a confidence booster for any program."
While the win was a welcome reversal of fortune for the Panthers, the Royals aren't taking the loss too hard.
"We don't consider it much of a loss," Ramstein coach Andrew O'Connor said, pointing out that his team wasn't awarded a free throw until the final minute of the game while the Panthers shot 16.
"It isn't hard to figure out why we lost," said O'Connor, who was ejected from the Royals' 72-56 defeat of Kaiserslautern on Dec. 17 for arguing with officials. "I've never seen that before and it's unfortunate that the streak ended that way."
O'Connor said he hopes the team's issues with officiating have a positive effect.
"Normally the regular season is about putting your team through as many situations as possible to prepare them for what they will see in the tournament," O'Connor said, adding that he hopes the Royals will receive a "fair shake" in the February postseason. "However, this season has been more about just learning to develop a mental toughness for playing though the missed calls and inconsistent refs."
While a sixth straight Ramstein championship remains a strong possibility, the first set of games of the new year at the very least lent some fresh intrigue to the regular season and the resulting tournament bracket.
"We are playing now with the hunger and belief that if we stay composed and play together we'll have a chance every night," Jackson said. "That was not the case early on."
All eight Division I teams are in action this weekend. Black Forest, Lakenheath and SHAPE visit Wiesbaden for a two-day, four-team set, while Stuttgart visits Kaiserslautern and Ramstein pursues a new winning streak at Vilseck.
broome.gregory@stripes.com Twitter: @broomestripes