Pacific players of the year: Girls soccer
Osan American senior Hauter anchors unstoppable defense
by
Dave Ornauer
June 4, 2011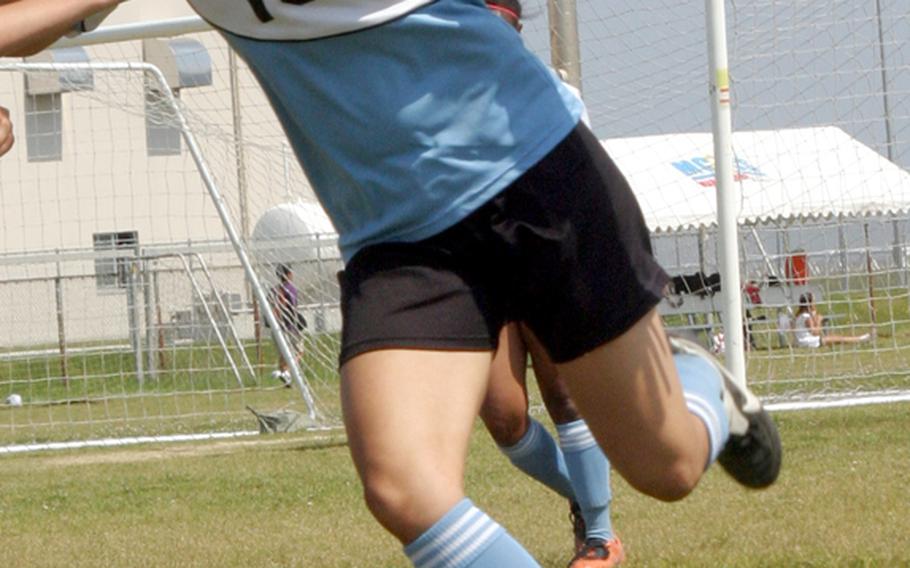 Sometimes, it's what you don't see on a scoreboard or a stat sheet that makes all the difference for a girls high school soccer team.
Alina Hauter, Osan American's defensive cornerstone, never was one for putting up gaudy goal totals. She found the back of the net just once in those four years to go with a mere six assists.
But it was how she, her defensive mates and her goalkeepers kept opposing teams out of Osan's net that set Hauter apart.
She is accorded Stars and Stripes Pacific girls high school soccer Player of the Year honors after helping lead the Cougars to their third straight Far East Division II Tournament title, and Pacific-record seventh overall.
"She was the person on defense who everybody needed to get through," coach Sung Plourde said. "She and the defense held everybody in check."
They had to after injuries sidelined the team's top gun from 2010, Stephanie McDole, and midfielders Lais Lima and Courtney Ouellette for most of the season.
So, the Cougars built from the back, with goalkeeper Deanne Polaski, the hero of Zama American's penalty-kick shootout win at Kubasaki in the 2009 Division I Tournament final, in net, Hauter at sweeper and Lydia Kim the first line of defense at stopper.
"Lydia had to keep her eye on the other teams' name players, anybody who was a threat," Plourde said.
"If anybody got by her, it was Alina's responsibility to cover. A 1-2 combination. If one gets beat, the other is there."
After Osan went 8-6-3 in the Korean-American Interscholastic Activities Conference Division I season, the defensive arrangement worked to perfection in the Far East D-II Tournament last month at Marine Corps Air Station Iwakuni, Japan.
Hauter earned tournament MVP honors as the Cougars went 8-1-2, giving up just one regulation goal, and for the second time in three seasons beat host Matthew C. Perry in a two-match final.
"They were dominant, at Far East and throughout the season," Plourde said of his defense.
Hauter became the second member of her family to earn D-II Tournament MVP honors, joining her brother Van of the Cougars' 2005 title team.
All-Pacific honorsPlayer of the Year—Alina Hauter, Osan American.
Golden Boot—Bre'Onna Ray, Matthew C. Perry, 52 goals.
Best defensive player—Monica Murray, American School In Japan.
Best goalkeeper—Deanne Polaski, Osan American.
All-Pacific team—Julie Keese, Birke Duerloo, American School In Japan; Liz Gleaves, Amanda Jackson, Seoul American; Elizabeth Fabila, Ku'uleialoha Ampong, Kubasaki; Victoria Hollingshead, Nile C. Kinnick; Melanie Strudthoff, Guam High; Paige Surber, Southern; Sarah Stegner, Seoul Foreign; Angie Robinet, Sarah Wright, Daegu American; Marissa Goodwin, Robert D. Edgren; Tyesha Clayton, Matthew C. Perry; Jasmine Pressley, Kadena.