Osan American's Albaladejo taking the accolades in stride
by
Dave Ornauer
September 21, 2006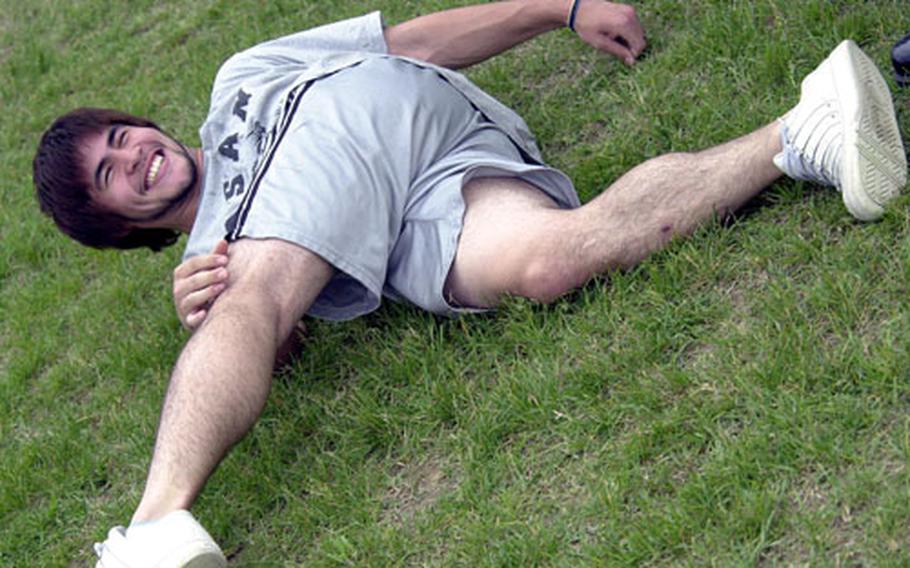 OSAN AIR BASE, South Korea — After being named Stars and Stripes' 2005-06 male Athlete of the Year, Carlos Albaladejo might have shed his supporting-cast persona to become more the Big Man on Campus type.
But even after the Osan American senior's breakout football performance in the Cougars' historic upset of Seoul American on Saturday, Albaladejo, his coach and even opposing coaches say he's still the same old Carlos.
"It didn't change the way I am," said the three-sport Albaladejo, who captained the Cougars to last year's Far East Class A football title and Far East Class A soccer tournament finals and is back to try to repeat the feat.
"He's still humble and modest," said Tony Alvarado, Albajadejo's football and soccer coach. "He's all about team … about making the team better."
Two days after Albaladejo lit up the Falcons for 186 yards on eight carries with two touchdowns, 14 tackles and an interception, Seoul American coach Julian Harden said, "The thing that I like is, it never goes to his head. He's a phenomenal athlete. I've always admired him. He's a competitor … regardless of the score, he never quits. He's an example I use for my guys."
According to both coaches, Albaladejo is the type who comes along once every five to 10 years and becomes the "face of the program," as Harden put it, an instantly recognizable presence he saw when coaching the Korea All-Star team in 2003.
Albaladejo was a freshman but "I thought he was an upperclassman," Harden said. "He's a natural leader. When he does well, so does the team. … I wish he was on my team."
Alvarado called Albaladejo "a diamond in the rough. He works hard. He's not about his carries or stunting in to sack the quarterback. He's about making the team better, harder practices, more hitting. … One of those kids that every coach would love to have."
"It is all about team," Albaladejo said. "It's about being able to teach new players coming out. … trying to be the example."
The Athlete of the Year award "should have been Team of the Year. I just got lucky. … Everybody did their part and responsibilities, and that's why we did so well at Far East."
But the numbers tell the roles he played in boosting Osan to the best football season in school history, capped by the Class A title, and a runner-up finish in the Class A soccer tournament.
At linebacker and safety, he had 17 tackles, 12 unassisted, and averaged 41.4 yards per punt. He made the difference in Osan's 16-14 comeback victory over Robert D. Edgren in the football championship Nov. 5, when he kicked a 34-yard field goal, made a key fourth-down defensive stop and recovered a fumble to squelch a late Edgren drive.
Now, especially after Osan beat Seoul American, "it's a bigger challenge" this year, Albaladejo said. "Everyone's going after us. Osan's the team to beat now."
After playing basketball his first two years, Albaladejo then tried wrestling, and he placed fifth at 158 pounds in February's Far East tournament. He sees the 2006-07 Cougars matmen as capable of having their best season since they won the league in 2000.
"Hopefully, we'll have all the weight classes filled" this season, he said. "Last year, everybody was learning. This year, they're all returners."
As a soccer midfielder, Albaladejo racked up eight goals but it was his playmaking, Alvarado said, that boosted the Cougars to the Class A final, where they lost a heartbreaker 2-1 to International Christian-Seoul.
With six of the Cougars having graduated, repeating those feats may be tougher "but I still think we'll do well," Albaladejo said.
He characterized the 2005-06 school year as "successful" overall — and as a harbinger. "Hopefully," he said, "it will mean better things for us this year."