Newest Admiral Shelton settling in just fine at Rota
by
Rusty Bryan
December 14, 2006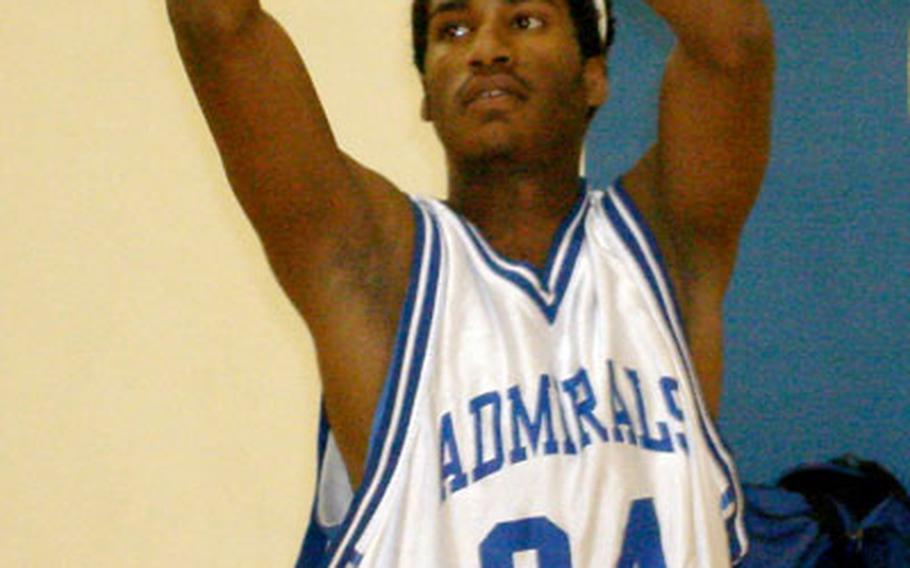 New continent? New home? New school? New team? New position? New competition? No problem.
Rota's Jeffery Shelton — the Admirals' new kid on the block — has come out of the blocks in a big way.
"Last year, I played 'four,'" the 5-foot-11, 172-pound junior, now Rota's point guard, said about moving from the power-forward slot he manned as a sophomore in Nebraska.
"When I left, I was leading our team in rebounds and blocks."
Shelton, 16, is still doing plenty of rebounding — just under 13 per game four games into his Rota career — but his scoring has taken off. Shelton's line for last Saturday's 86-73 road victory over a Spanish club team: 41 points, 16 rebounds, 11 assists and eight steals.
"I didn't believe the stats when they told me," Shelton said of his biggest career outing so far.
For the season, he's averaging more than 27 points per game. Guess that transition to point guard's going pretty well.
"I like having the ball in my hands," Shelton said. "I'm not too bad at making good decisions."
Good decisions, mind you, in the whole new environment of international basketball.
"It's more fun," Shelton said of the international game. "It's a whole different style of play. It's more physical.
"I had to power through the lane," he said. "In international ball, you have to go through the lane quickly. If you don't, everyone collapses on you."
No one got much chance to drape himself over Shelton on Saturday: Almost all of his points came off drives to the basket.
"I'm not the fastest guy," Shelton said, "but I have a pretty good first step."
Shelton said the international rules took some getting used to. For example, there's that extra step off the dribble or pass the rest of the world permits, or allowing rebounders into the lane as soon as the free-throw shooter releases the ball.
"When you see this stuff for the first time," Shelton said, "your say to yourself, 'This can't be legal.'"
Shelton said he doesn't take advantage of international quirks such as the extra step.
"We follow our rules," he said. "Doing some of that stuff would just throw me off."
Clinging to U.S. rules can work against you, however.
"We were getting beaten on free throws," he said of Saturday's game. "We'd wait for the ball to hit the rim, and they'd all jump in front of us."
But not on the scoreboard. Unbeaten in three games and with scorers such as Tyrell Boddie, Alan Dowden and Zach Collins on the floor with Shelton, Rota already ranks as a team to watch for the European D-III tournament in February.
Ben Anderson, who coached Rota to a European title in 2005, sees no reason Shelton won't make an impression in his first European tournament.
"He's very athletic," Anderson said Monday, "and he can shoot the lights out."