Far East wrestling
Mystery on the mats at this year's tourney
---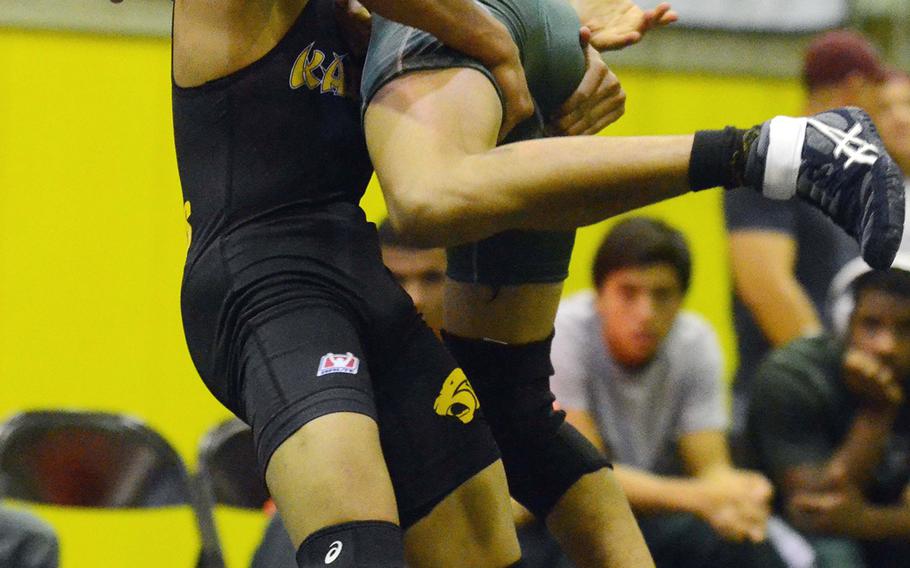 YOKOTA AIR BASE, Japan — Much is different about this week's Far East wrestling tournament, which returns to Yokota for the first time in seven years.
For one, Capps Gym is large enough for only two mats and the number of meet days has been reduced from four to three, so round-robin bouts, which have been used to seed the elimination brackets, have been scrapped, organizers said.
"Budget cuts, smaller venues," tournament director Brian Kitts said, noting that the past six Far East tournaments were held in much larger venues.
Downsizing the event should contribute to athletes' safety, Kitts said. In previous years, wrestlers were getting as many as 15 bouts in four days.
"That's unheard of," he said. "They don't do that in the States."
With pool-play bouts off the tournament schedule, Kitts had to seed wrestlers who had never competed against one another this season. He asked for win-loss records of each coach's wrestlers and separated them by district.
"It should work OK," Kitts said. "You look at the records, where they're from and split them up. Keep the two best from Korea, Japan and Okinawa apart in each quarter bracket."
The other novelty in this Far East, which begins Thursday, is that it will be the first time that wrestlers will see their opponents from other districts in action this season.
Since 2000, wrestlers and coaches had regular season invitational tournaments from which to draw a baseline for Far East competition. Those tournaments were scrapped this year.
What do coaches do to prepare for taking on wrestlers sight unseen?
"When you show up, you need to be ready to wrestle, no matter the format," Kubasaki assistant coach Ron Geist said. "It's mano-a-mano. What other philosophy could we have? The only school we know is Kadena. Everything else is a name and a school."
Some, such as reigning Far East champions Ryan Vasconcellos and Jeffrey Koo of St. Mary's, Kubasaki's Daniel Mora and Austin Cyr, Christian Academy Japan's Eric Overton and 2012 champion Justin Duenas of Kadena are the known entities, as well as district champs.
"The rest is obscure," Geist said. "We have to be on our feet, get takedowns and wrestle hard."
Observers view Kubasaki and last year's runner-up Kinnick as the favorites to win the D-I team titles, with St. Mary's and Kadena close behind. The Division II favorites are the two fielding full lineups or close to it, Edgren and Osan.
Kinnick coach Gary Wilson said that one should not worry about what other schools do or have, but take care of their own business.
"That's the key for us, to execute our style and do what makes us successful," Wilson said. "Be aggressive and execute your moves."
---
---
---
---