Football Athlete of the Year
Mitchell set record, finally got title
by
Dave Ornauer
November 14, 2013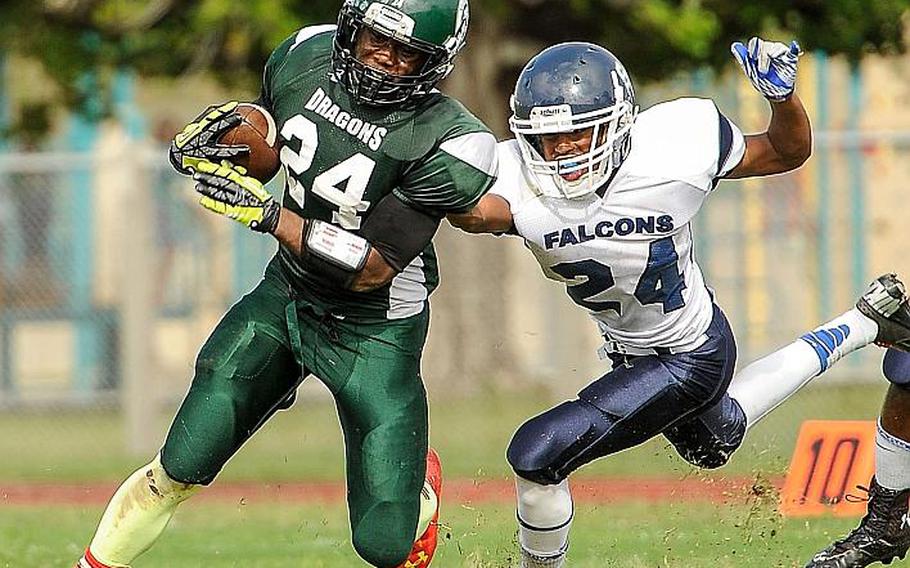 CAMP FOSTER, Okinawa – Fred Bales has coached football for more than three decades, during which time his teams have graduated several prospects into college ball, with two, Penn State's Michael Haynes (Bears) and Baylor's Daryl Gardener (Dolphins), making it to the NFL.
Among the hundreds Bales has coached, he calls Kubasaki senior running back Jarrett Mitchell part of "any top 10 in all my 36 years of coaching," he said.
"He's an outstanding high school football player, and he's an even more outstanding human being," Bales said. "He has a great heart, great spirit, he's kind, compassionate, he lives life and brightens the day of everybody around him."
He certainly brightened Dragons football this season, which after two years of Far East Division I runner-up finishes, finally ascended to the top of the heap.
Kubasaki went 6-2 in the regular season – both losses to the Kadena team that Kubasaki edged 34-31 in overtime in the Nov. 9 title game.
Along the way, Mitchell set Okinawa season and single-game yardage records and exits as the school's career rushing leader in the D-I playoff era, which began in 2005.
He gained 379 yards, third-most all-time in a Pacific high school game and scored four times on just 14 carries in Kubasaki's 31-7 win Sept. 28 at Robert D. Edgren.
Mitchell capped the season by extending his own single-season record to 1,840 yards on just 149 carries, averaging 12.35 per attempt, with 21 touchdowns; he gained a then-record 1,392 yards on 139 tries in 2012.
In 2½ seasons as a starter, in which Kubasaki won two island titles and reached the D-I title game three times, he garnered 3,990 yards on 357 carries.
"He's obviously a very gifted athlete in terms of the game's metrics," Bales said of Mitchell's speed, size and athleticism, "but he adds to that a sincere desire to improve on a daily basis. Every game he's been a part of, he's made an impact on every one."
That was apparent on Saturday, when Mitchell sparked a comeback from deficits of 14-6 and 21-14 with a goal-line interception; he was forced to leave the game after taking a helmet-to-helmet hit, but repeatedly tried to re-enter the game.
"That was one of a handful of plays that turned the game around," Bales said. "He's a fine student, a fine teammate with a great future in both football and in life. We are certainly going to miss him."
Stars and Stripes Pacific All-Far East football team
QB—David Hernandez, American School In Japan; Lorden Aguon, Guam High; Dustin Wilson, Nile C. Kinnick.
RB—Justin Sego, Kadena; Jarrett Mitchell, Kubasaki; Dre Paylor, Kinnick; Ryan Murphy, ASIJ; Sean Robinson, Robert D. Edgren; J.J. Henderson, Yokota; Hiroshi Beale, Zama American; Caleb Page, Daegu.
WR—Brandon Rogers, ASIJ; Ke'Ondre Davis, Yokota.
PK—Jakob Weicht, Kadena.
KR—Tyrone Bacalso, Edgren.
OL—Spencer Ringwood, Josh Dixon, Ed Pond, ASIJ; Josiah Allen, Kane Wilton, Kubasaki; Steven Robinet, Daegu.
TE—Kareem Key, Kubasaki.
DL—Preston Harris, Kadena; Will Steele, Daegu; Sho Green, Kubasaki; Tyler Shilton, Kinnick.
LB—John Stoll, Seoul American; Tyshon Butler, Kubasaki; D.J. Padilla, Kadena; Tegan Brown, Guam High.
DB—Ansel Marsh, ASIJ; Raymond Bestor, Zama; Juwan Jacobs, Guam High.