Misawa, Foster move into USFJ-AFL title game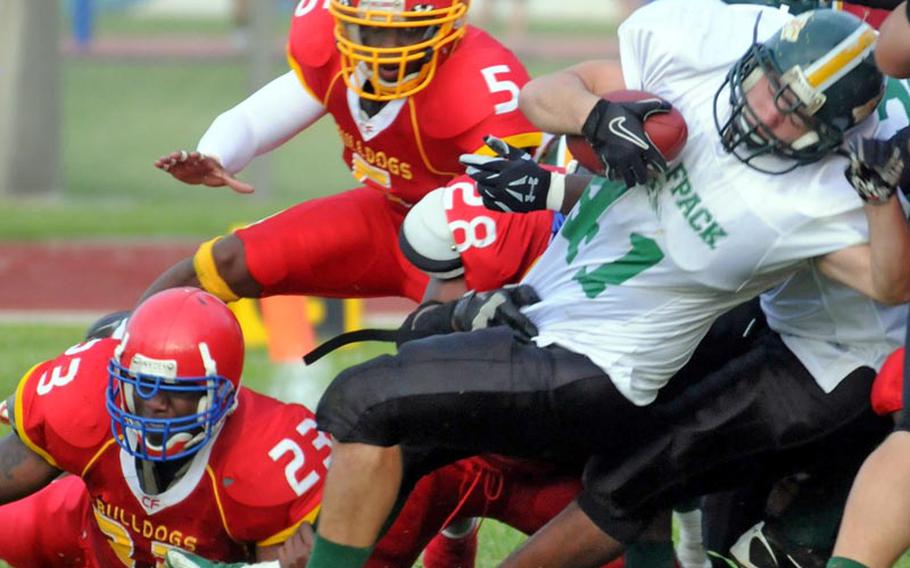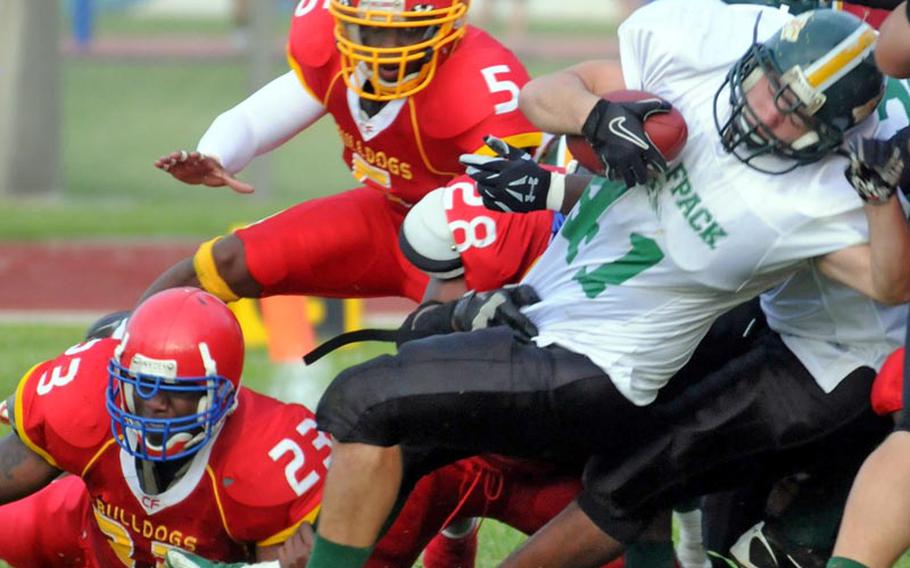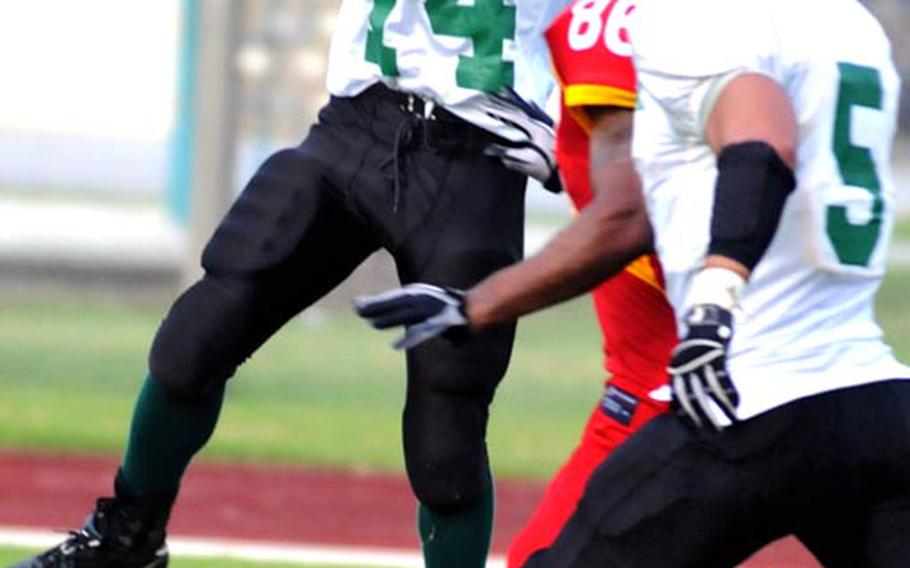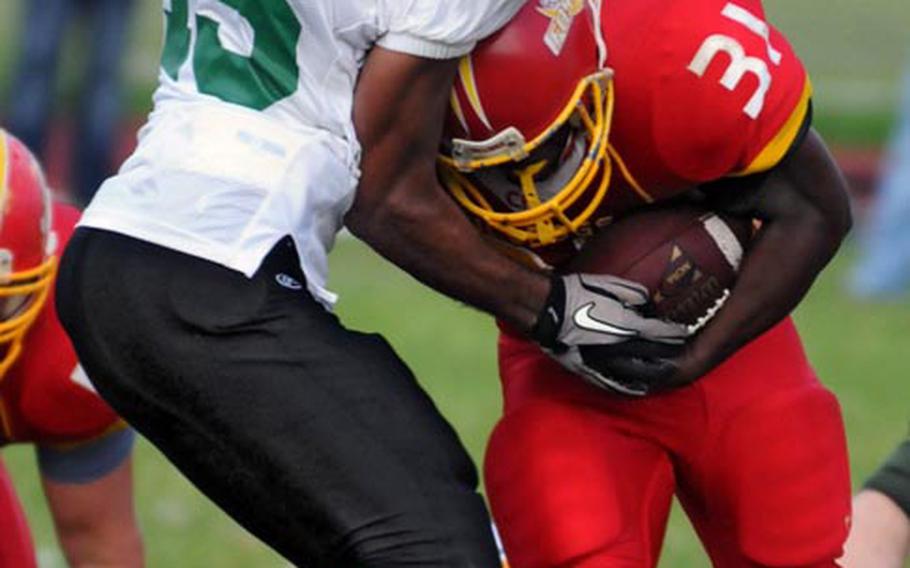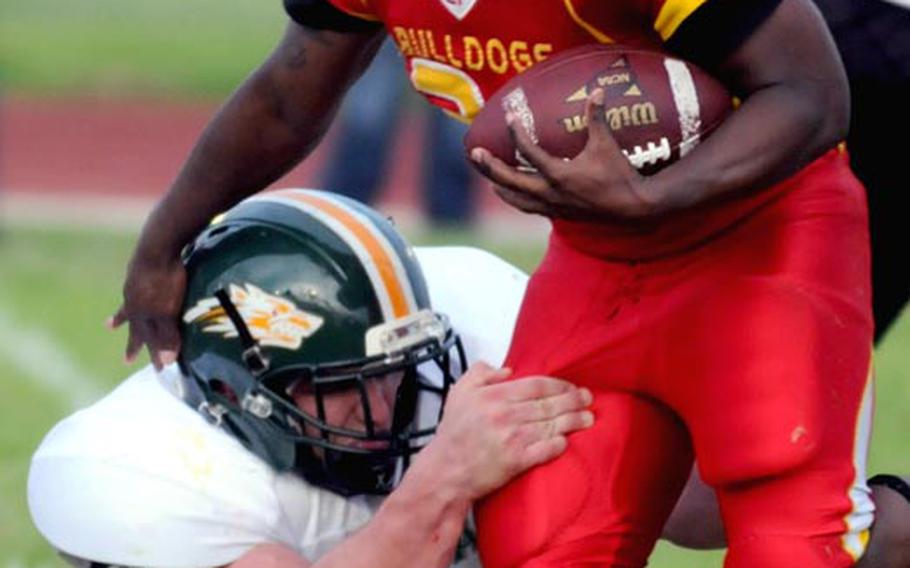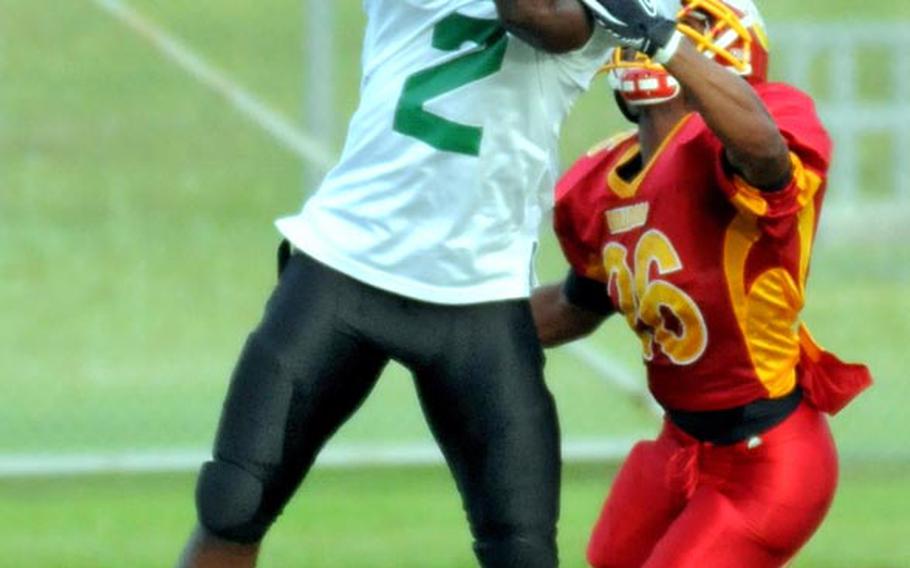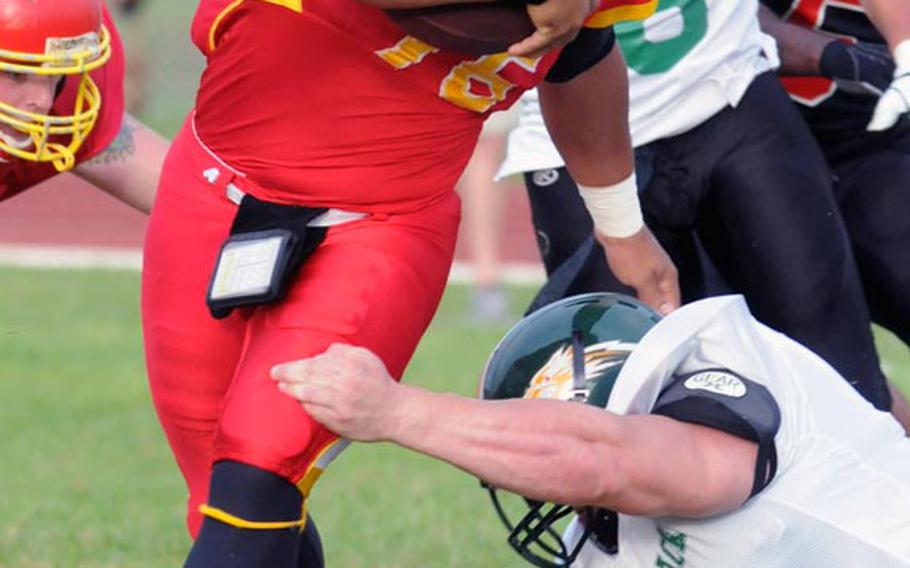 Defensive stars vaulted Misawa and Foster into a showdown for all the U.S. Forces Japan-American Football League marbles.
Kevin Lambert recorded three sacks, while Douglas Brown accounted for three touchdowns as the Jets dethroned defending champion Yokota 21-14 in Saturday's North Division title game at Misawa Air Base's Hillside Stadium.
At Kubasaki High School's Camp Foster, Jovon Richards ran an interception back for a touchdown and set up another score with a second interception as the Bulldogs rallied from a 6-0 deficit to beat Joint Task Force 26-6 for the South Division crown.
Foster will visit Misawa on Saturday, trying for its second league title in three seasons in the Torii Bowl at 2 or 6 p.m., either at Hillside Stadium or Robert D. Edgren High School's Eagles Field.
The Jets will take aim at their third league championship in six years. The Torii Bowl's host team has won the title every year since the league formed in 2000; the game wasn't played in 2001 due to 9/11 and in 2003 due to duty commitments which kept Kadena and Yokosuka from playing each other.
North DivisionMisawa 21, Yokota 14: At Misawa Air Base, Japan, "Lambert played out of his mind today, played the best game I've ever seen a defensive player play," Jets coach Ben Mathe said, also crediting the play of the offensive and defensive lines. "They won the game for us."
Brown passed 50 yards to Omar Williams and 40 to Onterrio Erby for touchdowns, and also ran 12 yards for another for the Jets (5-0). Misawa's defense also racked up a first-quarter safety.
Yokota (3-3) could reply only with Frederick Guild's 55-yard interception-return touchdown and Ryan Jones' 25-yard scoring pass to Rob Harris.
"We made too many mistakes" deep in Jets territory, Yokota coach Selwyn Jones said. "We'd get into the red zone, then we'd have a couple of bad snaps and a couple of penalties."
Misawa won the Torii Bowl in 2005 as the Marauders 30-21 over Yokota, and three years later as the Jets 12-6 over Yokosuka.
South DivisionFoster 26, Joint Task Force 6: At Camp Foster, Okinawa, Richards' 33-yard interception-return touchdown broke a 6-6 tie with 5:19 left in the third quarter. His second interception and 25-yard return set up Damian Peterson's 1-yard touchdown run that made it 20-6 with 13:55 left.
"Don't throw to the Bulldogs," Richards said of a defense that has recorded 16 interceptions in five games, all victories. In all, the Bulldogs had five takeaways against the Wolfpack (1-5).
Offensively, Foster outgained JTF 311-114. Quarterback James Sanford was 11-for-22 for 158 yards, including touchdown passes of 7 yards to Corey Moore — back after spending most of the season in retirement — and 10 yards to Ian Williams. Moore had 47 yards on four catches.
"It feels great to be back," Moore said, adding that he'd been "champing at the bit to get out there, wanting to be a part of it."
JTF quarterback James Fulz was 8-for-19 for 83 yards. Trin Stansel caught four passes for 55 yards.