Jardine returns to lineup, sparks Ramstein past Heidelberg
by
Scott Schonauer
September 25, 2005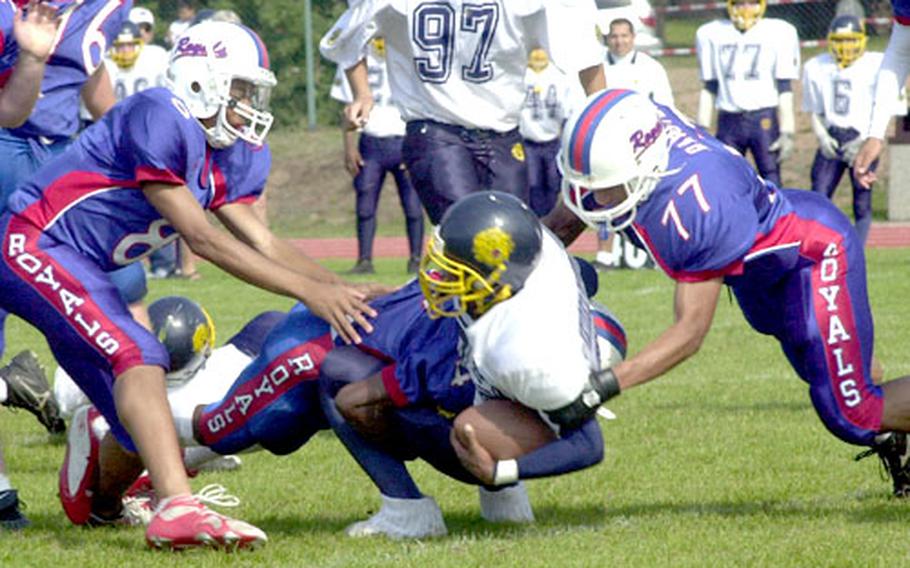 RAMSTEIN AIR BASE, Germany — Senior Scott Jardine is glad to be back playing cornerback for Ramstein.
His teammates are, too.
After sitting out the season-opener because he was academically ineligible, Jardine made two interceptions and returned one 68 yards for a touchdown to lead Ramstein to a 10-7 home victory over Heidelberg on Saturday.
"I was really nervous," the senior cornerback said after helping the Royals (2-0) win the Division I debut for both teams. "But [after] a few plays out there I got used to it and started playing my game."
It was one of the four-year starter's best defensive performances.
"He's a good athlete," Ramstein coach Glenn Porter said. "So we expect that out of him."
Both offenses struggled in the first half. Ramstein's defense held Heidelberg (1-1) to 57 yards, thanks in large part to Phillip McDonald, who had 11 tackles, and Joel Smith, who finished with 10.
Ramstein broke a scoreless tie late in the third quarter.
The Royals had first down at the Heidelberg 3, but couldn't get into the end zone. Cyril Borden, a sophomore halfback who ran for 126 yards on 16 carries, was stopped by Heidelberg's defense, forcing Ramstein to settle for Justin Weihe's 20-yard field goal with 5:09 remaining in the quarter.
Then came Jardine's time to shine in front of an announced crowd of 3,332.
On fourth and 3 at midfield, Jardine intercepted a floating pass and ran into the end zone with less than a minute left in the third quarter. The extra point put Ramstein ahead 10-0.
Jardine got his second interception midway through the final quarter when the Lions' star running back, Lewis Allen Jr., lofted a halfback pass near Ramstein's 14-yard line. Jardine leaped up with teammate Ste'phan James to catch the ball.
But Allen, who ran for 190 yards on 27 carries, ran around the right side for a 16-yard touchdown on an option play to cut the Lions' deficit to 10-7 in the final minutes.
Heidelberg attempted an onside kick, but Ramstein recovered and ran out the clock.
Allen ran for 259 yards against Wiesbaden last weekend.
"We knew he would make lots of yardage," Porter said.