Hanau transfer Hall looks to repeat success at Vilseck
---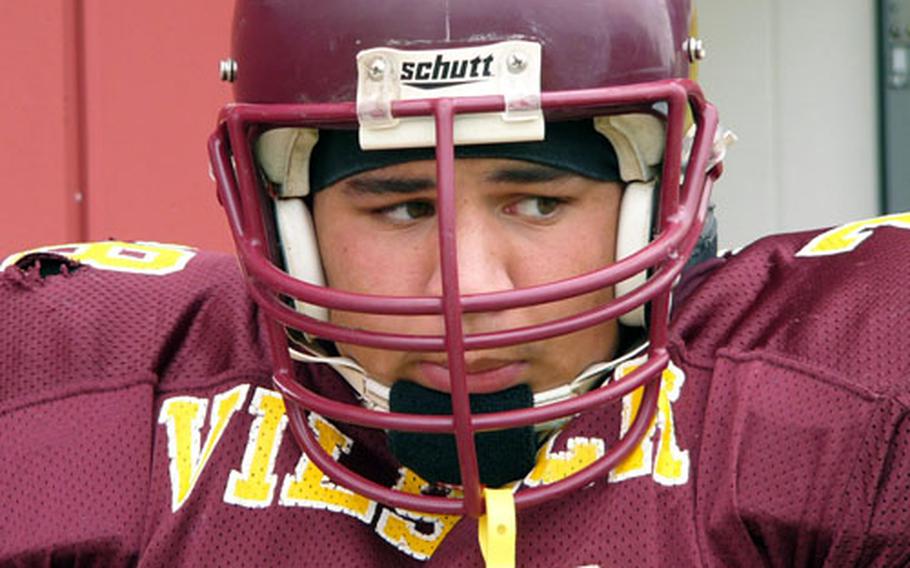 VILSECK, Germany — In just his second year of football, Vilseck senior Angelo Hall, 17, is bidding to make it two-for-two.
European football championships, that is.
"I went to German school the first 10 years," said Hall, a 6-3, 265-pounder who helped Hanau to a European Division-IV championship his rookie year. "Last year was the first time I ever played football."
In 2007, Hall played for head coach Sam Cassou at Hanau, where the Panthers won their crown in the school's final year of existence. This year, both ex-Panthers have turned up at Vilseck High School. Cassou is athletic director and an assistant to former Naples head coach Jim Hall; Hall — who's no relation to his coach — is a mainstay on an unbeaten Vilseck team that is bidding to win a European title in its initial season in D-I.
"Hall had 22 tackles, three sacks and two pass-knockdowns this season," said Cassou about his protégé's performance in Vilseck's 21-6 and 21-13 home victories over Kaiserslautern and two-time defending European D-I king Ramstein, respectively. "I got lucky when he followed me over here."
Hall felt the same way.
"It was nice to see a known face," he said of finding Cassou on the practice field again.
Looking at the muscular Hall now, it's easy to see him as an impact tackle. However, Hall said, that wasn't the case in his rookie year.
"I hadn't done sports before," he said. "We don't have sports in German school. I was in bad condition. I could barely run."
Hall caught up quickly, though, so quickly that he made the D-IV all-conference first team as a defensive tackle and placed sixth in Europe as a 285-pound Hanau wrestler. It was the first time he'd ever tried that sport, too.
"Wrestling really improved my agility," said Hall, who tried his hand at soccer, too, for Hanau. But football, then and now, is No. 1.
"I do the other sports just to help with football," he said. "I like the team spirit. In football, you're more like brothers, not just teammates."
Hall said that the transition to D-I, the league for the school system's biggest enrollments, from the nine-man game of the tiny D-IV schools wasn't all that difficult.
"There's not really that big a difference," he said. "It was easier last year; there was more space for the running backs. But Division I's a lot more fun. There's more competition."
And Vilseck's right in the thick of it, especially after Saturday's come-from-behind victory over Ramstein.
"Even though we were behind (14-0)," Hall said, "I was comfortable in myself."
Comfortable enough, in fact, to finish the game against the perennial D-I contenders with 12 tackles and a sack as the rising Falcons shut out their guests for the game's final three quarters.
Hall wasn't surprised.
"When we fell behind, no one argued," he said. "We were smiling on the sidelines. We didn't give up."
---
---
---
---