Four more records fall in Petty track meet
by
Dave Ornauer
April 7, 2008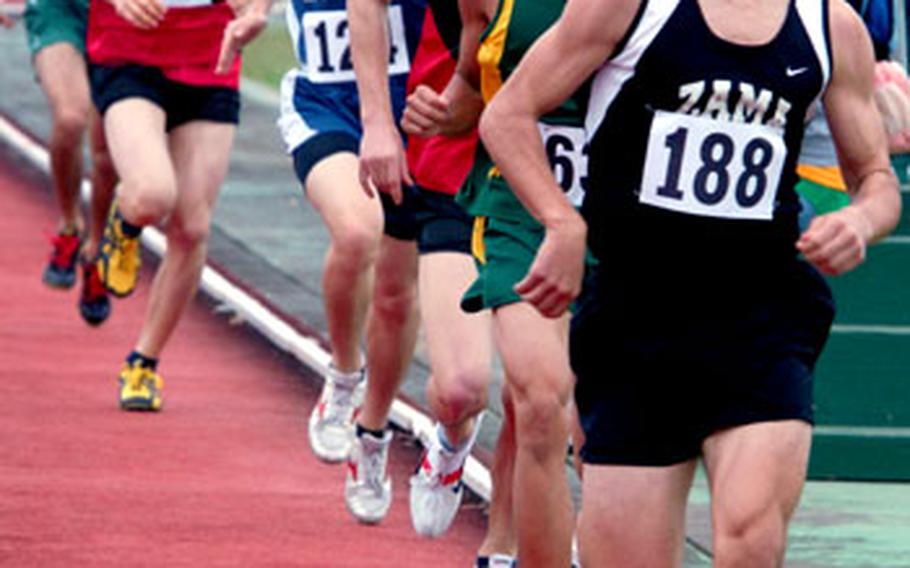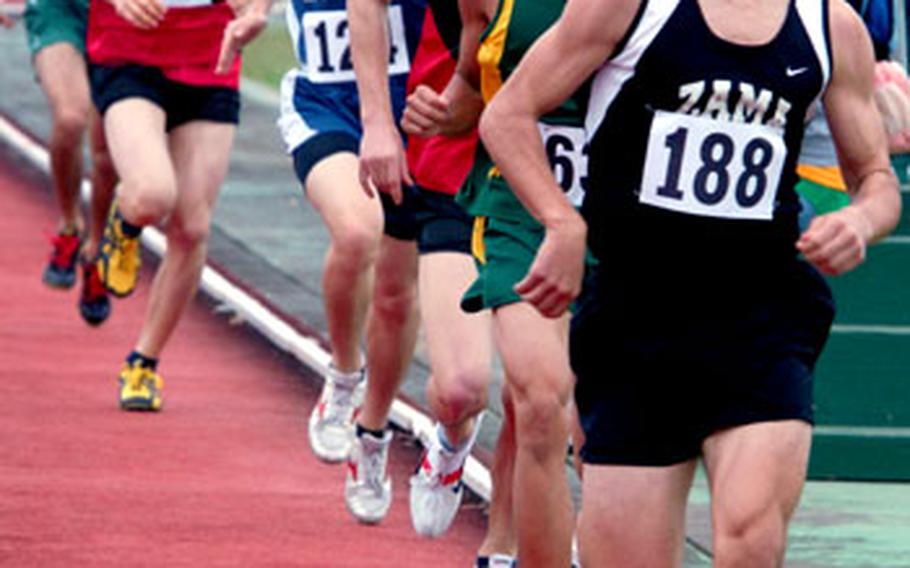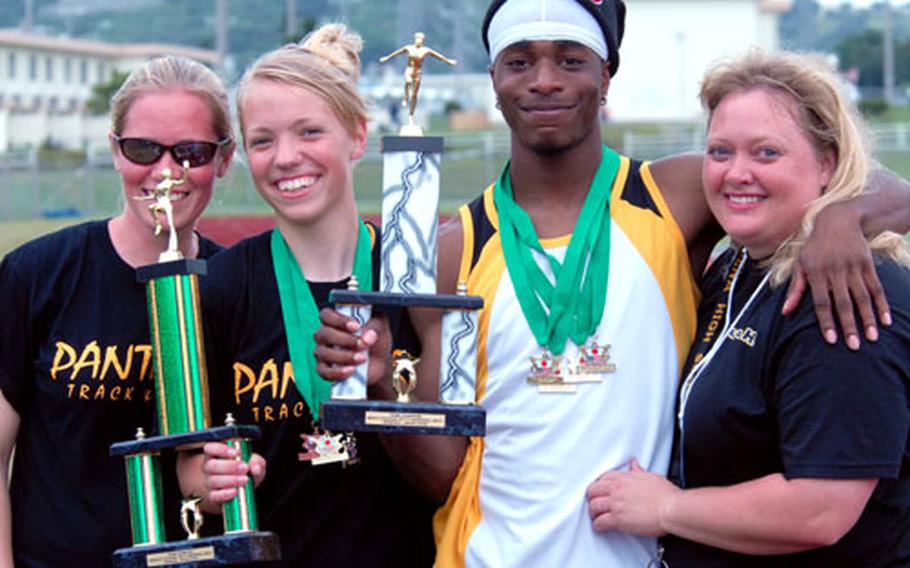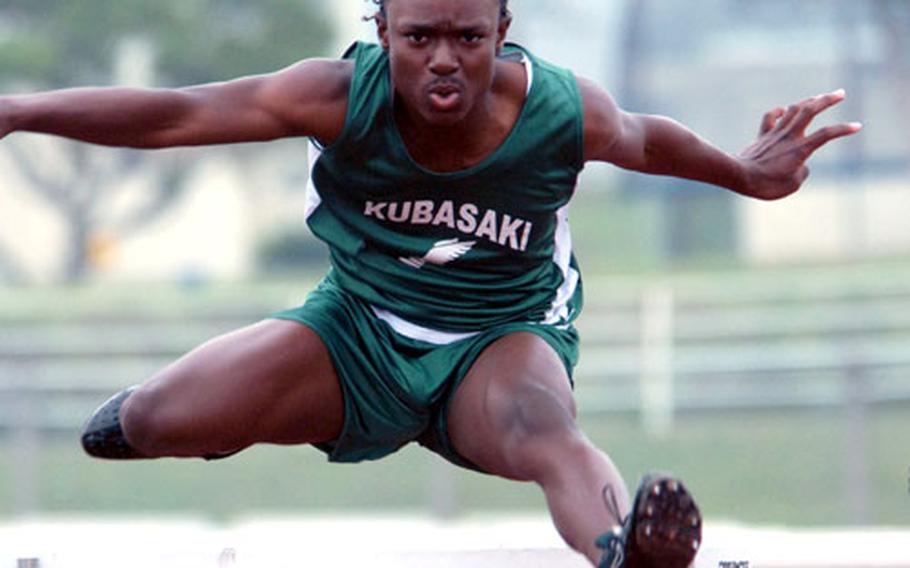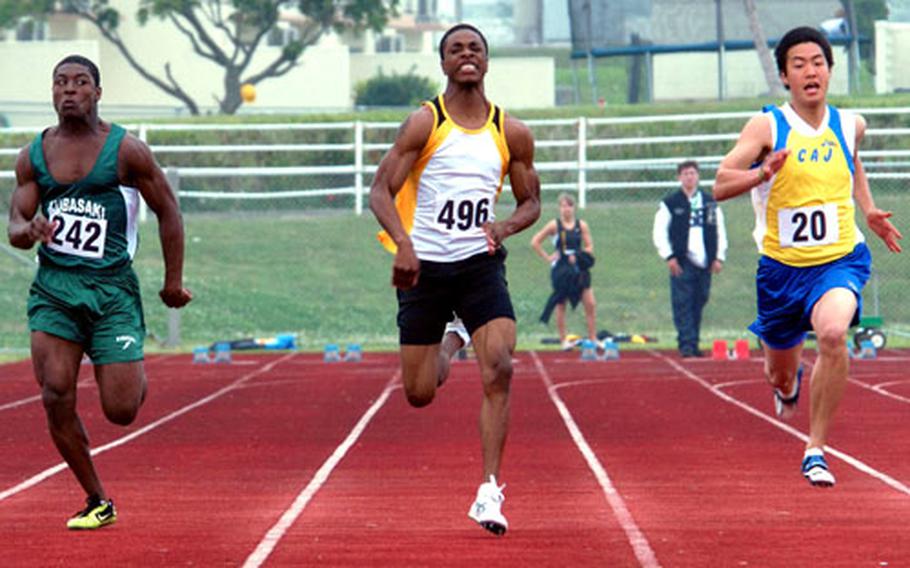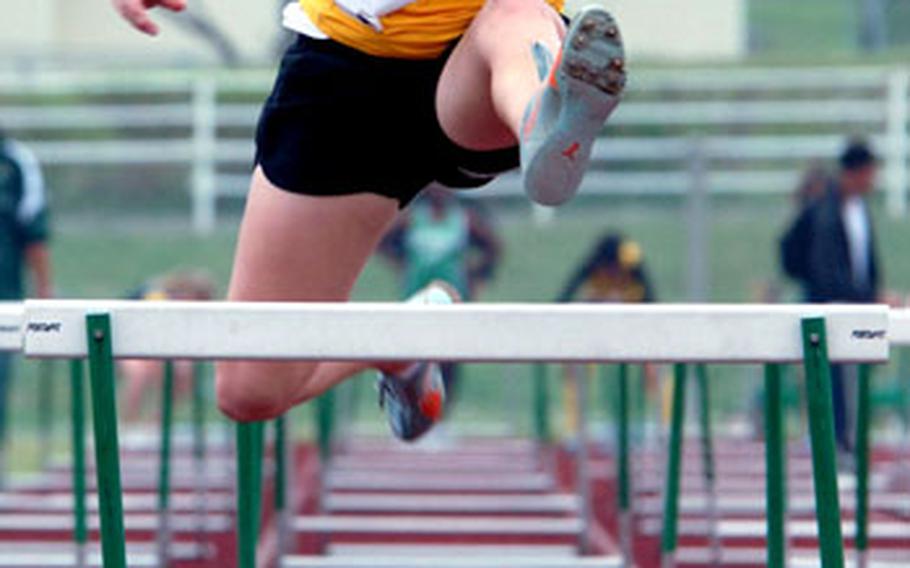 CAMP FOSTER, Okinawa — Four more records fell Saturday in the 6th Alva W. "Mike" Petty Memorial Track and Field Meet, while Kadena swept the boys and girls team titles for the first time.
Shun Bowens claimed, for now, the label "Okinawa's fastest man" by winning the 100 and 200 as Kadena's boys topped Christian Academy In Japan 88-76.6 in team points. Fellow senior Shelby Witschen won the girls 400 and anchored the 400 relay as Kadena edged rival Kubasaki 92-85.
"I'm really proud of them," teary-eyed Kadena coach Beth Pulaski said of her teams.
"They worked really hard to get here. It's deserved. … Coming into the weekend, they knew what they had to do, and they did it."
"It feels good. I'm speechless," said Bowens, who ran the 100 in 11.64 seconds, the 200 in 23.65 and also anchored Kadena's 400 relay unit, which clocked a 45.43. "All my words go to the coaches."
Kadena's Roosevelt Payne blazed through the 400 in 52.13.
"I push him, he pushes me," Payne said of his relay teammate. "We're teammates, and that's what teammates do."
Witschen captured the girls 400 in 1:05.63, and her relay unit took the 400 in 54.08. Shannon Steele edged teammate Alisha Juko in the 100 hurdles by five-hundredths of a second.
It was the best performance in the Petty meet by what Pulaski calls one of the strongest girls programs in school history.
"They have a lot of talent, and they work hard," Pulaski said.
Steele's victory in the 100 hurdles was the closest call in meet history. Running in separate heats, Steele clocked an 18.095, while Juko ran it in 18.100.
"That's insane. Wow. That's really close," Steele said. "Let's have a hurdle-off. Just the two of us."
"If I had to lose to anybody, it would be her," Juko said. "To come that close, it's an honor to lose to her."
Close finishes were hardly a bother in Saturday's four record-setting performances.
Leading the record rewrite parade once again was Zama American's Andrew Quallio. The junior distance specialist took command on the first lap of the boys mile and never looked back, running a 4:37.57, shattering the 2-year-old meet record of 4:46 set by Kadena's Tim Nabonne.
"My goodness! Wow!" Quallio said. "I didn't realize I was that close."
As in his record-breaking two-mile triumph Friday, Quallio said he was most concerned with the presence of Guam island cross-country champion Christopher Magtoto, who kept within sight of Quallio all the way.
"I was thinking about him," Quallio said. "I was thinking it would be close. To race against the best in the Pacific, it's a rush."
Already his school's record holder, Quallio dropped his personal best by two seconds. He feels that 4:35, or perhaps even the Japan area record of 4:28.3 set six years ago and the two-mile mark of 9:38.9, are within reach.
"It's definitely something to shoot for," Quallio said, adding that there's even more pressure trying to beat the record book. "You're competing against yourself. That's hard," he said. "You have to push harder than you ever knew you could."
Like Quallio, middle distance record-setter Blake Bannister of Christian Academy In Japan was involved in two record performances over the weekend.
The Knights ran "Mike's Medley" — two 200-meter legs, one of 400 and one of 800 — in 3:49.5, topping the 2-year-old mark by 1½ seconds. Bannister ran the anchor leg, and later clocked the 800 sprint in 2:02.89, breaking his record of 2:06.9 set last year.
"A good day for CAJ," said Bannister, the Japan area record-holder, who ran a 1:58.9 last May in the Kanto Plain Invitational.
The Knights and teams from other Tokyo-area international schools were competing in their first meet of the season.
"We're just starting," Bannister said. "I want 1:55. If I can stay clear of injuries, I can do it."
In her fourth Petty meet, senior Nako Nakatsuka of Tokyo's International School of the Sacred Heart broke the mile record. She ran a 5:35.69, bettering the mark of 5:39 set by Kubasaki's Crystal Sandness four years ago.
"Wow! I had no idea!" Nakatsuka said.
"I just wanted to run as hard as I could and do what I could."
[BOXHEADER]St. Mary's captures first Spring Fling title
[/BOXHEADER]About a mile away from Kubasaki's Mike Petty Stadium, St. Mary's International Titans of Tokyo won the title in the first Kubasaki Spring Fling Baseball Tournament at Foster Athletics Complex's Field 9.
Masanori Nagashima went six innings and struck out 13 as the Titans edged Kubasaki 4-2 to go 2-0 in the two-day, round-robin tournament.
Jared McNeal pitched a complete game, scattering four hits, then ripped a two-run triple in a four-run seventh inning as Kadena (1-1) rallied past American School In Japan 6-4 to share second place with Kubasaki. ASIJ finished last at 0-2.