Far East tennis a family affair in DODDS-Pacific
by
Dave Ornauer
November 1, 2003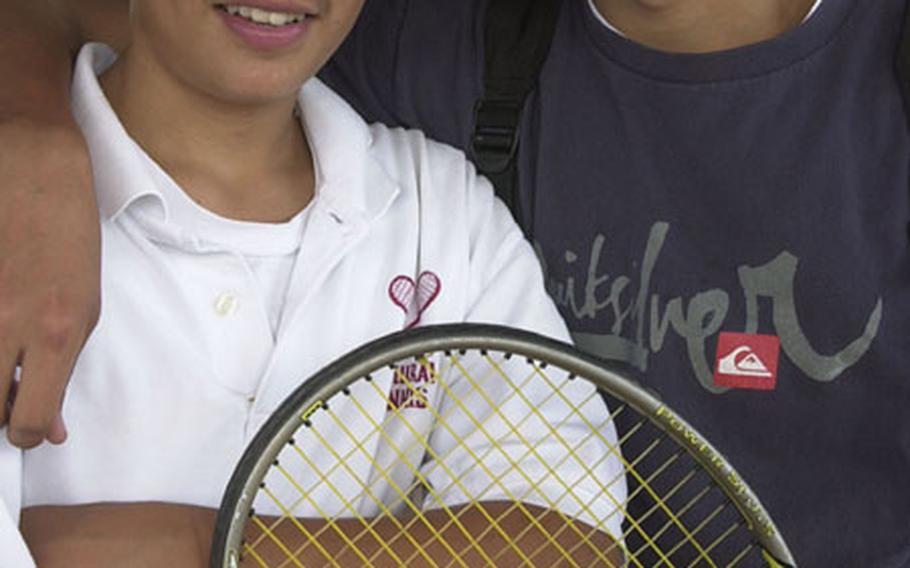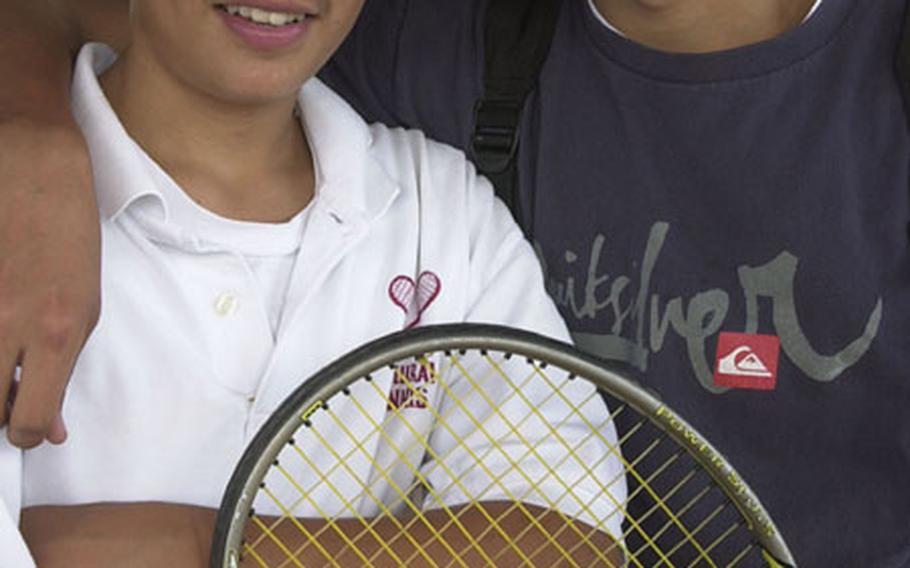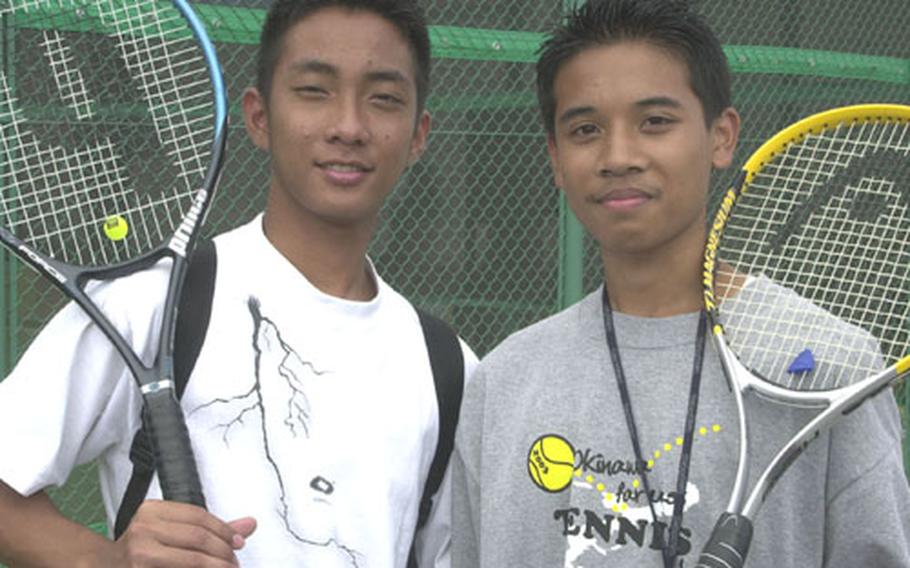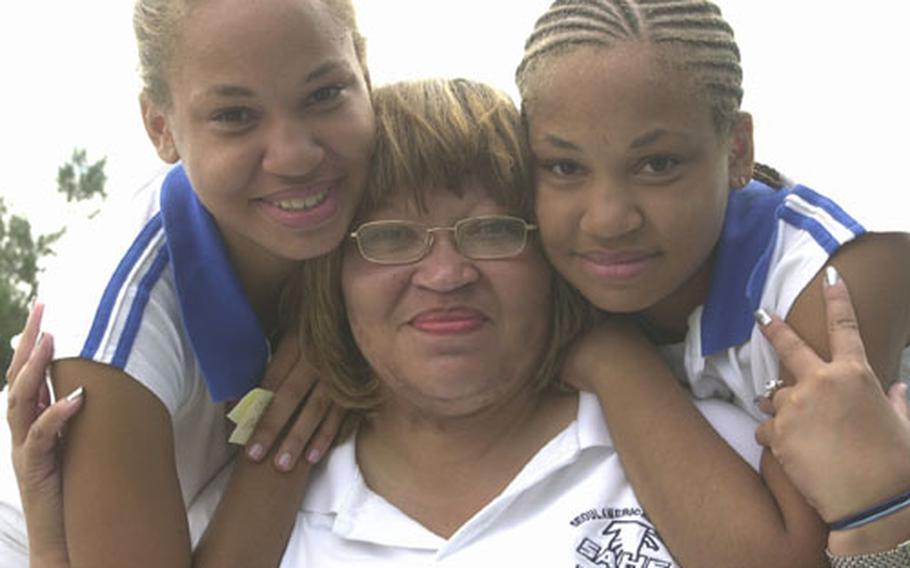 KADENA AIR BASE, Okinawa — "Hey, anybody seen my brother's cap?" Andrew Soroka asked as he walked around the Risner Tennis Complex, seeking headgear to ward off the sun during his brother Anthony's boys singles quarterfinal.
The Kadena Panthers' No. 1 singles seed already had been ousted in the second round of the Far East High School Tennis Tournament a day earlier but that wasn't going to stop him from helping another teammate advance.
Especially his brother.
"Yes, I'm cheering for him," said Andrew, a senior, of his sophomore brother. "I want him to win."
The sophomore didn't win — but became the last DODDS-Pacific hopeful to lose in the boys singles main draw.
Say this for the Sorokas and the other pairs of siblings in the Far East meet: They keep tennis in the family.
Browsing the tournament program can seem much like reading a family tree. Besides the Sorokas of Kadena, there were:
• Lucky and Darren Montano of Japan's Zama American Trojans. Lucky plays boys singles and Darren teams with Matt Shakespeare in doubles.• Matthew and Mitchell Bierschenk, boys singles players from the Matthew C. Perry Samurai of Japan.• Two brother-sister acts — Mary and James Edwards, Pusan American Panthers singles players from Korea, and singles player Irene Que and her brother, doubles player Michael, of Guam High.• And twin sisters Megan and Regan Geiger of Seoul American. Megan played singles and Regan teamed with Melissa Paek to play doubles.
Besides their family roots, the siblings all said they have a common denominator: pushing each other to do better on the court.
"We're really competitive and always trying to outdo each other, and it makes us try harder," Mary Edwards said. She and her brother each are six-year tennis veterans.
Does that sometimes spill over into sibling rivalry?
"Constantly," she said. "But it's in good spirit."
Added Mitch Bierschenk, "We challenge each other and it makes us better."
But while they play sportsmanlike one-upsmanship games with their siblings, they also make sure to look out for them.
"It lets me know that she believes in me and knows I can do it, and I feel the same way about her," Megan Geiger said.
"They're each other's strongest supporters," the twins' mother, Deaunka Geiger, said.
"We help each other," Lucky Montano said.
Like his brother, he's a second-year tennis player.
"We advise each other, what strategies we have to do in each match."
Darren added, "We watch to see what are the strong points and weak points of each opponent and support each other. We learn a lot, watching other people play, their techniques, and add them to our games."
And they add much to their games, particularly for, the international school players who dominated the singles draws.
"Some people here are really good, more experienced than we are," Matt Bierschenk said. He and his brother are soccer players trying tennis for the first time.
"I watch how they play and try to work it into my game, look at my mistakes and try to improve."
No matter that none of the siblings managed to make it to the semifinals.
"It's a good way to end the season," Regan Geiger said. "I'm having fun."
"We're both happy together, trying to succeed," Andrew Soroka added.
Kadena freshman impresses in girls singles
Somebody must have forgotten to tell Amy Lopes she is just a freshman — a freshmam with plenty of promise, ability and talent but a freshman, not expected to contend for the Far East girls singles title until the next tournament in two years.
She reached the girls semifinals with two victories Thursday, blanking Guam High's Janel Borja 6-0, 6-0 and almost doing the same to Pusan American's Mary Edwards, 6-1, 6-0.
Lopes said she felt no major pressure. Rather, she was having the time of her life.
"I feel the pressure a little bit," she said, "but I'm out here to have fun. Of course, I want to win, but I want to have fun."
Only four times has a DODDS-Pacific player won a Far East tournament singles title, most recently Theresa Felix of Kubasaki, eight years ago.