Far East sports programs face 'Battle of the Budget'
by
Dave Ornauer
November 1, 2007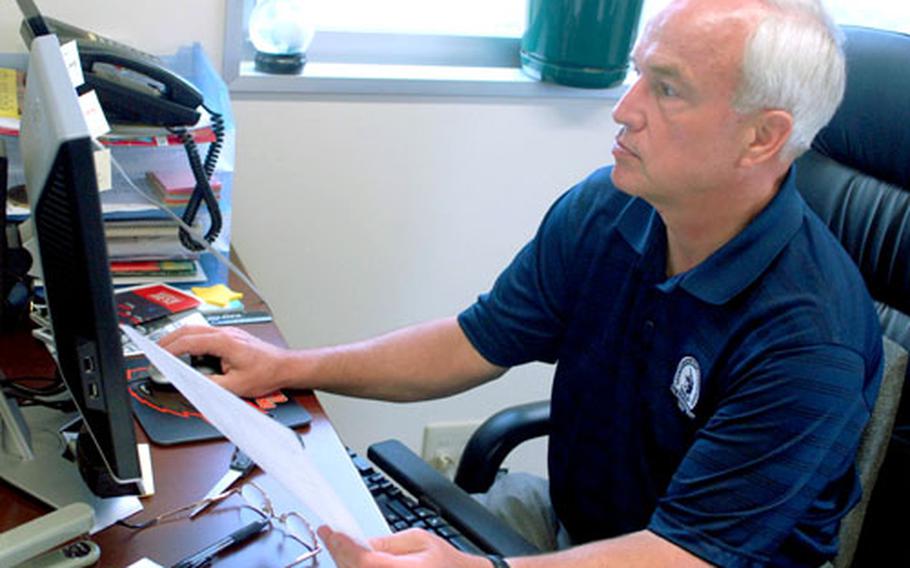 TORII STATION, Okinawa — In a perfect world, Don Hobbs sees a huge pot of money at Department of Defense Dependents Schools-Pacific's disposal. It would fund district championships in all sports in all areas, adding softball, baseball and track and field to the 19 existing events on the Far East Activities Council calendar, among other hopefuls.
"Just shooting for the moon, without qualification, I'd like to have a large amount of money. … It would be nice to add and increase activities and the desire of student athletes to participate," said Hobbs, now in his fifth school year as FEAC chair.
But reality dictates otherwise. DODDS-Pacific has about half the wealth it wielded as recently as five years ago, Hobbs says. As a result, training sessions, field trips and regionwide department conferences have been "curtailed, cut and suspended," Hobbs said.
But no, absolutely not, are any cuts to the FEAC calendar being considered, Hobbs said Monday in a wide-ranging interview with Stars and Stripes at DODDS-Pacific's regional headquarters at Torii Station.
"I generally don't hear something unless it becomes factual," Hobbs said, adding that many rumours floated past his desk hinting at possible activities cuts. "I heard this and went to the right people and asked and was told no, there are no cuts planned."
DODDS-Pacific leadership, Nancy Bresell and Steve Bloom, and DODEA director Joseph Tafoya "understand the importance of co-curricular activities," Hobbs said. "They understand how disruptive it would be to students … if they were taken away."
While not the FEAC calendar remains intact, cuts have been seen in other areas, Hobbs said.
Okinawa's Kubasaki and Kadena High Schools trimmed down to one junior varsity squad per team sport; in the past, there were two, and the total cut for all sports amounted to 10 teams. Meanwhile, DODDS-Japan has eliminated district championships in all team sports.
Those cuts were "not popular," Hobbs said. "I'd speculate that they had to do what's necessary to make ends meet. I'm sure it was last resort."
In the face of that, DODDS will not add to the FEAC slate those sports on the outside looking in, such as baseball, softball and track and field, Hobbs said.
Existing tournaments will continue to be run according to their current formats, Hobbs said. Tennis, cross country and wrestling will remain DODDS only, while volleyball, basketball and soccer, segregated by enrollment, will continue to welcome international-school teams.
At last month's FEAC meeting on Okinawa, it was suggested that tennis, cross-country and wrestling tournaments also be segregated by enrollment, to give small-school teams a chance to experience success.
Such a change is "strictly in the exploratory stage," Hobbs said, adding that if any change is to occur, it would happen "next year at the earliest."
Those three tournaments are on Okinawa this year. Hobbs says he wants the event directors to address it with coaches to gauge their feelings.
Football playoff system inequities were raised at the FEAC meeting.
Seoul American and Guam High, the lone DODDS entities in their respective areas, get free passes into the Class AA playoffs. Japan, South Korea and Okinawa stage full seasons, but while Yokota played nine regular-season games and Seoul American five, Kadena played just two, both against Kubasaki.
"Conceivably, the two best teams may come from the same district, but only one can go to the semifinals," Hobbs said. "We can't add any more games to the schedule, but maybe there's an idea somebody can pursue."
Little can be done about the Okinawa scheduling inequity at this point, Hobbs said. "Money and scheduling" need to be addressed, he said.
Trying to establish a DODDS-Pacific football preseason camp, staged in Europe since 1987, will be taken up at the district superintendents meeting on Okinawa later this month, Hobbs said.
A camp would have to be done at players', parents' and teams' expense, Hobbs said, something much harder to do in the Pacific than in Europe. "There's water between districts here. In Europe they're connected by land or the Chunnel, and transportation is cheaper," he said.
The same distance factor may prohibit, or at least make difficult, the possibility of establishing an in-season get-together of Class AA schools at one venue for a day of interarea games. Kubasaki made such a trip to Yokota for a game on Oct. 6, the first of its kind.
"It's not a justifiable request of high school kids to fund-raise and parents to foot that kind of bill," Hobbs said, adding that the host district would have to be asked to pay for transportation, referees, even field lighting.
Lastly, Hobbs said FEAC is addressing complaints that some teams are playing more tournament games than they should in one day's play, causing fatigue and injuries.
"We've recommended that every effort be made" so teams play no more than three games in two days and nine in six days, he said., says despite budget cuts that have DODDS operating at 50 percent of the resources it had five years ago, no cuts are anticipated to the FEAC calendar.