European H.S. girls soccer: Vilseck hits road, shuts out Patch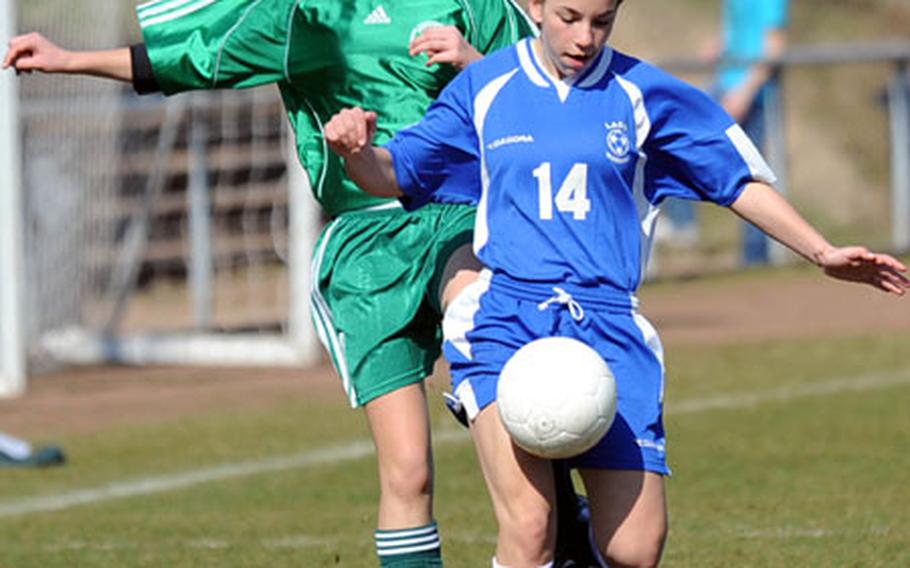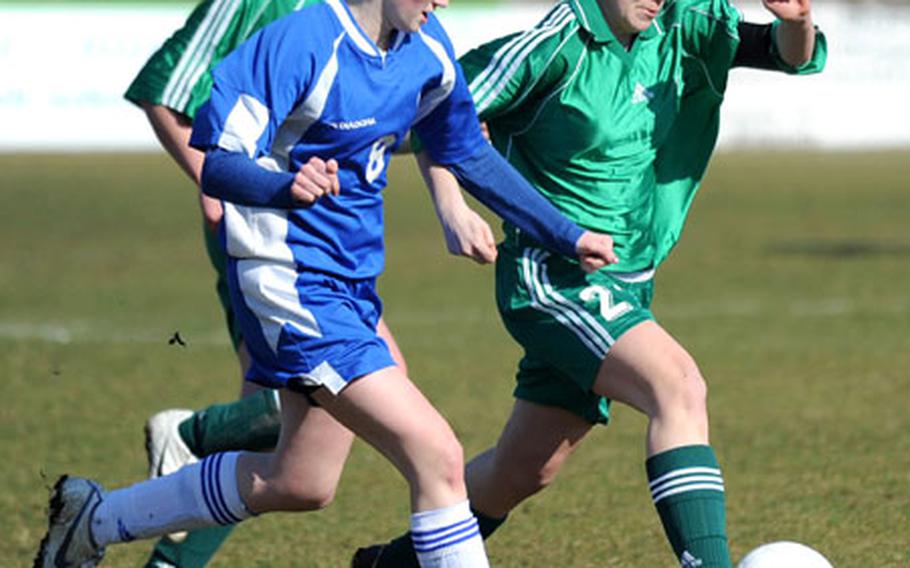 Shutouts were the order of the day on the first weekend for DODDS-Europe girls soccer.
But none was more attention-getting than Vilseck's 4-0 Region III road romp over Patch.
"She taught our defense a thing or two," Patch coach Tom Manuel said Saturday of the four-goal outing by Vilseck's senior All-Europe forward, Shamyra Coleman.
Coleman's fellow All-Europe senior, midfielder Tamaria Hollis, assisted on one of Coleman's scores. Belinda Spirrity and Ally Barnett also chalked up assists.
Patch might have been shut out, but the Lady Panthers apparently weren't shut down. Vilseck's keeper, senior Stevie Hood, was credited with an eye-popping 26 saves by her coach, Brian Swenty.
In other girls games of note Saturday:
Ramstein 3, Heidelberg 0: At Ramstein, All-Europe senior striker Macy Jespsen and teammates Mackenzie Crews and Mackenzie Bannister provided the scoring as Ramstein prevailed in a non-regional matchup of perennial D-I contenders.
In addition to their goals, according to Ramstein coach Ricardo Buitrago, Bannister and Crews each aided strong efforts from Ramstein's midfield and defense, respectively.
Crews, Buitrago reported, teamed with Karin Mol in defense and did a "phenomenal" job of keeping Heidelberg at bay.
Ramstein keeper Emily Coard was called on for just seven saves as a result of their efforts.
Bannister joined Alana Sciuto, Michaella Herron and Laura Welch in controlling the tempo and rhythm of the game from the midfield.
Bannister scored, Buitrago reported, by outracing a Heidelberg defender to the ball and floating it over the Heidelberg keeper's head from 18 yards out.
Baumholder 4, Mannheim 1: At Mannheim, Laura Bailes scored twice as the visiting Lady Bucs of Division III handed the defending European Division II champion Lady Bison their first loss since May 2007.
Megan White and All-Europe senior midfielder Katrina Alsup also found the net for Baumholder. Goalkeeper Chelsea Hall's six saves included one on a Mannheim penalty kick.
AFNORTH 5, Menwith Hill 0: At Brunssum, Netherlands, Stephanie Seitz and Kylee Wilstead each scored twice, while Seitz added two assists and Wilstead one as the Lady Lions opened with a Region I romp.
AFNORTH's defense was just as sharp as its offense, according to coach Kevin Padron. He reported the Lady Lions allowed just one shot on goal, and that on a free kick.
Aviano 2, AOSR 0: At Aviano, Italy, Sasia Salter-Mack scored a second-half insurance goal to go with an own goal by the American Overseas School of Rome during the game's first 40 minutes.
Lakenheath 7, Alconbury 0: At Alconbury, England, the enrollment discrepancy was on full view as Melissa Enriquez scored four times for the D-I victors.
Hannah Oates beat the defense of D-IV school Alconbury twice for goals, and the other was by Mercedes Prand, who also registered an assist.
Molly Martin set up two of Lakenheath's scores.