European Div. III football: Ansbach, Baumholder advance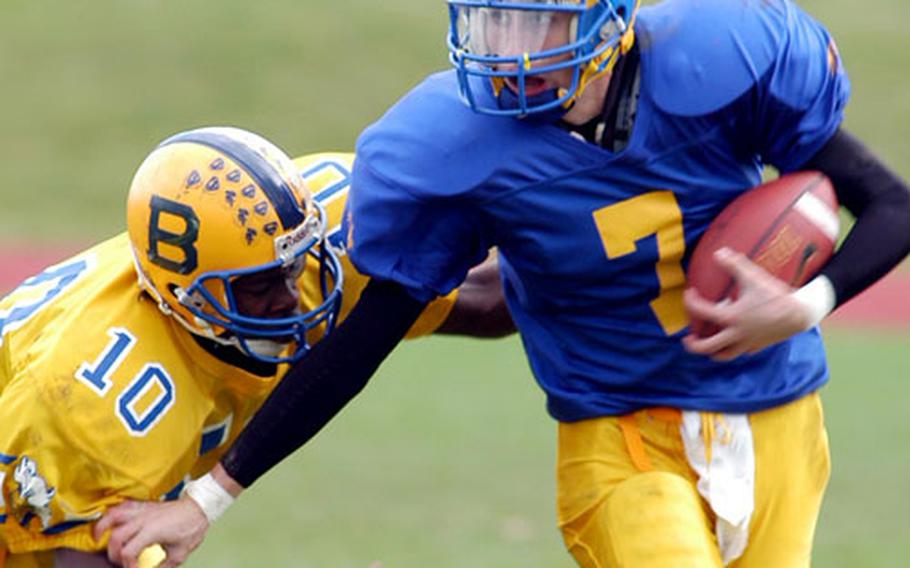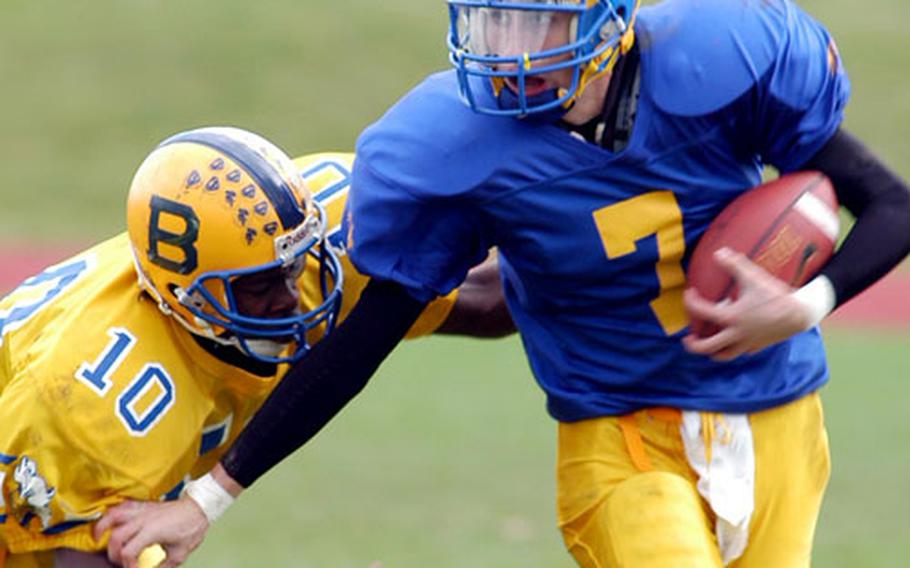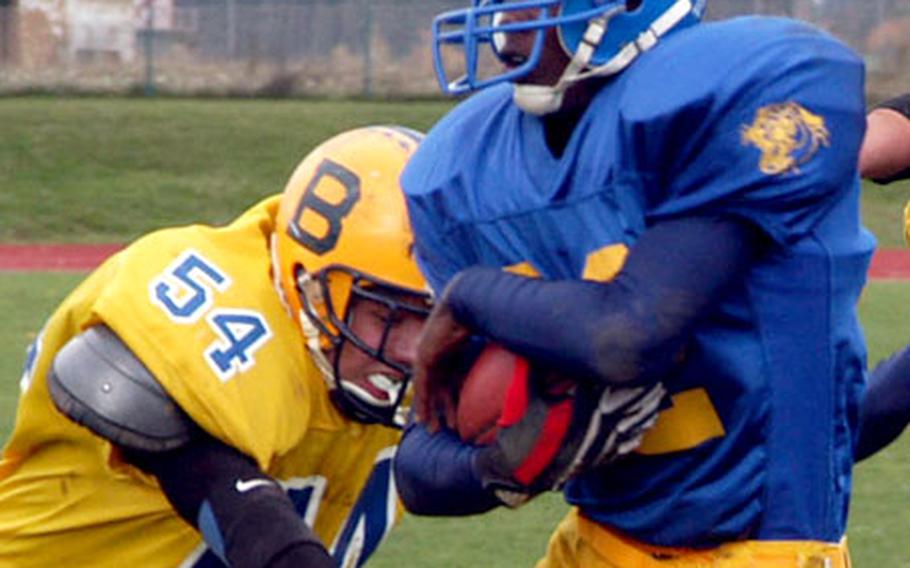 Ansbach rolled to a 39-0 halftime lead and cruised to a 45-14 victory over visiting Bamberg in the Division III semifinals Saturday in Katterbach, Germany.
It was the 23rd straight victory for the Cougars, who are 7-0 this season.
Dameon Outley scored Ansbach's first two touchdowns on an 11-yard run and a 3-yard run in the first quarter. Mike Ewing hit both PATs to make it 14-0.
Branden Bachtel then hit tight end Russell Bailey for a 10-yard score to make it 20-0, and Adam Golden ran a fumble back 25 yards as Ansbach finished the first quarter with a 27-0 lead.
Following another Bamberg fumble, backup quarterback John Willis-Norris hit Bachtel with a 13-yard score, and James Esthers returned an interception 90 yards for a 37-point halftime lead.
Bamberg finally got on the board in the third quarter on Tim Battle's 85-yard touchdown run. Christian Popeel kicked the extra point to make it 37-7.
The Barons, who finished the year 4-3, scored again when T'Andrea Stuckey ran in from 28 yards out.
Ansbach salted away the game when Bachtel hit Bailey with a 2-yard pass.
The Ansbach quarterbacks were a combined 9-for-13 for 55 yards and two touchdowns. The Cougars, who got 57 yards from Taurean Moore and 54 yards from Esthers, gained 218 yards on the ground.
Battle led the Bamberg offense with 205 yards rushing.
The Cougars will face Baumholder on Saturday in the Division III final in Baumholder.
In Saturday's other Division III semifinal:
[CALENDAR]Baumholder 19, Hohenfels 14:[/CALENDAR] At Baumholder, the Bucs earned their second straight Division title-game berth against Ansbach by rallying from a 14-13 deficit with four minutes to play.
After Hohenfels had gone up by a point on a 54-yard scoring pass play from Jason Parks to Stephen Washington, Baumholder quarterback Chris Bray answered with a 60-yard pass to Ron James for the winning score.
Rashad Taylor, who had scored Baumholder's two earlier TDs, broke the 200-yard rushing barrier for the second straight week. He carried 29 times for 213 yards as the Bucs improved to 6-1.
In last week's 40-29 quarterfinal victory against Rota, Taylor had rushed for 236 yards.
Carl Roberts added 103 yards on 25 carries for Baumholder.
Parks was 5-for-10 for 93 yards and two TDs as Hohenfels, which defeated Baumholder 55-30 in the season opener, closed out its season with a 4-3 record.
Prior to hooking up with freshman Stephen Washington for the go-ahead score, Parks connected with Junior Washington on a 17-yard scoring play.
Baumholder held Hohenfels' power-running Brandon Merriweather to just 22 yards on 10 carries.
---
---
---