Ramstein, Lakenheath advance to D-I contest
by
Gegory Broome
November 1, 2013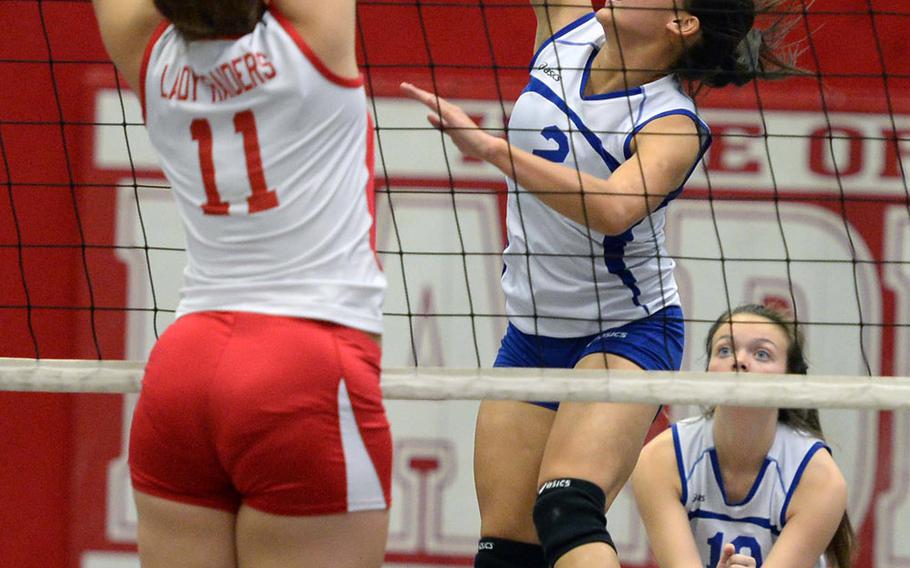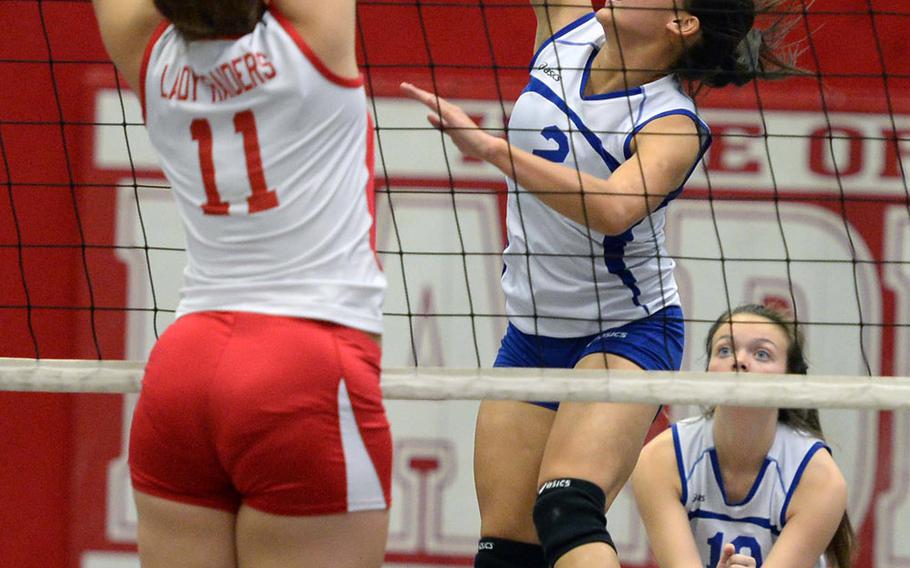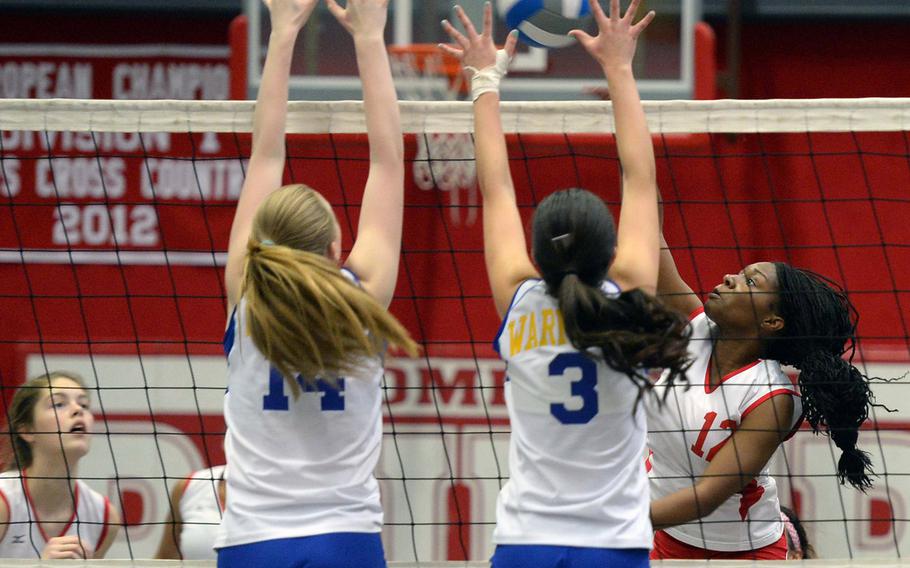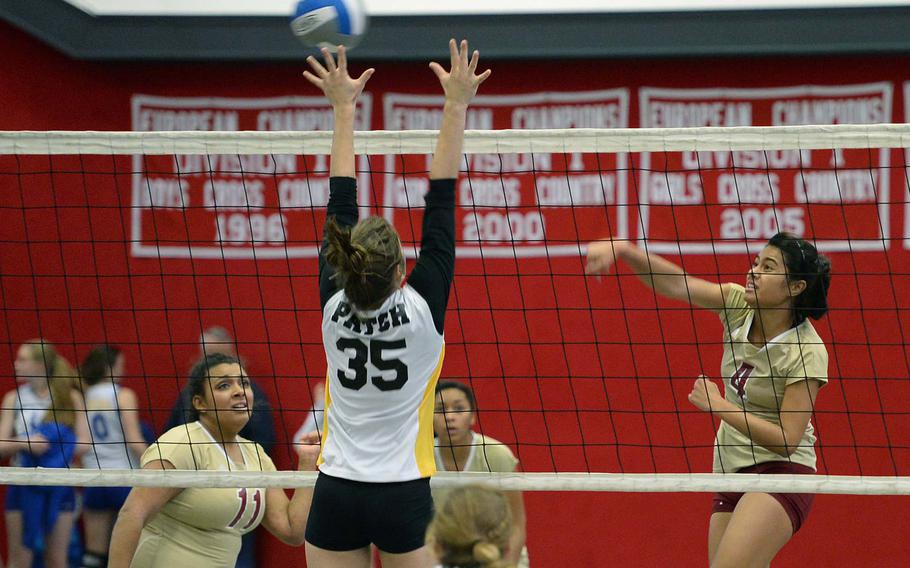 KAISERSLAUTERN, Germany – The thrill of victory. The agony of defeat. And whatever it was that happened Friday night at Kaiserslautern High School.
Three DODDS-Europe volleyball teams went through a strange and emotional odyssey as the second day of the Division I tournament drew to a close and, eventually, produced a pair of participants for Saturday's European championship match.
Ramstein and Lakenheath will play for the title. Patch is relegated to Saturday's third place game.
Here's the bizarre tale of how that came to be.
Lakenheath beat Vilseck, 14-25, 25-20, 25-14, to finish its round-robin schedule at 4-1, then stuck around to watch the day's final match between Ramstein and Patch. Ramstein came in unbeaten, while Patch had only one loss, a Thursday setback to Lakenheath.
The Patch-Ramstein showdown, a rematch of last year's European title match, had the fervent feel of a winner-take-all clash. But that intensity was misleading; winning and losing weren't necessarily the clear-cut outcomes they seemed.
Patch won the match in three sets, 21-25, 25-19, 25-22, and erupted into cheers and hugs as its cheering section followed suit. The beaten Royals grimaced and regrouped as their fans applauded.
The outcomes left Lakenheath, Patch and Ramstein each with 4-1 tournament records. Their fate was out of their hands. Coaches Erin Markus of Ramstein, Kyle Siftar of Lakenheath and Mike Rubino of Patch huddled around the scorer's table awaiting official word from DODDS-Europe athletic director Karen Seadore. Players from each team milled about the gym anxiously as the wait continued.
DODDS-Europe's first tiebreaker relies on head-to-head records among the tied teams. That was a push, as Ramstein had beaten Lakenheath, Patch had beaten Ramstein and Lakenheath had beaten Patch.
The second tiebreaker reads as follows: "The team with the highest percentage of sets won of those three tied teams will get the higher place." That somewhat vague wording refers only to matches the tied teams played against each other, Seadore said. The third tiebreaker scenario - "The team with the highest percentage of sets won in all tournament matches (round robin or pool) will get the higher place" - clarifies that distinction.
So under the second tiebreaker, Ramstein finished first, having won three of five total sets against Lakenheath and Patch. Lakenheath placed second with an even record of two sets won and two lost. Patch also won two sets but lost three, pushing its percentage below .500.
The Patch contingent had already disappeared into the night to fulfill a dinner reservation when Seadore's official decision arrived. But Lakenheath remained, now hours removed from their own match, among the only occupants of the closing gym. But when the Lancers learned the news, their screams mimicked the roar of a full house.
"Nothing's better than a surprise," senior Bailee Hughes said.
"It was just, like, weird to have to actually have another team decide our fate for a little bit. It was upsetting at first," sophomore Brenna Hughes said. A sophomore and Bailee's younger sister, Brenna is playing her first year of varsity volleyball. "I haven't experienced this stuff. It's a really cool experience."
"I love every single one of these girls," added teary-eyed junior Shannon Cox, another first-year varsity Lancer. "I'm super-excited to play this game. You have no idea."
Even the team's grizzled veterans were overwhelmed by the moment. Senior Jourdan Hodge, a veteran of deep playoff runs in both volleyball and basketball, sat on the court and cried when she learned her last DODDS-Europe volleyball match would be for a championship. Earlier in the evening, Hodge described the Lancers as "pumped out of our minds" during their crucial match against Vilseck, a situation that would only escalate as the night went on.
Defending champion Ramstein was more stoic, confident in the knowledge that its body of tournament work would survive the tiebreaker process despite the loss to Patch.
"You have to keep going," Ramstein senior Sarah Schiller said. "We played our hearts out. We're going to do it again tomorrow no matter who we play."
The Royals will now host a de facto home match against the Lancers, the only Division I team based outside of Germany, on Saturday afternoon at Ramstein's Southside Fitness Center.
Patch will face Wiesbaden in the third-place game Saturday morning.
Twitter: @broomestripes