D-I boys final
Defense, long goal help Royals retain title
---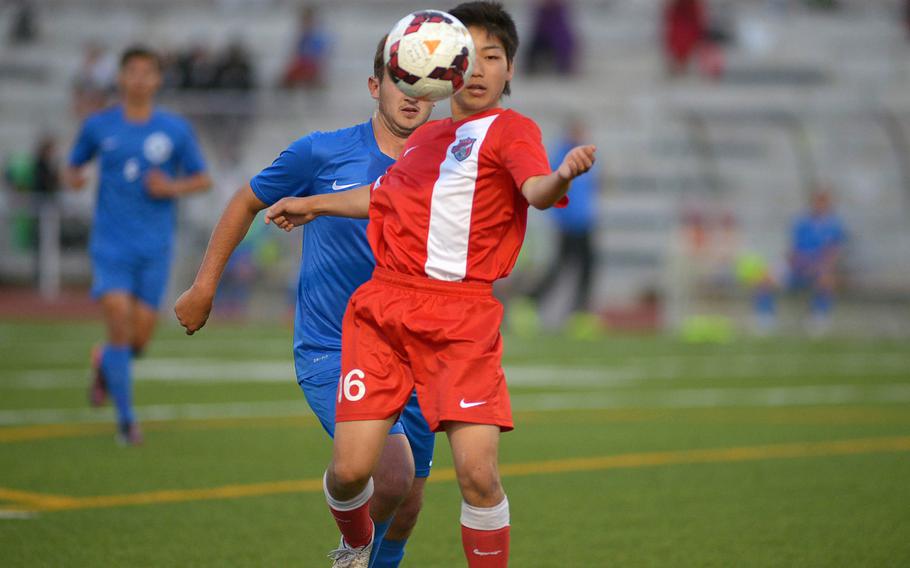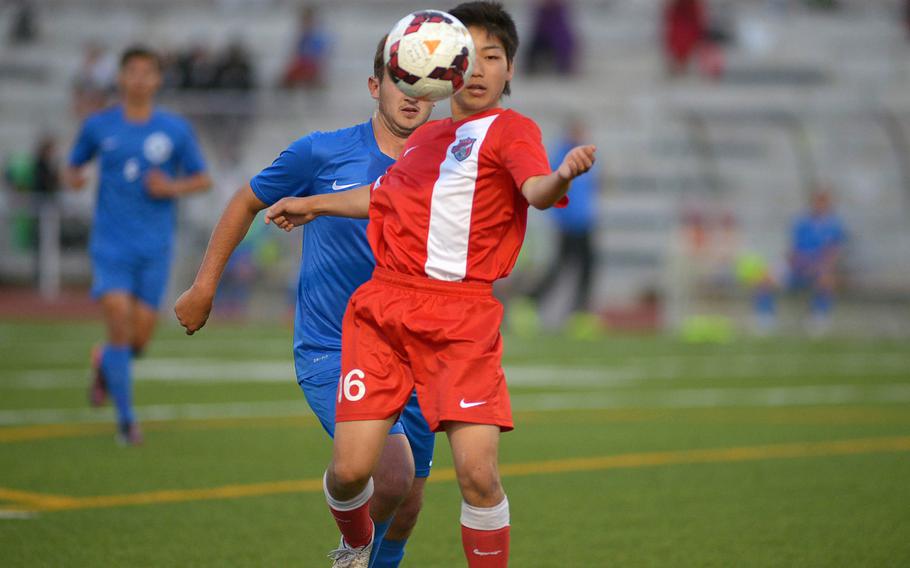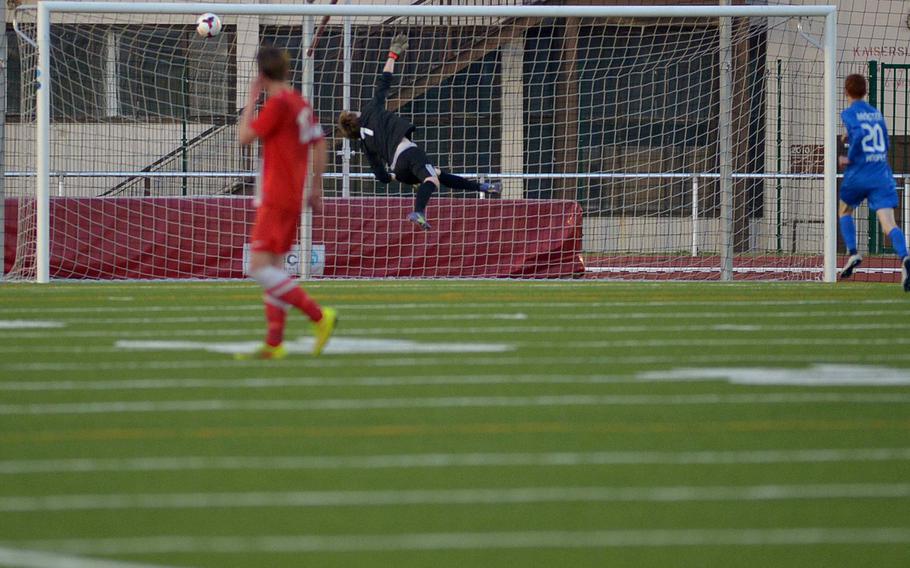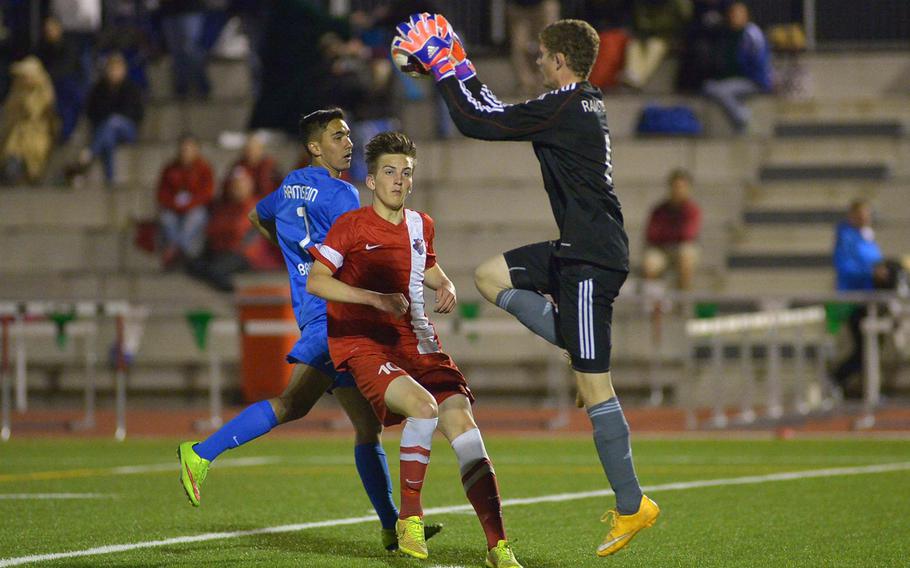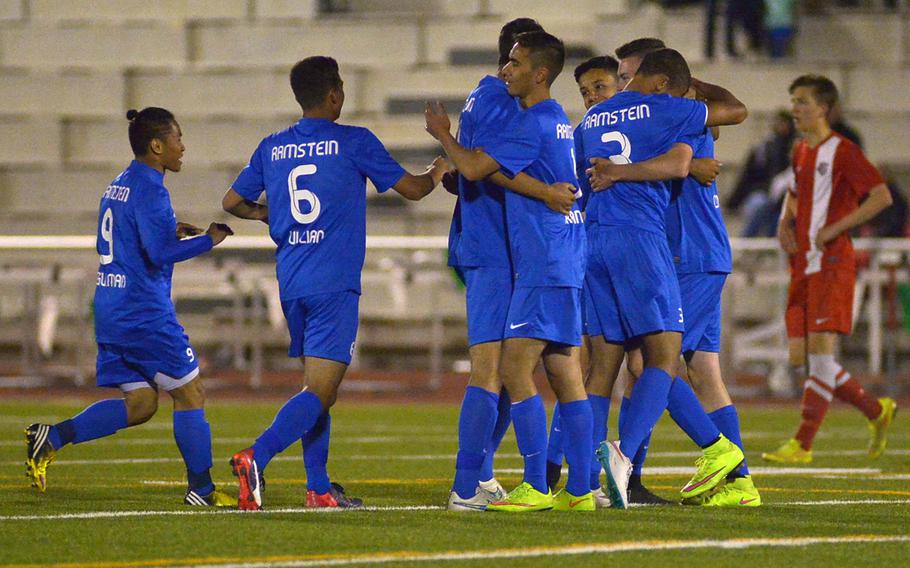 KAISERSLAUTERN, Germany – Rebuilding? Try repeating.
The Ramstein Royals beat International School of Brussels 1-0 on Thursday night at Kaiserslautern High School to win their second straight DODDS-Europe Division I boys soccer championship despite fielding a vastly different roster from their 2014 title-winning squad.
"I didn't think it was going to go that quickly," Ramstein coach Dominik Ludes said of the team's immediate return to title contention. "We peaked at the right time."
Ramstein's win was earned through equal parts serendipity, delivered via a stunning long-range goal from sophomore Keal Collins, and hard-nosed execution, in the form of Ramstein's all but impenetrable defense.
With just about six minutes remaining in the first half, Collins launched a booming attempt from some 40 yards deep. Unbelievably, the ball didn't stop sailing until it had crossed the goal line and settled in the net.
"It was unexpected," Collins said. "I was just amazed myself."
Ludes said the shot was "the perfect shot in the perfect moment," coming after a flurry of ISB offense including near-miss headers and a carom off the crossbar.
Ramstein, meanwhile, was still mired in its usual struggle to manufacture any clean, conventional shots on goal.
Cribbing from the popular basketball mantra that a player misses all of the shots he doesn't take, Ludes encouraged his team to fire away, a message Collins clearly received.
"We didn't have much offense going in that first half," Ludes said. "If we don't get much going offensively, it has to take some individual skill."
Given the Royals' acknowledged limitations on offense, it fell to the Ramstein defense to make Collins' goal stand up. The group was up to the challenge, as it has been all tournament; the Royals allowed just one goal against in the entire four-day postseason.
"It is quite an accomplishment," junior defender Antonio Oduber said. "Knowing that we could not score up top as much as other teams…we had to keep it strong in the back in order to push through."
The inexperienced Royals opened their regular season in March with a discouraging 2-1 loss to Vilseck. In their next game, they played ISB to a scoreless tie.
Though they made steady progress throughout the season, the Royals still came into the tournament on a two-game winless streak after losing to Patch and tying SHAPE.
There was no such inconsistency in the postseason, however. The Royals settled into their gritty identity, locking down the pitch on one end while cobbling together just enough goals on the other to advance.
They shut out Lakenheath and Kaiserslautern on Monday and SHAPE on Tuesday while scoring just six goals of their own across the three games. A relative shootout followed, a 3-1 win over top seed Naples on Tuesday afternoon that put Ramstein in the Wednesday semifinals. Once there, they shut out Wiesbaden 2-0.
The third-seeded Raiders, meanwhile, reached the cusp of a championship on the strength of their own accelerated rebuilding plan. ISB won consecutive Division I titles in 2012 and 2013, fell out of title contention in 2014 and stormed back with a vengeance this spring, only to fall short on what Raiders coach Phillippe Kaisin said was a "magic strike" by Collins.
"It's part of football," Kaisin said. "Sometimes that happens."
For the Royals, it happened again.
Twitter: @broomestripes
---
---
---
---