Ansbach edges Hohenfels on fluky play at end
by
Martin Egnash
March 24, 2018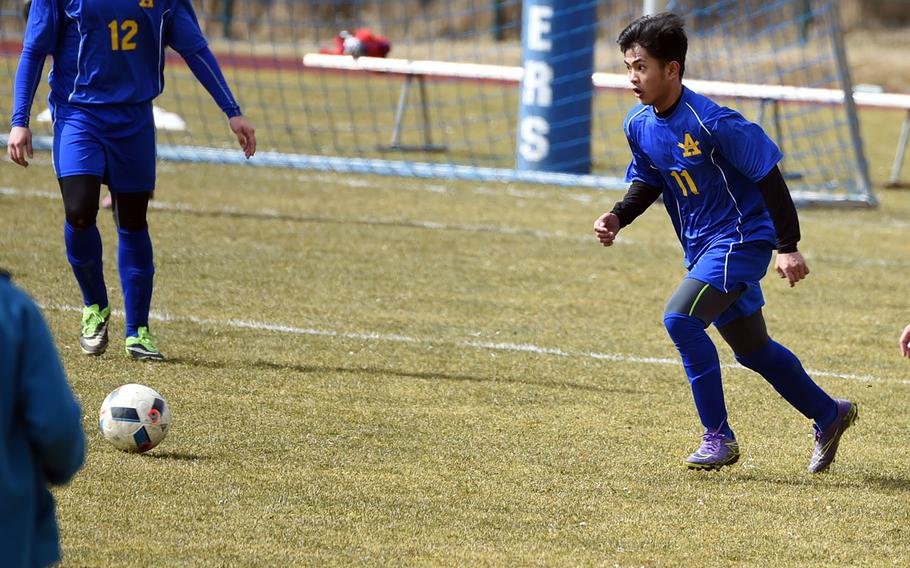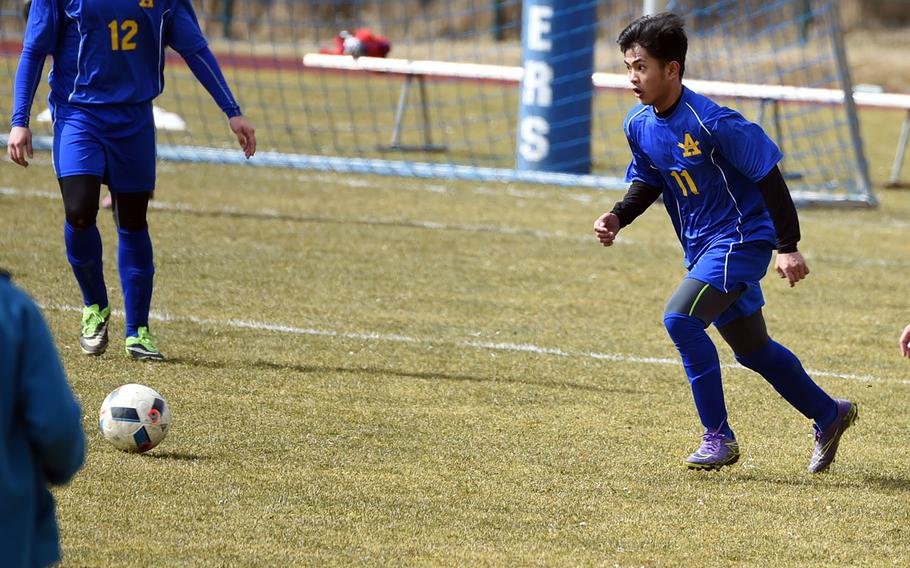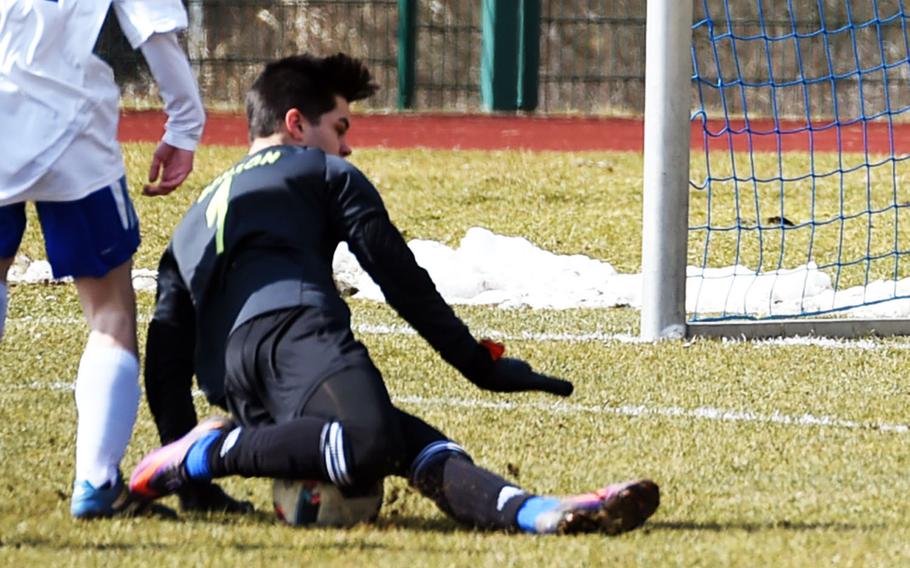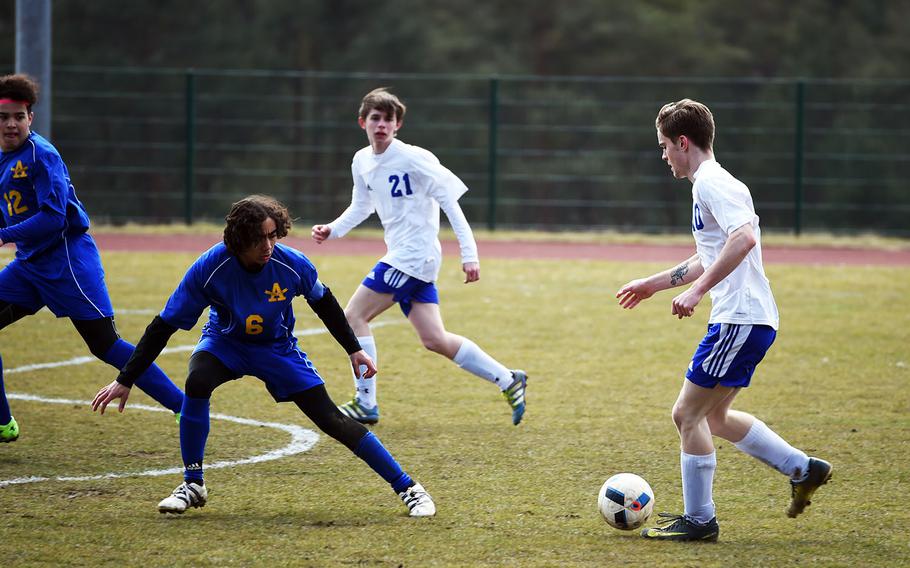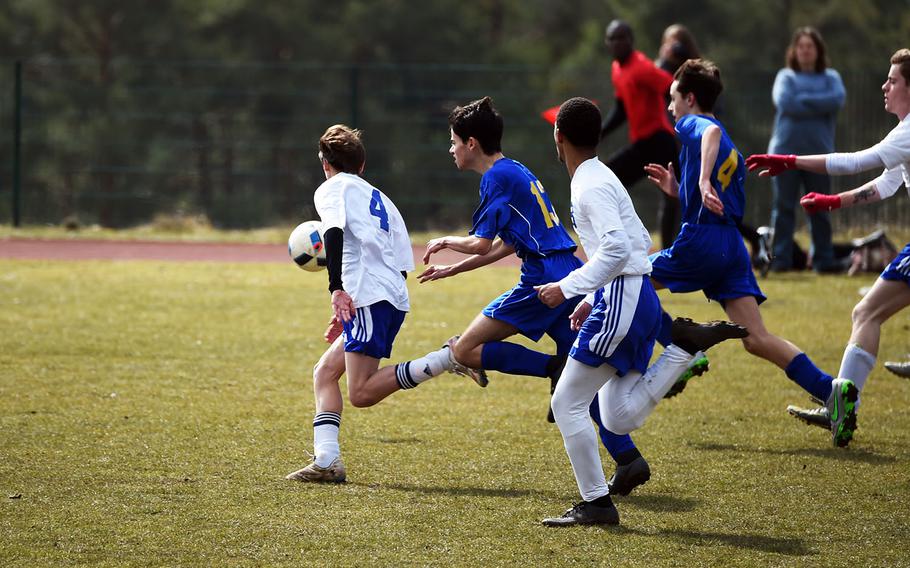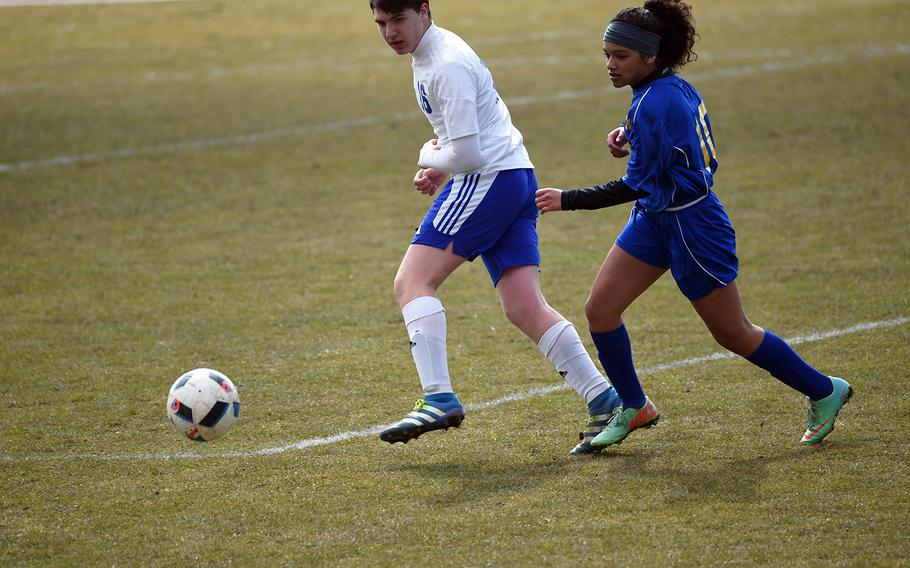 HOHENFELS, Germany – The first soccer game of the season for DODEA schools Ansbach and Hohenfels was a highly back-and-forth, energetic contest that came down to the final minutes Saturday. And then it finished in an unusual way.
Ansbach goalie Nick Benson kicked a long-range goal from the middle of the field to secure a 2-1 win.
The first half was very strategic and methodical, with both teams doing lots of passing, trying to open up good opportunities to score. But both goalkeepers expertly stopped them all, until the Tigers' Zach Blaser scored while running by the left side of the goal.
"He came around the top of the 18, and put it right in the top right corner. It was a nice score. It was beautiful," Hohenfels coach Phil Rigdon said.
That lit a fire under both teams to frantically spring up and down the field and attempt many more shots on goal.
Hohenfels' Collin Crone had six saves in his first time playing in front of the net.
"He did a heck of a job today. He's coming along nice," Rigdon said.
At halftime, Hohenfels had the only goal. But that soon changed when the coed Ansbach team's Dasha Boswell scored the first goal for her team.
"The goalie was out of the box, and the ball was just sitting there, so I pushed it in," Boswell said. "It felt really good to score."
With a tied game now, both teams pulled out all the stops to put them over the edge, and for the longest time, it looked like neither would score again until Benson booted the ball into a crowd of players in front of the goal, and somehow it found a way into the net, with just 3 minutes left.
"I don't even know what happened there. He kicked it over their heads, and somehow, it made it into the goal," Ansbach coach Bruce Collins said.
Rigdon said the Tigers' first goal made them overconfident in the second half, leading to their demise. "We let that first goal get to our heads," Rigdon said. "They didn't possess like they did in the first half."
He said he was pleased with the way his team played the first half, though, and believes it still has what it takes to have a strong season.
"We're looking strong. We just can't break down like we did in that second half," Rigdon said.
Twitter: @Marty_Stripes