Heinz, Pezel hope to defend titles on links
By
Stars and Stripes
September 18, 2022
---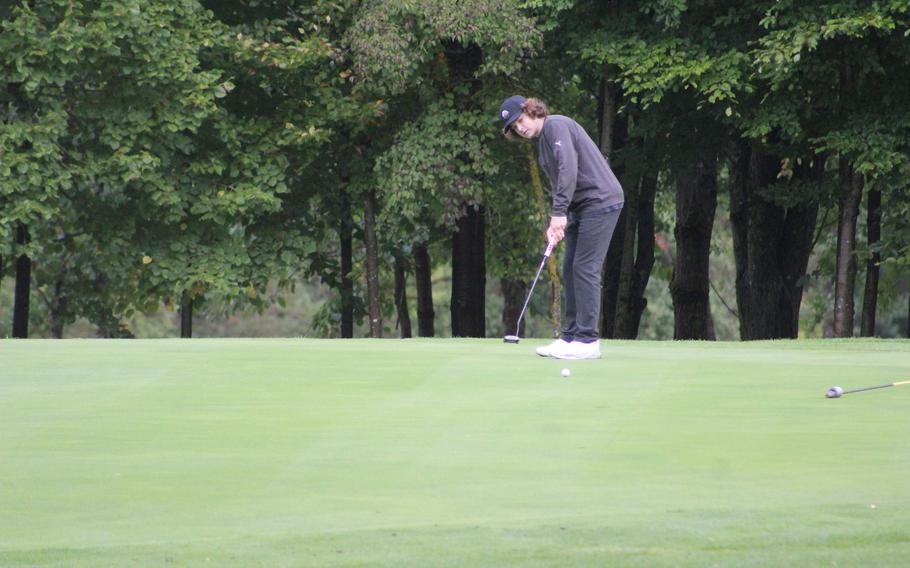 It's not business as usual in the ever-changing landscape of DODEA-Europe sports when not only one but two reigning champions get a chance to defend their titles.
But that's the case in golf this season as Stuttgart sophomore Mark Heinz and Kaiserslautern junior Reigen Pezel are back for more.
Heinz finished with an 86, eight points ahead of his nearest competitor, in the two-day championships that use a modified Stableford scoring system that gives those with the fewest strokes the most points.
He started off this season with a 43 on Thursday in a season-opening event at Vilseck to easily outpace the field.
Pezel, who rallied for a two-day total of 24 in last season's championships, might have her toughest competition on her own team. Sophomore Asia Andrews, second in last year's finals, finished atop the standings at a season-opening event at Ramstein on Thursday, topping Pezel 19-10.
There are three more weeks of action before the Oct. 12-13 championships in Wiesbaden.
Who to watch according to the three schools who responded to a query from Stars and Stripes:
Ramstein
The defending boys team champions have three top golfers from last year – Christian McHugh, Colton Lucas and Ethan Kim. They all finished in the top four in Thursday's opener at Ramstein.
Seven of the 18 golfers that make up the traveling teams for the boys and girls played for the Royals last season. Newcomer Brendan Stuever was fifth in the opening event.
Rota
The Admirals won't be among the favorites at the championships, but the girls squad would likely give smaller schools stiff competition – if they had any such matches.
Senior Victoria Bonavita and freshman Morgan Johnson have traded victories in two intrasquad competitions this season. The five-member team will get competition next week during a trip to Lakenheath.
Tristan Gonzales is the lone competitor for the boys.
Stuttgart
In addition to Heinz, senior Taylor Kreimeier has the most experience at the championships. She finished third a year ago and will try to top the Raiders duo in this year's finals.
The boys team tallied 126 points in its first outing of the season in Vilseck, thanks to contributions from Chris Mouritsen, Reid Glasgow, Kaniela Lyman and Liam Bernard among others.
Kreimeier was the only female golfer to reach positive points on the course.
---
---
---
---