Football roundup
Lakenheath, Stuttgart stay perfect to set up clash
Stars and Stripes
September 17, 2022
---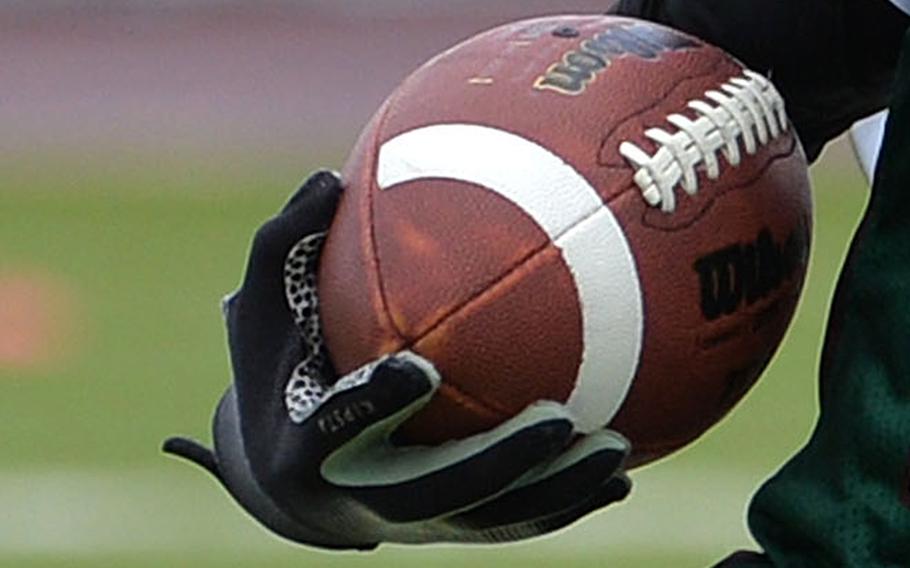 The two best Division I football teams in DODEA-Europe almost halfway through the regular season each won in convincing fashion Friday night to set up a showdown next weekend.
Lakenheath shut out Vilseck 33-0 in England, while Stuttgart mercy-ruled the host Ramstein Royals 42-0.
Both the Lancers and Panthers are 3-0 heading into the Friday night game in Stuttgart. Under a new alignment adopted before the season, they're also in separate conferences. So regardless of the outcome, Stuttgart will still head the three-team American Conference with wins over the other two teams – Kaiserslautern and Vilseck – and Lakenheath will still lead National Conference thanks to victories over Ramstein and Wiesbaden.
But the victor should have the edge if a tiebreaker is needed to determine the top seed for the semifinals set for the weekend after the regular season ends Oct. 13.
The two programs haven't played since 2019. After a year off due to coronavirus protocols, Lakenheath didn't play against D-I competition in 2021. Stuttgart is the defending champion.
Lakenheath 33, Vilseck 0: Nico Marchini threw for 218 yards and four touchdowns and the Lancer defense earned its second shutout and has given up only one touchdown this season.
Marchini connected with Tyler Bane on a 45-yard score on the team's second possession. The two hooked up again for a 3-yard score. Ryuu Flynn then scored on a 7-yard run before catching a 40-yard pass from Marchini just before halftime.
Marchini's 9-yard pass to Brian Miles ended the scoring in the third period.
Flynn ran for 40 yards to lead the Lakenheath rushing attack, while Isaiah Watson caught three passes for 72 yards. Tyler Martin had seven tackles, Witt Hennig six and Flynn and Gavin Idleman five apiece for the Lancers.
Justin Barnes had 88 rushing yards and Gabe Morell 38 to lead Vilseck, which fell to 1-2. Owen Brewer had 10 tackles and Garrett Hyten five for the Falcons on defense.
Stuttgart 42, Ramstein 0: DeShawn Lewis blocked two early punts and Andrew Just scooped one of them up and scored to set the tone early for the Panthers.
Trenton Jackson had 160 yards rushing and scored three touchdowns for Stuttgart. He also had six solo tackles and four assisted ones on defense. Gabe Tamez had five tackles.
Brody Hall had six tackles and two pass deflections for the Royals (0-3), while Gage Phillips had four tackles.
Wiesbaden 17, Kaiserslautern 14: Friday at Kaiserslautern, Abner Elias caught two passes for touchdowns – one an interception – and Patrick Iverson kicked a field goal as the Warriors recorded their first victory.
Elias had three catches for 79 yards on offense and picked off two passes on defense for Wiesbaden. Munro Davis also starred both sides of the ball, rushing for a team-high 53 yards and leading the team with eight solo tackles, two assisted tackles and three sacks on defense. Evan Cook had three solo tackles and four assisted tackles.
Jayden Dayao threw for 192 yards and a touchdown for the Raiders and ran 99 more including another touchdown. Logan Bell caught five passes for 136 yards and Aaron Potter caught a touchdown from Dayao. Myles Steele led Kaiserslautern in rushing with 52 yards.
Division II
Naples 41, Aviano 7: Saturday at Naples, the Wildcats scored the first 35 points to grab command of the four-team league of DODEA-Europe's mid-sized schools.
Gary Oliver led Naples with 111 yards on the ground and scored twice in the second quarter as Naples built a 28-0 halftime advantage. He and Matteo Oliver each had seven tackles apiece to lead the team on defense. Trayvon Hoffstatter had five tackles, two sacks and recovered a fumble.
The Wildcats, who shut out Vicenza 44-0 to open D-II play, led only 7-0 after a quarter after Robert Oliver's 22-yard TD reception from Camden Kasperek and Henri Schneider's extra point.
But scoring runs of 24 and 2 yards in the second quarter from Gary Oliver and a 22-yard run from Cameron Collins expanded the lead. Toliver opened the third quarter with a 1-yard run and Michael Daniel's 4-yard run in the fourth quarter finished off the Naples scoring.
Aviano, which had opened with a 42-0 victory over Rota last week, got on the scoreboard in the final quarter on Andrew Walker's 30-yard pass to Colin North.
Vicenza 19, Rota 0: Saturday at Rota, the Cougars won their first game of the year and kept the Admirals winless.
Daniel Bagadou rushed 25 times for 202 yards and a pair of touchdowns for Vicenza and Johnathan Layton totaled 80 yards on 16 attempts and also scored a touchdown.
Jayden Steimle had 13 tackles to lead Vicenza, while Golfried Kitivi had seven tackles – four of them for losses – for Rota and Lukas Ward had five tackles.
The Cougars host Aviano on Friday to complete the first round of the division's home-and-away clashes, while the Admirals entertain unbeaten Naples.
Division III
Sigonella 18, Ansbach 17: Saturday at Ansbach, Jonathan Eimicke intercepted a pass late in the fourth quarter to help the Jaguars hold off the Cougars.
Drake Dawson threw for 198 yards and two touchdowns for Sigonella, while Jaydon Reed rushed for 115 yards. Dawson connected with Everett Eggan for one score and Jack McKown for another and Reed ran 65 yards for another score.
Ansbach had two first-half safeties and scored two touchdowns, but a final drive to take the lead ended with Eimicke's interception.
AFIL
Amsterdam Titans 18, SHAPE 12: Saturday at Mons, the club team from the Netherlands stopped the Spartans on a late fourth-quarter drive to win an American Football International League game.
Junior quarterback Brody Wellington passed for 205 yards and scored on two short runs for SHAPE. Keller Schutt caught four passes for 124 yards. Wellington led the team in rushing with 64 yards. Kayson Boos rushed for 48 and caught two passes for 42 more.
Thomas McCabe Hefner led the Spartans on defense with nine solo tackles and 5 assisted ones.
---
---
---
---