Football roundup
Lancers stay unbeaten by pounding Warriors
Stars and Stripes
September 10, 2022
---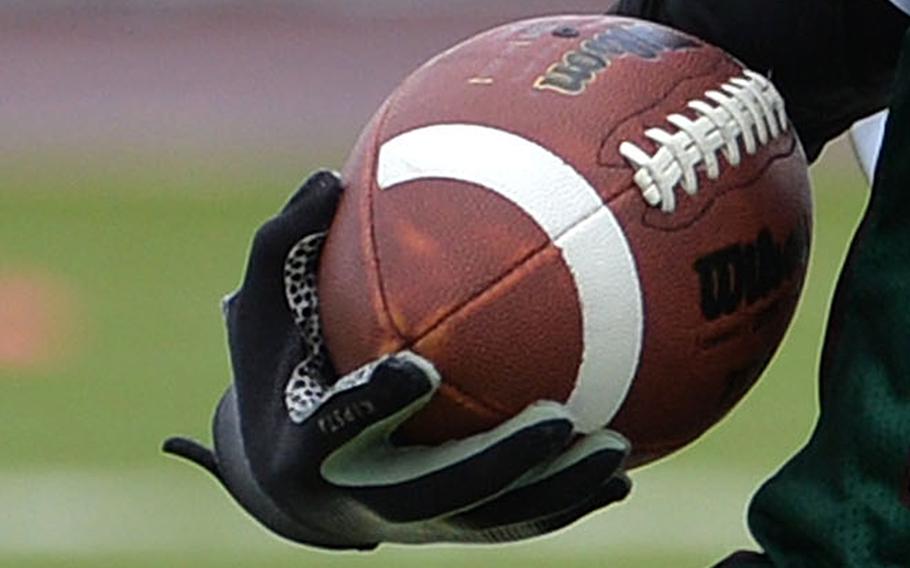 WIESBADEN, Germany -- The Lakenheath Lancers improved to 2-0 on the season after 41-6 victory Friday over Wiesbaden.
Quarterback Nico Marchini ran for two touchdowns and passed for another for Lakenheath, which hadn't played a Division I football game in almost two years until last week's opening win over Ramstein.
Gavin Idleman ran seven times for 101 yards and a score and Ryuu Flynn carried the ball 13 times for 87 yards for the Lancers. Brian Miles caught one of Marchini's two completions for a 28-yard touchdown and ran 14 yards for another.
Witt Hennig, a transfer from Stuttgart, led the Lakenheath defense with a sack and two interceptions.
Adam Gomes rushed for 49 yards and scored the Warriors' touchdown. He also had three tackles and four assisted tackles on defense. DeSean Marshall also had three solo tackles and a sack.
Kaiserslautern 20, Ramstein 13: In one of the few close games in DODEA-Europe football so far this fall, Isaiah Rodriguez scored on a 14-yard run in the fourth quarter to break a tie and give the Raiders their first victory.
Ramstein, which fell to 0-2, went up 14-0 in the second quarter but couldn't score again. Lucas Hollenbeck connected with Eric Manual for a 27-yard TD in the opening period and found Charles Wheeler for a 17-yard score in the second.
But the Raiders – playing through a steady rain in a game that was also interrupted by lightning - started to come back when Logan Bell caught a tipped pass on an 83-yard scoring play.
Brelan Barnes' 60-yard catch in the third quarter and a conversion tied the contest.
Kaiserslautern's Jayden Dayao threw for 180 yards and rushed for 113, while Hollenbeck threw for 92 yards for the Royals.
Connor Kelly led the Raiders' defense with 13 tackles, while Brody Hall had nine tackles and an interception, Ethan Wilson seven tackles and Sean Young an interception for Ramstein. DJ Gooding, Kelly, Rodriguez, Julian Murdock and Freeman Allen all recovered fumbles for Kaiserslautern. Gooding also had a late-game interception.
Stuttgart 45, Vilseck 9: Saturday at Vilseck, the defending champions bent but didn't break on defense to improve to 2-0 and hand the Falcons their first defeat.
Vilseck, which compiled 317 yards on offense, scored on its opening drive as Tameco Richardson crossed the goal line.
Then after stopping the Panthers, the Falcons drove to the Stuttgart 5, but failed to score as penalties set them back. It was the first of three times Vilseck drove deep into Stuttgart territory without coming away with a score.
Meanwhile, Stuttgart quarterback Caiden Ray started to heat up. He only completed five passes, but four of them went for touchdowns. Trenton Jackson and Ray also combined for 289 yards rushing as the Panthers started to click on offense. Jace Holmes caught two passes for touchdowns.
On defense, Jackson had 12 solo tackles and had a hand in eight more. Levi Katzenburger had 10 tackles and Jack Gruver eight. Deshawn Lewis blocked a punt and Daryl Drake recovered a fumble.
Richardson had 23 carries for 150 yards for the Falcons, while Gabe Morell added 76 more on 14 carries. Jonathon Bullock passed for 63 more. On defense, Simon Poveda and Justin Barnes teamed up for a safety, Pierre Fuentes had six tackles, Garrett Hyten had five tackles and Ibra Balde intercepted a pass.
Division II
Naples 44, Vicenza 0: Saturday at Vicenza, The Wildcats won their season opener when the game was called in the third quarter.
After gaining a 2-0 lead on a bungled Vicenza punt in the end zone, Marcus Wilson scored from 37 yards out and Camden Kasparek connected with Cameron Collins on a two-point conversion as Naples went up 10-0.
That duo hooked up again for a 17-yard score and Henri Schneider's extra-point kick put the Wildcats in front 17-0 after a quarter.
Kasparek found Wilson for a 25-yard pass in the second quarter and then kept the ball for a 2-yard run as Naples led 31-0 at halftime.
Gary Oliver's 14-yard run and Schneider's fourth PAT made the score 31-0 in the third quarter. Schneider scored on a 15-yard run later to put the game under mercy-rule protocols.
Oliver and Lucas Krumnow paced the Naples defense with eight tackles each. Wilson and Thaddeus Baraniak had interceptions.
Division III
Spangdahlem 39, Alconbury 32: Saturday at Spangdahlem, the Sentinels won their season opener in a game that featured plenty of offense.
Casey Supinger carried the ball for 98 yards and two touchdowns and threw for 88 yards and another score for Spangdahlem, while Robert Leggett ran for a touchdown, passed for another and caught a third. Supinger had five tackles on defense as did Michael Landers.
Luis Alejandro Diez ran for 115 yards and two scores for the Dragons, while Mateo Moore caught another and had seven tackles. Steven Long also had seven tackles and recovered three fumbles.
The second half was played in a heavy rain.
AFNORTH 31, Sigonella 0: Saturday at Brunssum, Netherlands, the Lions shut out the Jaguars to open six-man football play.
Connor Luminaries rushed for 298 yards and four touchdowns and also made 13 tackles on defense for AFNORTH. Nik Fulde rushed for 59 yards and a score and had seven tackles on defense. Collin Sharfenstine, Caden Snider and Tristan Samuelson were each credited with eight tackles.
Brussels 45, Ansbach 0: Saturday at Ansbach, no further information was available.
---
---
---
---