Aviano wins opener in nightmare start for Rota
By
Stars and Stripes
September 10, 2022
---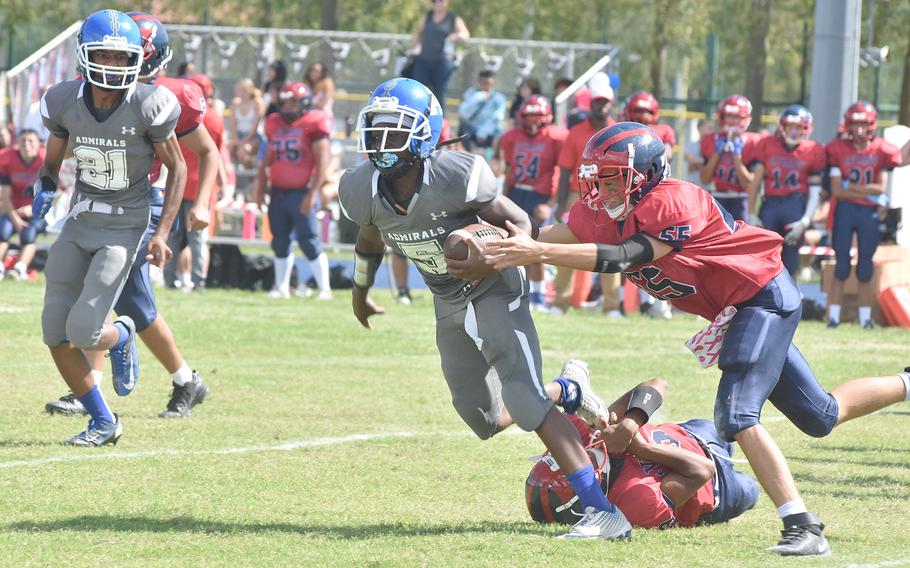 AVIANO AIR BASE, Italy – There are times in just about everyone's life where it seems like just about everything is going wrong. The Rota Admirals had that collective experience on the football field Saturday.
Rota didn't move the ball enough for a single first down in a 42-0 loss to the Aviano Saints. Rota didn't stop a single Saints drive before the game was officially over in the second quarter. Three of Rota's first-half possessions ended in fumbles - another finished with a punt returned for a touchdown.
"When you get pinned back three straight times to start the game and you turn the ball over, good things aren't going to happen," Admirals coach Luke Spencer said at halftime after the game had been officially called due to DODEA-Europe's 39-point mercy rule. "Especially when you have an inexperienced team."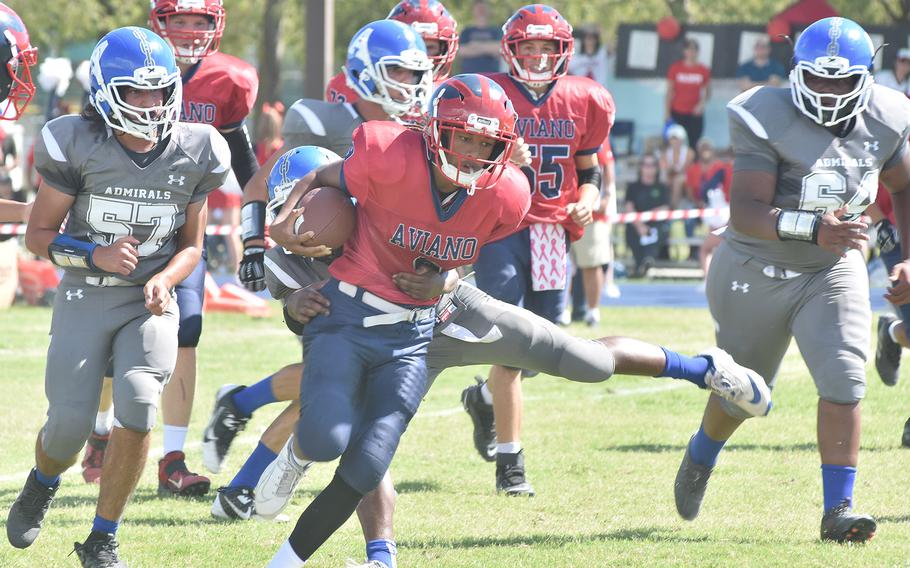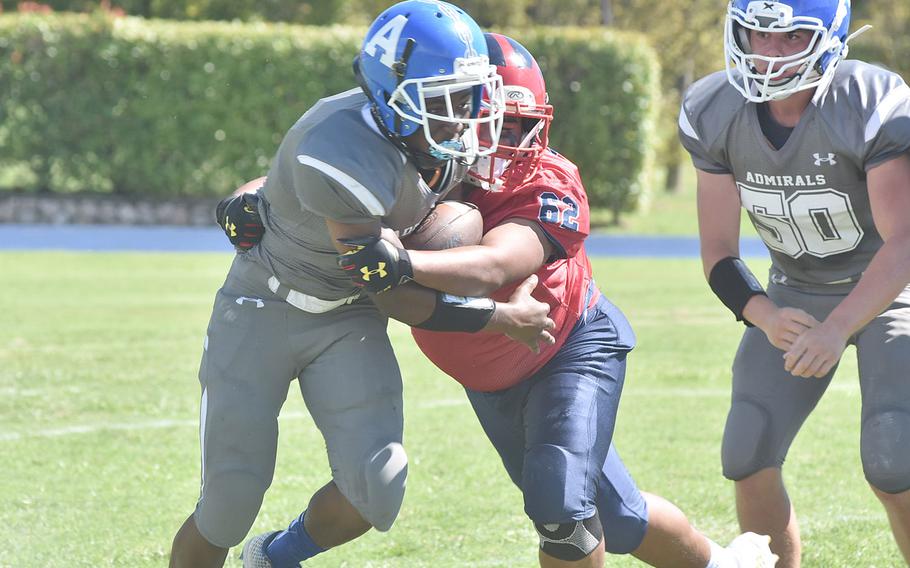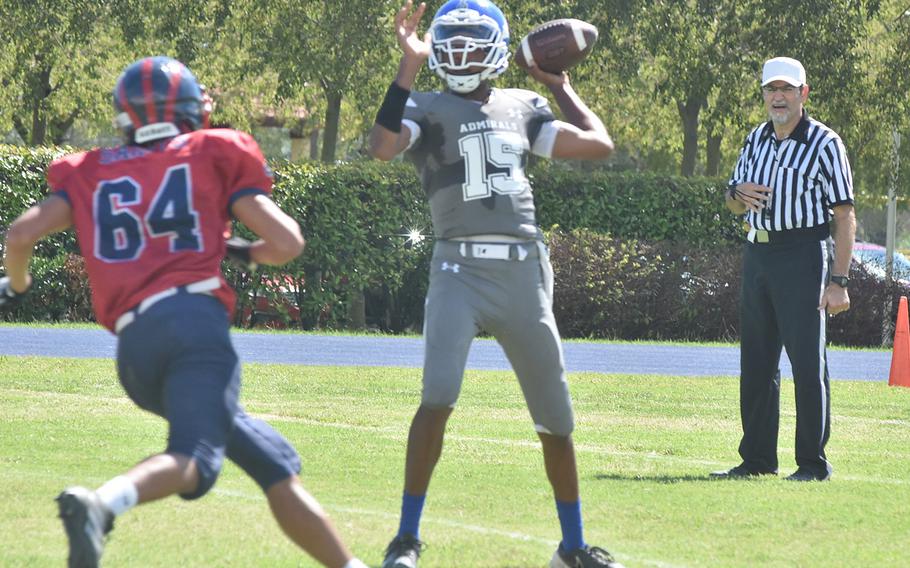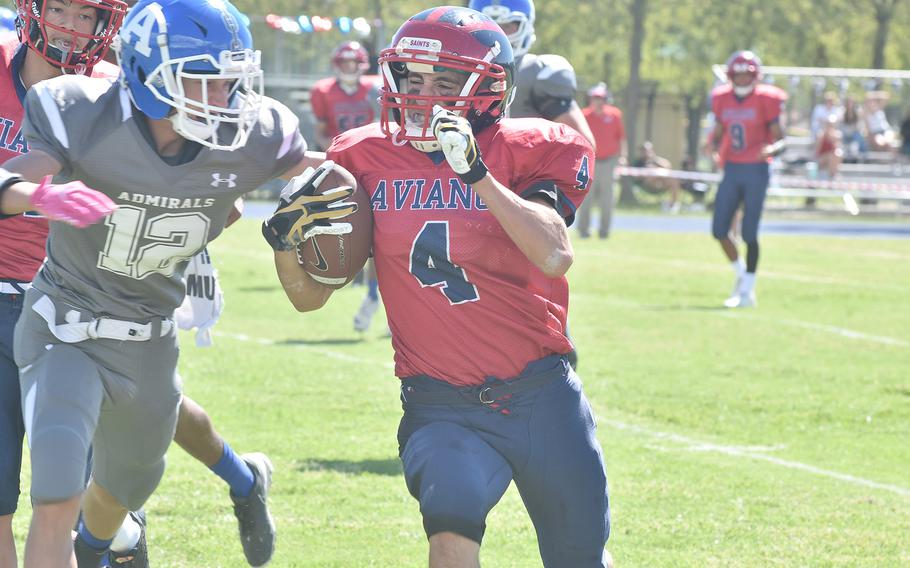 But it's not like Aviano is veteran-laden squad. The Saints, playing their first home game since 2019, also have three seniors playing. And though they have enough players for a full scrimmage during practice, they're not moving up to the Division I ranks.
So Rick Dahlstrom, who thought he was retired from coaching at Aviano before the season started, was philosophical as well after the win.
"They had a lot of turnovers and things just went our way," he said. "We've got a lot of work to do, but at least we are heading in the right direction …"
The Saints did that from the start Saturday.
It took Aviano eight plays to first reach the end zone in its longest drive. Andrew Walker's only pass of the day – a 7-yard toss to Colin North in the end zone - opened the scoring. Dillon Dunston added the first of seven point-after kicks.
Aviano was back shortly thereafter when North returned a punt 32 yards for a score.
Patrick Romanazzi made it 20-0 with a 17-yard run. Deon Walker ran up the middle from 1 yard out for another TD. Andrew Walker followed with a 1-yard sneak for a 34-0 advantage. And Malakai Harvey swept around the right side for a 23-yard scoring run about midway through the second quarter.
Romanazzi had 69 yards on six carries to lead the Saints, while the Walkers combined for 74 more.
The two teams meet again in Rota on Oct. 8. Next week, Aviano's at Naples and Rota hosts Vicenza.
---
---
---
---