Schedule says: serve, set, spike starting Saturday
By
Stars and Stripes
September 2, 2022
---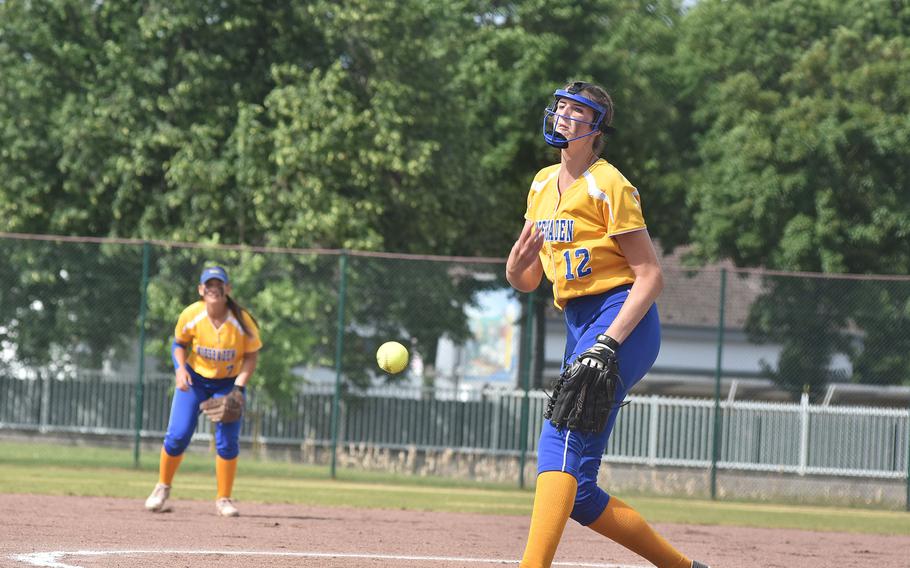 Dynasties are rare in DODEA-Europe sports, with even the best-run programs challenged with continually replacing athletes that often frequently transfer around the world with their military parents.
Stuttgart can boast two such programs in the winter, with its marksmanship and wrestling teams continually at or near the top every year for the last decade.
In the fall, the volleyball team comes the closest to achieving such status. The Panthers have made the championship game of the season-ending Division I tournament the last six times, including a triumph over Wiesbaden last fall.
Five players return from that roster, but second-year coach Bethany Trimble said all of her starters are gone.
"So our lineup will look almost completely different from last year," she said in an email response to a query about the upcoming season. "However, we have solid leadership skills from our returners and they are working hard to help the new players adjust quickly."
Senior Ainsley Baker, juniors Charity Clements and Ayana Gomez and sophomore Sara Houghton will supply much of the power for the Panthers as holdovers from a year ago. Senior libero Audrey Gillooly also is back.
Trimble also expects contributions from several newcomers. Junior setter Berea Bryan, junior libero Bella Whaley, senior outside hitter Kamarija Woolridge and sophomore middle hitter Alice Imme will hope to carry on the Panthers' winning tradition.
The Panthers host two of the other Division I semifinalists from a year ago – Ramstein and Kaiserslautern – in the second weekend of the season.
Vicenza will try to defend its Division II title when play starts Saturday around Europe. AFNORTH won the Division III championship last year.
An alphabetical rundown of other teams around Europe entering the season, using information supplied by coaches who answered queries from Stars and Stripes:
Aviano
The Saints return three starters and three others from last year's squad that was second to the Cougars in the middle school finals held in Italy. Outside hitters Elaina Holsclaw and Jaycee Spence and setter Mayci Salmon are back. Libero Oriana Lealiifano, defensive specialist Grace O'Connor and outside hitter Nicole Goeres expect to see more playing time this year. Middle hitters Kayla Graney and Sophia Fisher are key newcomers.
Baumholder
The Bucs return a strong core in seniors Isabell Cobb (outside hitter), Sylvia Turgeon (middle hitter), Janiyah Spruill (middle hitter) and Alex Barreto (setter) and junior Janet Phillips (outside hitter). Newcomer Aisis Jarmon, an outside hitter, joins the mix this season.
Black Forest Academy
Seniors Katie Stemple (setter) and Savannah Tweedy (middle hitter) provide experience for the Falcons, who drop back to Division II this year – though the regular-season schedule is pretty similar, with the exception of a cross-Alps visit from Vicenza on Oct. 15. The team's success might depend on how well players coming up from last year's JV team adjust.
Hohenfels
Five players are back from a year ago, including the team's lone returning senior – Kennedy Liverpool. Six new players join the mix for the Tigers.
Kaiserslautern
Seniors Piper Nowlin, Xin Ai Robinson, Sage Barnes and Se'maiya Farrow all saw a lot of action a year ago. Barnes plays in the middle and Nowlin and Robinson will both attack from outside, even though they're each only listed at 5 feet, 4 inches tall. Junior setter Isabella Daep is also back. Heavy contributions are expected from last season's strong junior varsity team.
Lakenheath
Chloe Aldrich a junior setter/outside hitter, and Riley Kraft, a sophomore middle hitter, are back from last year's squad. A'Lydia McNeal, a junior middle hitter, moves up from the JV squad. And freshman Arianna Christian should have a prominent role. The rest of the roster lacks experience.
Ramstein
Junior setters Jazmyn Hall and Jillian Buckley are back from last year's team as are seniors Keilani Gonzalez and Lily Rethage. Middle hitter Kaitlyn Rex transferred in from Georgia. More power should come from juniors Jasmine Jones and Sophia Schluth and sophomore Jodia Relojo, all up from the JV team.
Spangdahlem
Six players return from last year's squad, including three seniors. The Sentinels are also counting on contributions from the JV ranks and a transfer from Florida. No names were provided.
Vilseck
Junior Madison Bell, a transfer from Virginia, and junior setter Emma Boyle are expected to lead the Falcons.
Wiesbaden
Senior Lyndsey Urick, a 6-5 middle hitter/blocker, will draw the most attention for the Warriors and should be even better after more time to recover from a leg injury and time spent at summer camps. Sophomore hitter Ryanna Mize and junior setter Audrey Garrison move up from the JV ranks. Transfers Elizabeth Troxel (Humphreys, South Korea), Maria Pidgeon and Bridget Pidgeon (Nile C. Kinnick, Japan) are new to Europe, but not volleyball.
BOYS
South of the Alps and in a few other spots, boys play volleyball in the fall as well. Responses from coaches:
Naples
6-5 senior Ian O'Connor roams the middle for the Wildcats, while junior setter Tristan Rosado and outside hitter Davion Bowie also return. Passing will be key.
Rota
Six players are back from last year's team including junior outside hitters Tyler DeMerritt and Brien Lieba and seniors Ken Kozono (defensive specialist) and Ethan Gamez (setter). Sophomore middle hitters Christian Weaver and Hampton Brasfield are also back for the Admirals after helping the school field its first boys team last season.
Vicenza
Eight players return from last year's team, including seniors Christian Barberio (setter), Patrick Blake (outside hitter), Zachery Denton (outside hitter) and Oliver Latham (middle hitter). Juniors Peter Hartman (outside hitter), Brady Blake (middle hitter), Nicholas Morton (outside hitter) and sophomore Isaac Dube (middle hitter) also saw action a year ago.
---
---
---
---