Another sweep unlikely as teens tune up on courts
By
Stars and Stripes
September 1, 2022
---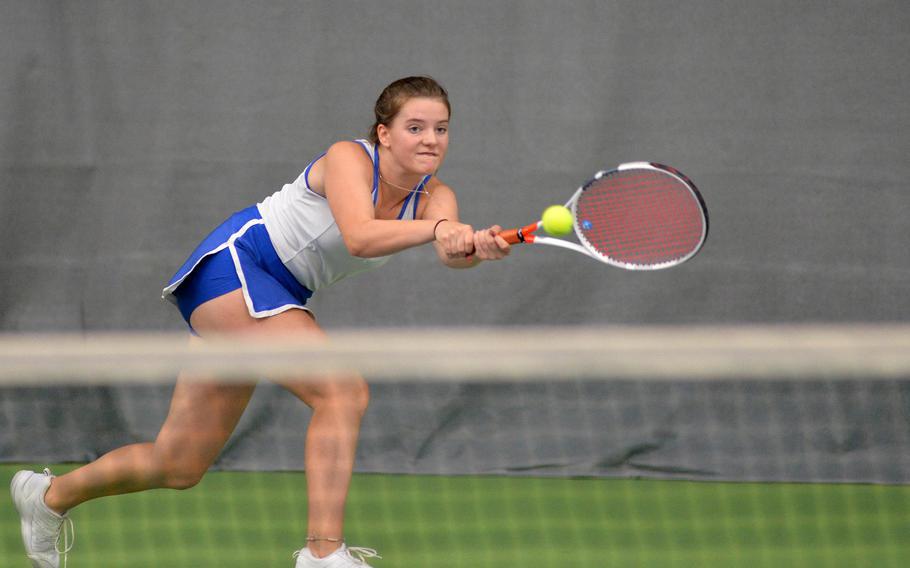 A season ago, Kaiserslautern had one of the most dominant tennis seasons in DODEA-Europe history.
The Raiders won the boys and girls singles and doubles titles at the season-ending championships, didn't lose to another opponent in a head-to-head matchup and only dropped a handful of individual or doubles matches during the entire season.
But several factors should make it harder for any team to achieve such feats this season.
The first is that there will simply be more competition. Relaxing COVID-19 protocols means that teams south of the Alps will again make the trip up to Germany at season's end, bringing in more athletes to Wiesbaden Oct. 20-22.
Secondly, the Raiders themselves are different. Girls champ Aiva Schmitz graduated and will be playing tennis for the University of Minnesota this fall. Boys champ Tristan Chandler transferred across town to Ramstein for his sophomore season. Coach Eric San Pedro and his tennis-playing kids Micah and Hannah, moved away.
Lastly, there are other players joining the mix, just as Schmitz and Chandler excelled (and won titles) as freshmen.
The season opens Saturday with seven events scheduled in Germany, Italy, England and Belgium. Among those are contests between four traditionally strong programs as Kaiserslautern hosts Wiesbaden and Stuttgart entertains Ramstein.
A look at some of the players and teams who will be striving to reach the championships using information provided by coaches who responded to queries from Stars and Stripes:
Brussels
One of the smaller entrants in DODEA tennis, the Brigands don't feature a lot of faces familiar to the DODEA scene, but might surprise.
Grant Rohrer returns as the top boys player, with freshmen Makailer Marzec Zinn and Miles Grussing expected to improve quickly. Abigail Halttunen is a junior transfer from San Diego and holds the No. 1 girls spot. Returning sophomores Almina Kocabas and Ava Hite, along with newcomers Adrienne Chezik, Riley Thomas and Gabrielle Rohrer should make the Brussels girls formidable opponents.
Kaiserslautern
Don't count out the Raiders just yet.
Senior Alexander Brunk was one half of the winning boys doubles team and is now No. 1 in singles. Senior Anderson Ennis, half of the third-place doubles team, returns, as does Sam Jones. Freshman Jace Martin is the top newcomer.
For the girls, Stella Schmitz, Aiva's younger sister, is likely No. 1 in singles. She teamed with fellow returning sophomore Abby Hover to win the girls doubles a year ago. Returners Isabela Wagers, Brook Rawcliffe and Bailey Bates – all seniors – and sophomore Alisa Dietzel provide depth. Freshman Gianna Terry is the newest Raider.
Ramstein
In addition to Chandler, the Royals sport a pair of girls with previous championship appearances.
Kassianna Von Eicken was third as a freshman at the championships before losing the last two seasons to COVID restrictions and injury. Fellow senior Grace Hudson-Pineda was a member of the doubles team that took third a year ago. The Royals are also one of a handful of schools who will be able to fill out all 10 spots on the boys and girls squads.
Sigonella
Lawrence Caro wasn't able to test himself against the rest of Europe last year, but won DODEA's Italian competition at the end of the season. He graduated. But younger sister Charlize, who finished second in Italy, is back. She's the only varsity returner, though.
Only two others have experience playing high school tennis, but the Jaguars expect to fill out at least three singles slots each weekend.
Spangdahlem
Senior Samantha Moran competed at the championships last year and is the Sentinels' No. 1 girls player. She's joined by sophomores Aspen Lindsey and Natalie Moran and enough newcomers that Spangdahlem will field a full team.
On the boys side, Conner Koenig and Connery Rosenthal return to hold down the top two spots. Newcomers will push them as the Sentinels have more athletes out than usual.
Stuttgart
Sisters Devin and Kiera French, who paired to take fourth in doubles a year ago and Noah Shive, who qualified in boys singles a year ago, return for the Panthers. They're joined by junior Zachary Call, who transferred from SHAPE, where he played in the championships. Freshman Isabel Williams could hold down the No. 1 singles spot for the girls, continuing a long line of precocious Panthers who entered the DODEA tennis scene with a bang.
Vilseck
Sophomore Zoe Crawford competed at the championships a year ago. She's joined by lefty sophomore Camila Gomez, senior Addy Alvarez and junior Illiana Ramirez.
The Falcons should have 16 players on the courts a few weeks into the season.
---
---
---
---