Ex-Buc Piggé getting set to play hoops at Harvard
By
Stars and Stripes
August 18, 2022
---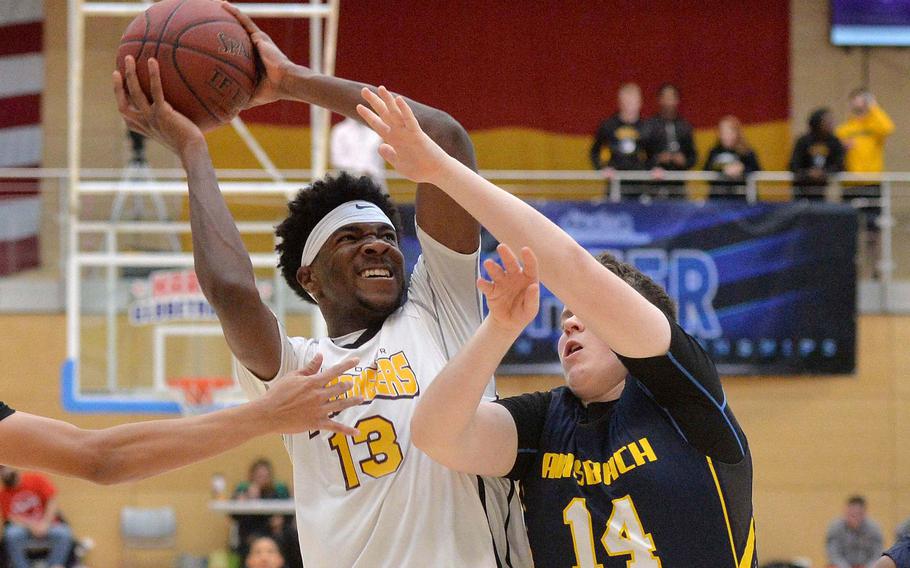 There aren't that many Department of Defense Dependent Activity students who go on to attend an Ivy League school. There are even fewer to play sports at an NCAA Division I university.
Chandler Piggé will soon belong to both categories.
"Being under the big lights has always been my dream," the 2021 Baumholder graduate said in a recent phone interview. And "Harvard will get you places just by the name."
But like most former DODEA athletes, Piggé's route to the college ranks has had a few twists and turns.
After leading Baumholder to a third straight Division III basketball title in February 2020, the plan was for him to transfer to a school near Houston for his senior season. The coronavirus nixed those plans and he stayed on to graduate at Baumholder. Protocols scrapped the basketball season, though.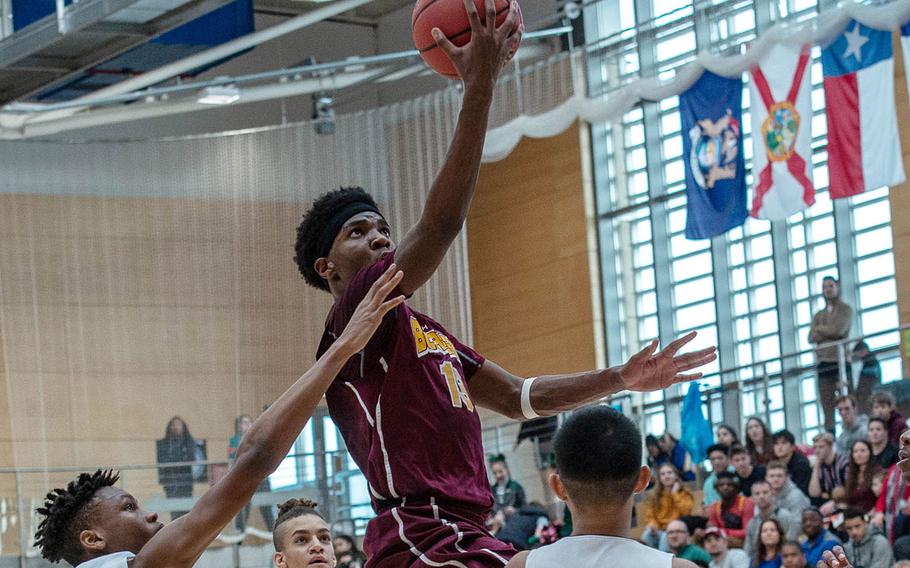 Piggé, a two-time Stars and Stripes Europe basketball Athlete of the Year, did have some offers from smaller stateside schools.
"I didn't have any of them that I wanted," he said.
So he attended a prep school in New Hampshire and also played AAU basketball. Somewhere along the line, he got on the radar of Tommy Amaker, the ex-Duke star who will begin his 16th season heading the Crimson in the fall.
"We are extremely excited to welcome Chandler into our program," Amaker said in a statement released by Harvard. "Chandler brings a physicality, toughness, and athleticism that is uncommon for players his age.
"He also plays with high basketball IQ on both ends, which comes as no surprise since he has been coached at a high level by his father from a young age. We are looking forward to getting to work with him this upcoming fall."
Classes start Aug. 31, Piggé said, and he expects to be playing basketball shortly after that.
He's grown at inch since last playing at Baumholder and is now 6-foot-5.
While that was on the big side in Europe, it'll be on the smaller side in Division I. So Piggé has put in the work both in the States and with the help of a trainer at Ramstein Air Base to get stronger and quicker. He's worked on both his mid-range and outside shots and put a lot of emphasis on improving on defense.
"You have to be able to be a two-way player," Piggé said.
Harvard was 13-13 a year ago and only 5-9 in Ivy League play. Piggé said injuries played a part in that.
"We're definitely going to be guard heavy again," he said.
So that means he's not automatically going to see a lot of playing time.
"I expect to go in and compete to earn my playing time," he said. "That's the way it's always been with the teams I've been on, even my dad."
That dates back to playing on youth teams in Okinawa and Japan before the family moved to Germany the year before Chandler began high school.
DeWayne Piggé, who played at Prairie View A&M, will still be roaming the Baumholder sidelines this fall, trying to win a fifth straight DODEA-Europe Division III crown with a squad headed by younger son, Caleb.
Chandler said he'll miss his dad and family, but will try to carry with him all the lessons he's learned over the years.
"My dad says that college is different. You have to be ready to go at all times. And I'm going to be ready."
---
---
---
---