Never-quit Falcons rally late to stun Wiesbaden
By
Stars and Stripes
May 22, 2022
---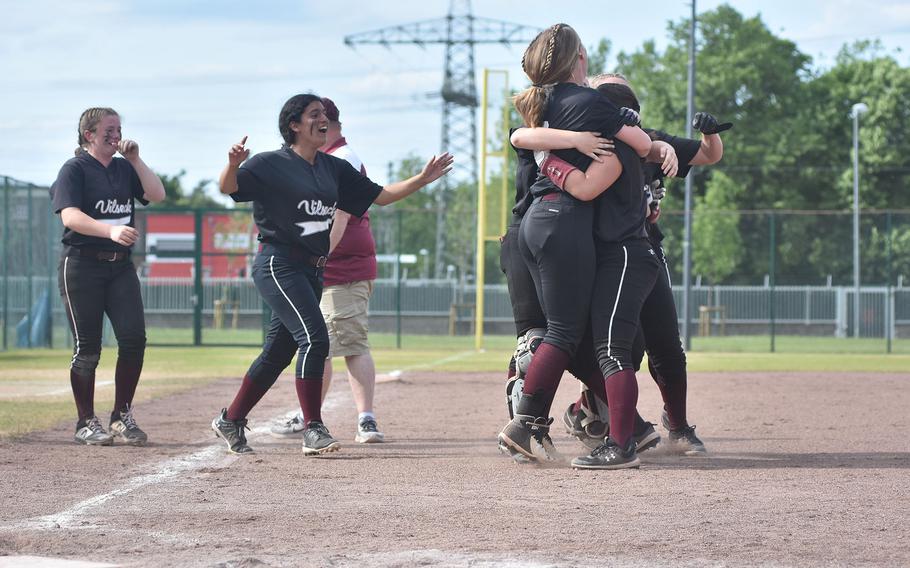 KAISERSLAUTERN, Germany – There was one play that summed up Vilseck's desire of a DODEA-Europe Division I softball title Saturday.
Standing on third base with her team trailing 4-3 to Wiesbaden in the bottom of the seventh inning, Falcons freshman pitcher Lily Bravo saw the ball headed safely for an outfield hit and broke for home. Wiesbaden catcher Alynna Palacios, arguably the top female athlete in Europe this year after star turns in volleyball and basketball, was standing in her way.
Bravo arrived just as the ball did, bowling over Palacios and scoring the tying run. There was a brief moment of dead silence in the crowd before both players got up, dusted themselves off and carried on.
"I knew what I had to do and how important it was for our team," said Bravo, her face covered in small scrapes and dust. The freshman has years of experience playing softball in her home state of Georgia.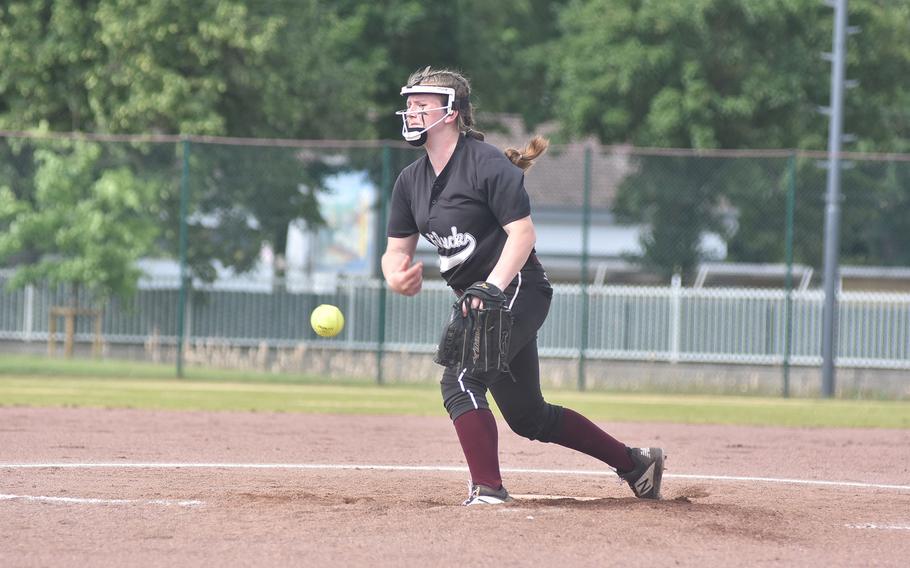 Vilseck coach Shannon Laliberte wasn't surprised by Bravo's decision, though he was briefly concerned.
"The first concern was: 'Is she OK? Is the catcher OK? Then there was excitement," he said. "She made the right play."
So did sophomore Addison Shepherd, who singled in the game-winner a few batters later and the celebration began for the Falcons.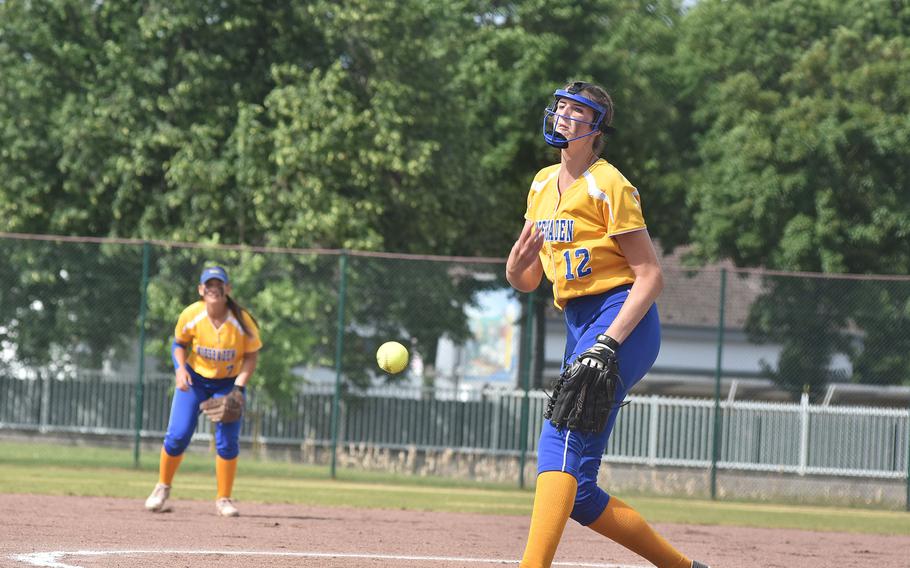 Vilseck's two-run rally in the last inning followed a similar two-run burst from the Warriors, who were the only team to defeat Vilseck (10-2) this season.
There were more runs scored in that inning than the other six combined as Bravo and Wiesbaden's Lyndsey Urick virtually matched each other with strong performances on the mound.
Wiesbaden took a 2-0 lead in the first on run-scoring singles from Isabel Davis and Sophie Palmer.
Laliberte said he wasn't that concerned, because Vilseck rallied from a 5-0 deficit to the Warriors earlier in the tournament.
And the Falcons did rally, scoring three times in the third. They took the lead when the ball was lodged in the backstop fence with the bases loaded and the umpire called a dead ball timeout and sent all the runners ahead a base.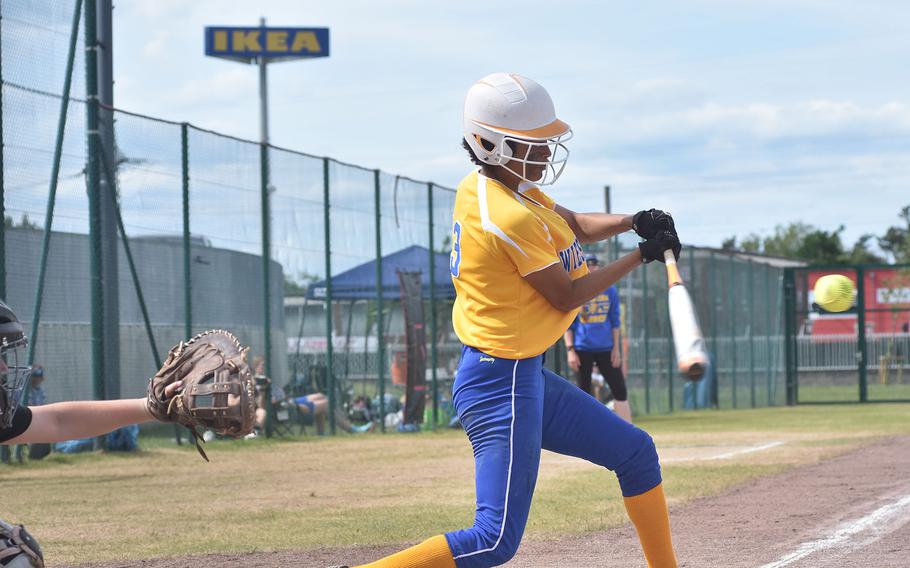 The game moved along quickly, with the 1 hour, 50 minute time limit never a factor.
Bravo had some bad luck in the seventh when consecutive runners reached base after striking out when the ball went to the backstop on the third strike both times. One of them scored to tie the game on a wild pitch before Urick singled to right and the ball was misplayed, allowing Wiesbaden to take back the lead.
Bravo led off the bottom of the inning with a single, stole second and went to third on a ground out.
Wiesbaden defeated Ramstein 13-4 to get to the final game earlier Saturday, led by Palacios' three hits.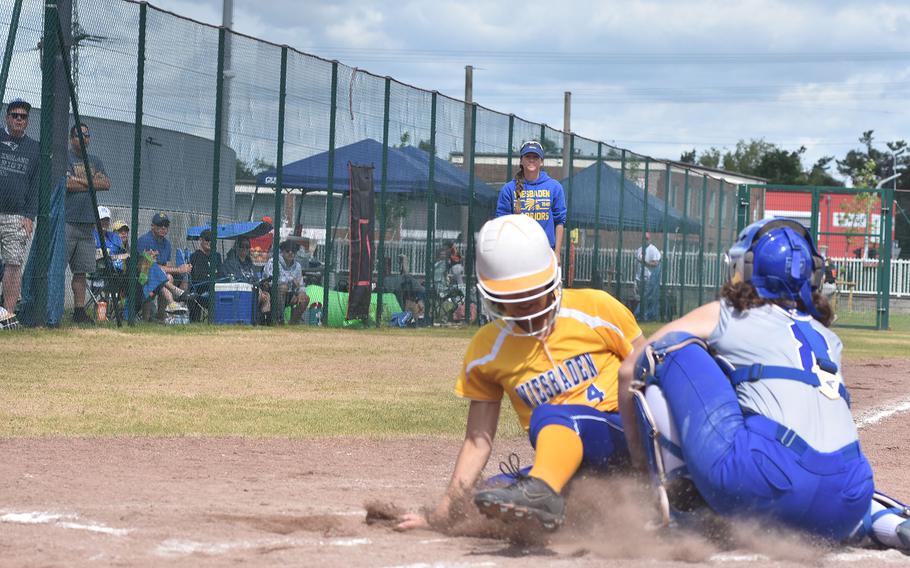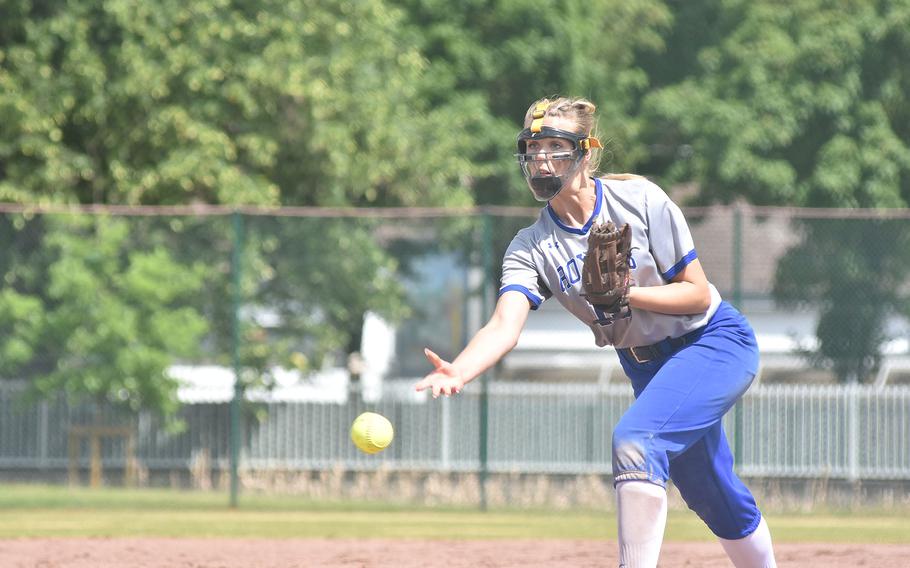 ---
---
---
---