D-I boys
Royals reign after more late-game heroics
By
Stars and Stripes
May 20, 2022
---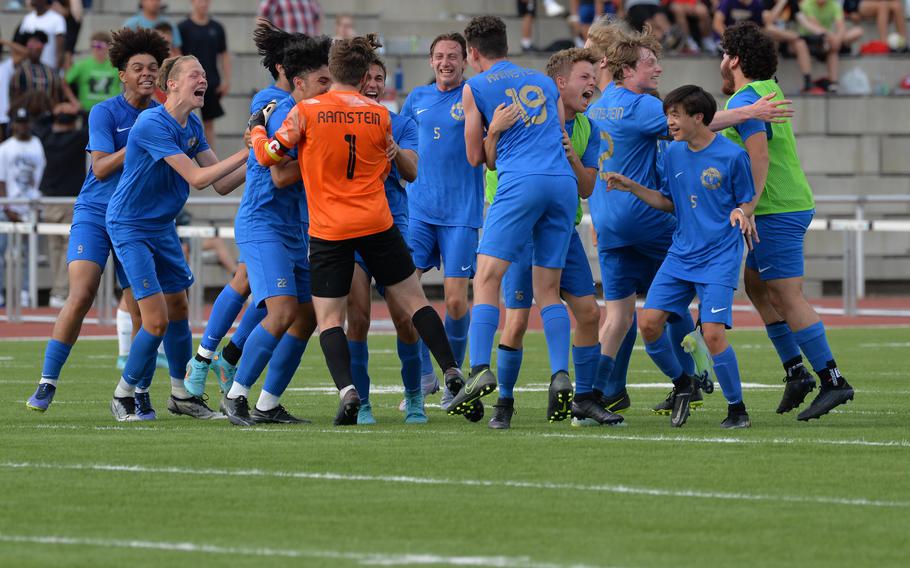 KAISERSLAUTERN, Germany – If the outcome of the girls game had been different, the bus ride back to Stuttgart might have seemed longer Thursday night than for those heading back across the Alps to Italy.
The Stuttgart Panthers lost in heartbreaking fashion 1-0 to the Ramstein Royals in the Division I soccer game in a contest that both coaches said the losers controlled for a vast majority of the game.
Ramstein senior Shane Monson headed in a long free kick from Maxim Speed late in a scoreless game, adding just enough of a difference to throw off the reflexes of Stuttgart keeper Patryk Reeves. Reeves juggled the ball and stepped back into the goal in the process.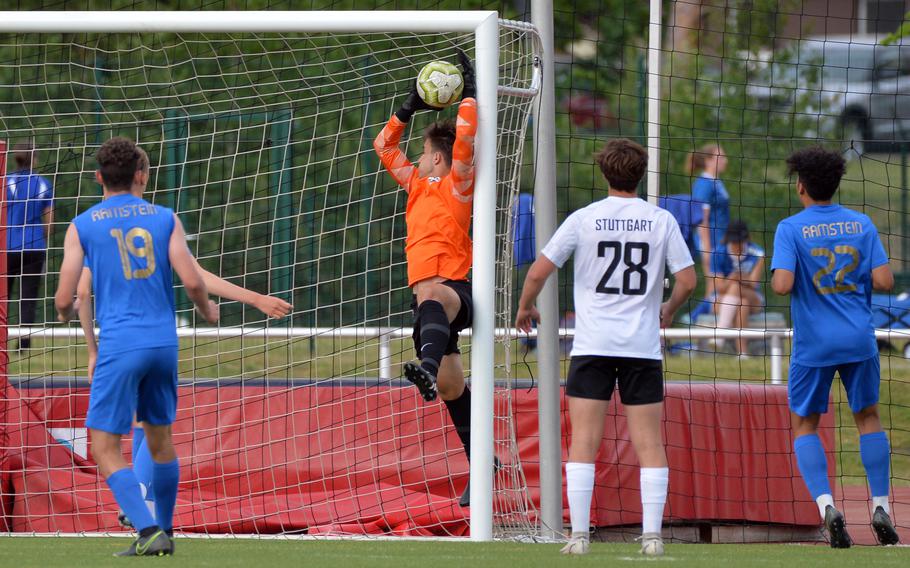 Not only did Ramstein avoid giving up its second goal of the season, but a member of the defense was responsible for finishing the season with a title.
"It is pretty fitting," Monson said with a smile.
It was the second straight game in the tournament the Royals finished off an opponent with a late goal, following Wednesday's 1-0 semifinal victory over Black Forest.
Unlike that game, though, where Ramstein had a constant barrage of shots on the net while controlling much of the game, the Royals had very few opportunities to score against the Panthers.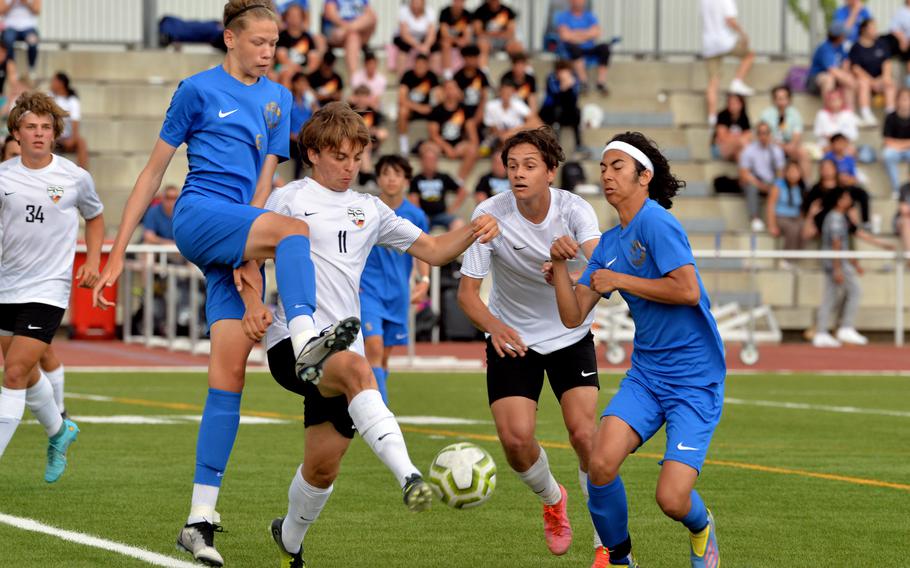 Coach Dominik Ludes said that he couldn't plan for such a finish. But he said the plan was to concede more opportunities to the Panthers while trying to limit how good those chances would be.
"It's the only way you can beat those guys," he said. "They're so talented. If you let them play, they're going to destroy you.
"So we don't care if they have possession of the ball for 80 percent as long as we limit their good opportunities," Ludes said.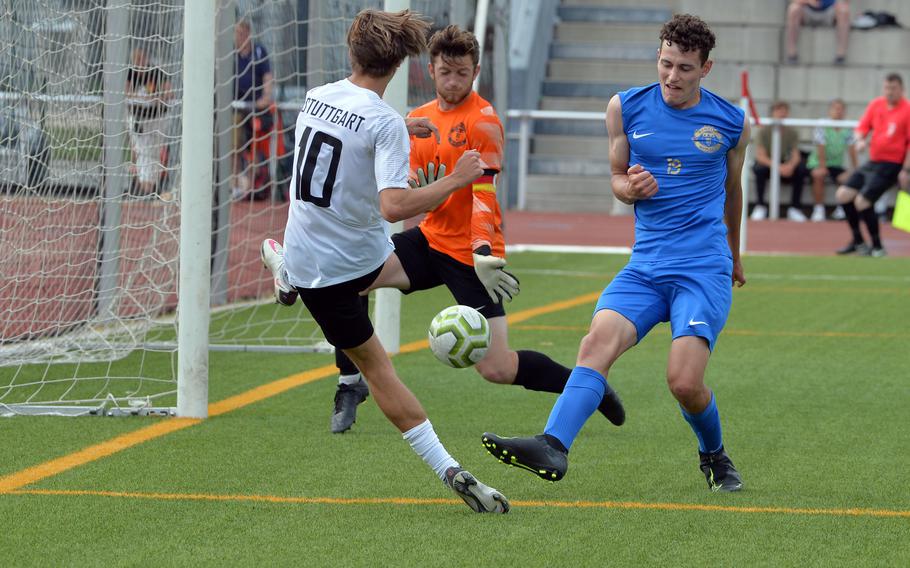 Stuttgart coach Chris Kelly conceded the point.
"When the game's that tight, it's going to come down to one play," he said. "Ultimately, you have to score a goal to win."
Ramstein's goalkeeper Everett Majer, named the tournament MVP, didn't give up a goal all season. Though the Panthers did have more opportunities than the Royals, he was only called on to demonstrate his skills a few times Thursday thanks to the efforts of his teammates.
After failing to qualify for the Division I football championship, the Royals finished the year by rallying to defeat Kaiserslautern for the boys basketball title, before downing the Panthers for the soccer crown. A victory in baseball or track could arguably give Ramstein bragging rights for the first full sports year since 2019.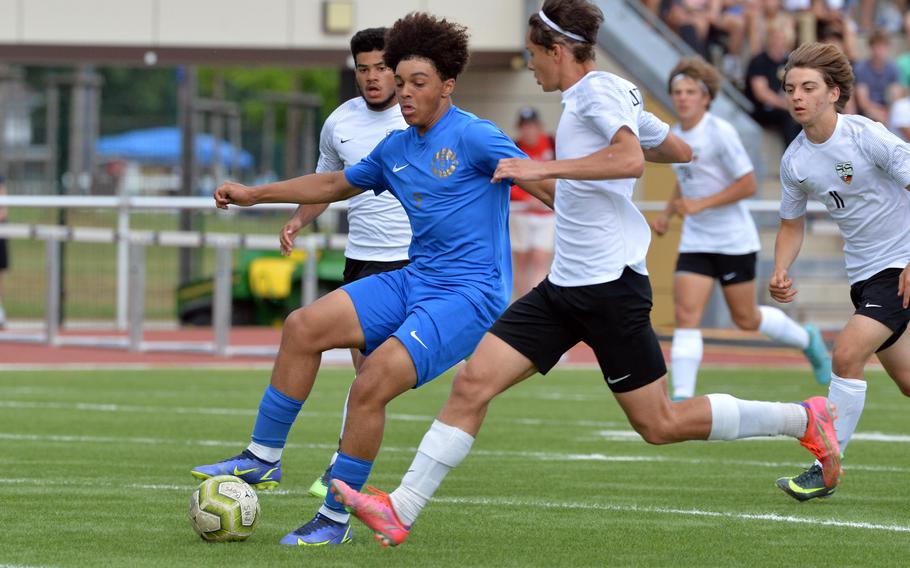 ---
---
---
---