Hundreds take to track for season-ending meet
By
Special to Stars and Stripes
May 19, 2022
---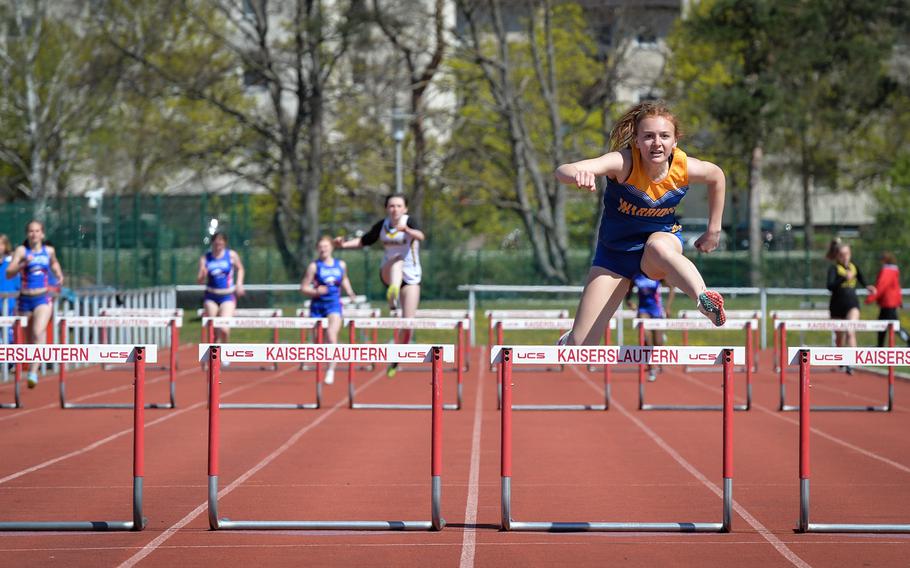 Elite athletes from across the continent put their talents on display this week in the 2022 DODEA-Europe track and field championships at Kaiserslautern High School.
Competitors will pursue individual European titles and stockpile points for their school's divisional team championship aspirations across two busy days of running, jumping, throwing and other athletic feats.
Boys
The Division I race features several contenders with deep rosters headlined by individual standouts.
Sprinter Larry Haynes, a top qualifier in both the 100 and 200-meter dashes, and discus contender AJ Evans lead the homestanding Kaiserslautern Raiders.
The Wiesbaden Warriors hope to dominate the long distances behind Elijah Smith at 1,600 meters and Luke Jones at 3,200.
Runners Jackson Houseworth of Stuttgart and Max Furqueron of Ramstein are key to their teams' title hopes at 400 and 800 meters, as is Vilseck shot put specialist Cam'ron King. Stuttgart earned a victory ahead of Ramstein, Vilseck and Wiesbaden in an eight-school meet last weekend, giving the Panthers big-school bragging rights entering this weekend's decisive meet.
Naples and Vicenza are likely to extend their season-long rivalry this weekend as they vie for the Division II team crown.
Ansbach, stacked with gold contenders like hurdler Jeremiah Tran, is the Division III favorite.
High jumper Aspen Cardoza of Bahrain and Brussels' William Pierce, a top performer in the long jump and triple jump, bring some geographic diversity to an event comprised primarily of German and Italian schools.
Girls
The Wiesbaden Warriors boast a pair of unequivocal superstars in sprinter Makiah Parker and hurdler Ava Stout and are outstanding in the relay events.
But the outcome of this highly competitive Division I championship points race remains very unpredictable
Stuttgart and Ramstein, both perennial powerhouses in this large-school race, again pack the event lineups with overwhelming talent. Stuttgart earned an impressive finish ahead of Ramstein, Kaiserslautern, Black Forest Academy and Vilseck on May 7. But Ramstein took first ahead of Stuttgart, Wiesbaden, BFA and Vilseck in last weekend's regular-season finale at Vilseck.
Host Kaiserslautern figures to have an impact as well as Sage Barnes, a frontrunner in shot put and discus, and distance runner Piper Parsells expect to contend for multiple medals.
The lower divisions also pack plenty of intriguing matchups.
Archrivals Naples and Vicenza headline the list of Division II contenders.
Division III upstart Sigonella has dominated its larger southern rivals all season, but in Germany they'll encounter an equally formidable foe in Ansbach.
Finally, a pair of high jumpers from the north - Brussels' Sofia Chentsova and AFNORTH's Victoria Morris - will have a final showdown with the highest stakes of the season.
---
---
---
---