Baseball, softball open three-day run Thursday
By
Special to Stars and Stripes
May 18, 2022
---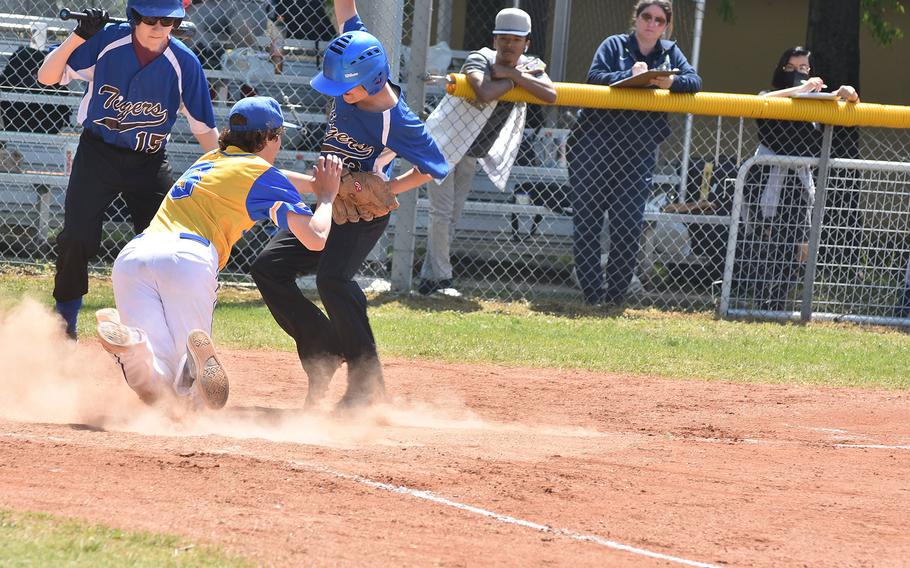 The DODEA-Europe baseball and softball championship tournaments are finally back on this week after two long seasons of COVID cancellations.
The events run Thursday through Saturday in the Kaiserslautern Military Community and will crown the first European diamond champions since May of 2019.
The 2019 tournaments set a high standard for this week's versions to match. A resurgent Ramstein program added to its hefty Division I baseball trophy case, while upstart Aviano seized an historic small-school title. The reverse played out in softball: Wiesbaden crafted a dramatic underdog title run to claim the Division I crown, while established dynasty Sigonella reasserted its supremacy among small schools.
But the 2022 regular season, though shortened by persistent pandemic concerns, produced enough intrigue to suggest this long-awaited postseason might be up to the task.
Baseball
The seven-team Division I field will compete in a different format than in years past. The teams will each play two preliminary games on Thursday, setting the matchups for a Friday elimination bracket that leaves two teams standing for Saturday's championship game.
Reigning champion Ramstein will bring sizzling bats into the tournament after plating 32 runs in its regular-season finale doubleheader sweep of Vilseck last weekend. Contenders Wiesbaden and Stuttgart meet first thing Thursday morning in a high-stakes tournament opener. Kaiserslautern and Vilseck will look for some early momentum in their Thursday meeting, while northern squads Lakenheath and SHAPE target an upset in their respective openers against Ramstein and Wiesbaden.
The Division II/III bracket follows a similar schedule with its nine entries, proceeding from Thursday preliminary play to a Friday elimination round and, finally, a Saturday championship game.
Naples, last seen in this tournament as a formidable large-school contender after a short-lived DODEA-Europe realignment, is now back to its historic position as a small-school powerhouse. The Wildcats boast a potent mix of pitching, hitting and defense that should carry them far in this tournament; all of those qualities were on display last weekend in a 20-0 and 6-0 sweep of Sigonella to cap its dominant regular season.
Naples will be tested this week by familiar southern rivals Vicenza, Sigonella, Rota and 2019 champion Aviano along with fresh opponents from the north. Ansbach, Hohenfels and Spangdahlem represent the German contingent, while Alconbury, fresh off an impressive doubleheader split with Division I Lakenheath, arrives from England as a legitimate title threat.
Softball
A new double-elimination format brings a heightened level of urgency to every game in the seven-team Division I tournament bracket.
All three opening matchups will leave a team just one loss away from the end of its season; even better, all three are matchups between regional foes with plenty of adversarial history. KMC archrivals Ramstein and Kaiserslautern start things off, with the winner advancing to meet defending champion Wiesbaden, which enjoys an opening bye. German neighbors Stuttgart and Vilseck, each boasting a long history of Division I softball excellence, square off next. Finally, England-based Lakenheath and Belgium-based SHAPE bring their northern European rivalry to southwestern Germany.
It's been about three years since Wiesbaden's remarkable championship breakthrough in 2019, and only two members of that title team are on this week's Warrior roster. But the reigning champs also have plenty of more recent success from which to draw, including a decisive doubleheader rout of Kaiserslautern last weekend.
Another geographic grudge match headlines the slate of three games opening the Division II/III double-elimination bracket as Italian powers Naples and Vicenza tangle again. Reigning champ Sigonella, meanwhile, draws Spangdahlem, a fellow Division III power and long-distance rival across several sports. Hohenfels and Rota meet in the other opener, while Alconbury awaits the Naples-Vicenza winner.
---
---
---
---