Boys
Momentum, hopes can swing wildly between games
By
Stars and Stripes
May 16, 2022
---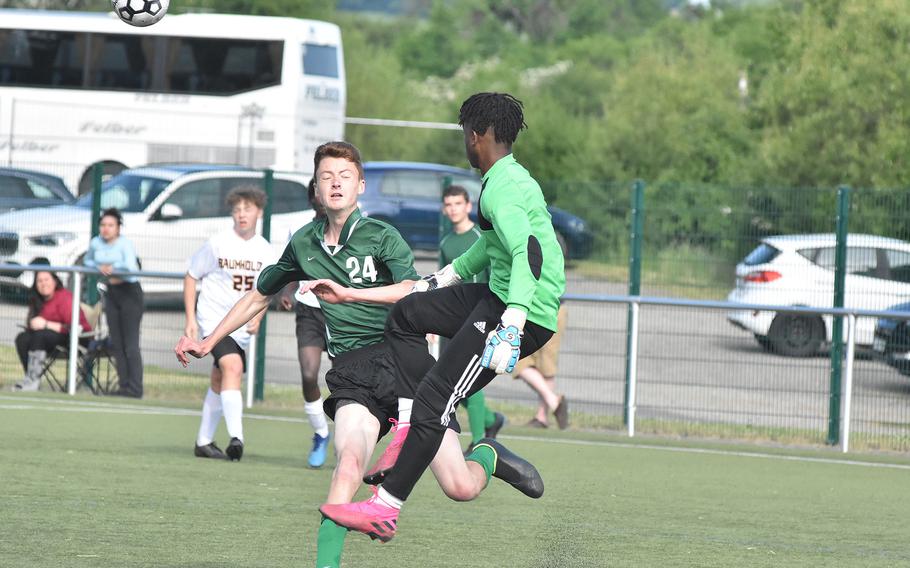 It's a good feeling to win the first game of a season-ending tournament in convincing fashion. It's even better to win the second one – in any way.
Unfortunately, that wasn't the case Monday for the Baumholder Bucs and Hohenfels Tigers, who went from 1-0 during the morning session of Day 1 in the DODEA-Europe Division III boys championships to 0-1 in the afternoon set.
Behind seven goals from William Cecil, the Tigers cruised past Spangdahlem 8-2 in the second game of the day at Reichenbach, Germany, following a 6-0 victory by Baumholder over Alconbury in the opener.
But Hohenfels ran into a surprisingly strong Brussels team in the late game of the day and fell 5-0. Baumholder lost 4-2 to AFNORTH in the Bucs' second game of the day.
The three teams who didn't suffer a loss Monday were the Lions, Brigands and Sigonella. Brussels, seeded seventh of the eight teams entered, stunned No. 2 Ansbach 3-1 before topping the Bucs.
When asked before his first game on what his team's chances were, Brussels coach Bill Scofield said "the first game might tell us if we belong in this tournament."
Scofield smiled after his team's win and said that question was answered "emphatically."
After giving up an early goal to Ansbach senior Shane Nesbitt, the Bucs concentrated on keeping the ball away from him.
"We did that pretty effectively, except for a few touches," Scofield said.
In the meantime, two goals from Nathan Pierce gave Brussels the lead and Ezra De Leon King's score sealed the victory.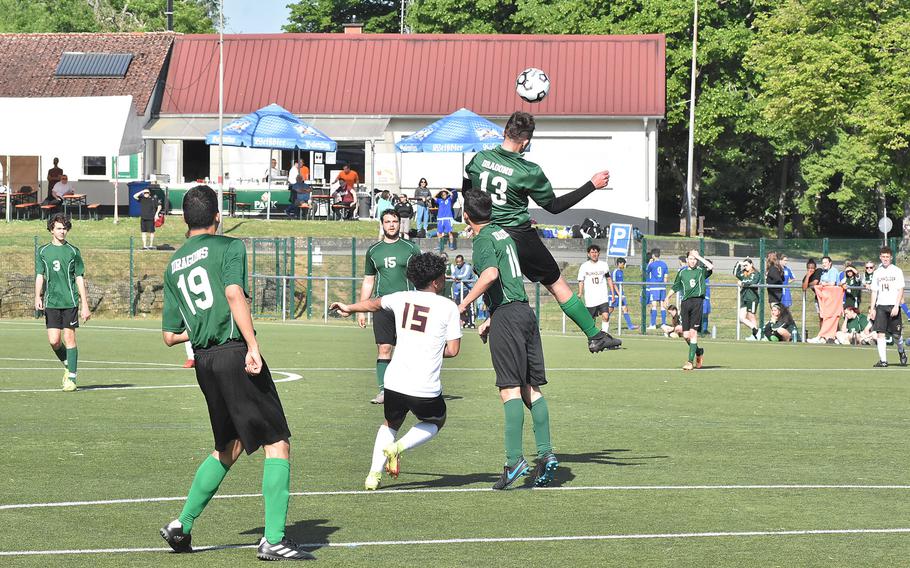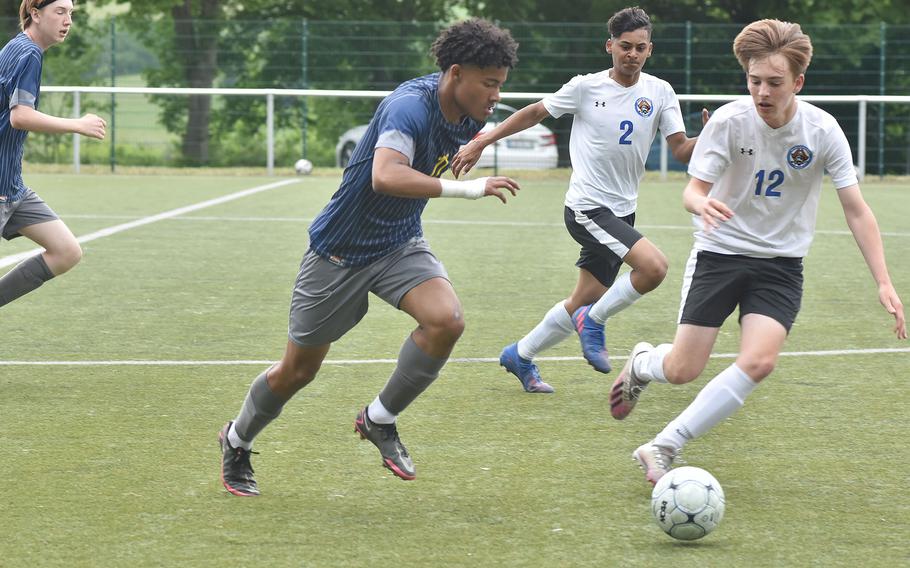 Ansbach bounced back in its second game by shutting out Spangdahlem 7-0.
Sigonella and AFNORTH battled to a 1-1 tie after the Lions survived an early blitz by the Jaguars that saw Gabriell Nasseli find the net and senior Jeremy Reardon fail to do so despite four headers that had chances to go in. One hit the crossbar.
"The soccer gods weren't with us today," coach Andrew Caro said.
AFNORTH's goal came after a player was taken down near the goal, resulting in a penalty kick that David Immel converted.
Hohenfels got not only a stellar performance from Cecil in its first game, but also from senior Samuel Bahng, who set up four scores and controlled the midfield.
Coach Janet Rogers calls Bahng a coach on the field and she's not just using a cliché. Bahng, headed to West Point in the fall, has a license to coach.
"I thought it would give me a different perspective," he said.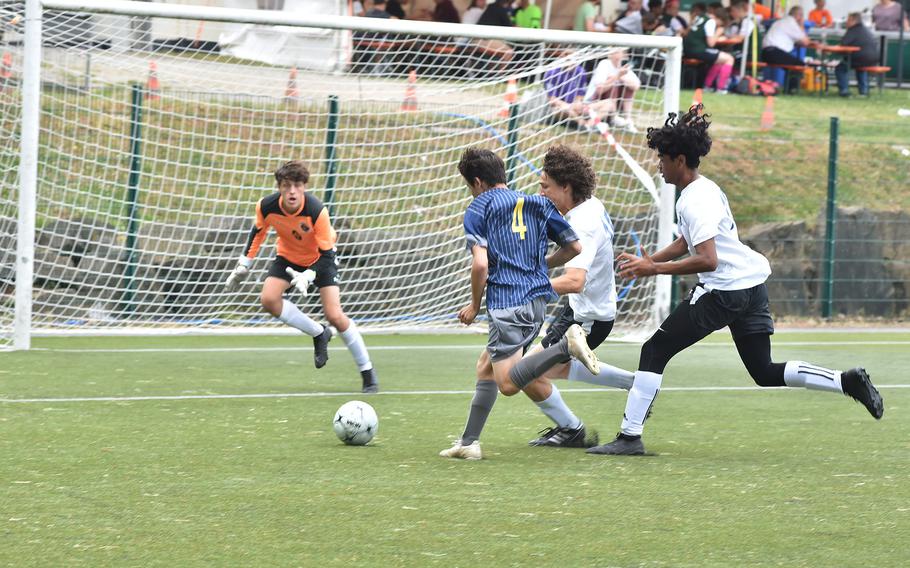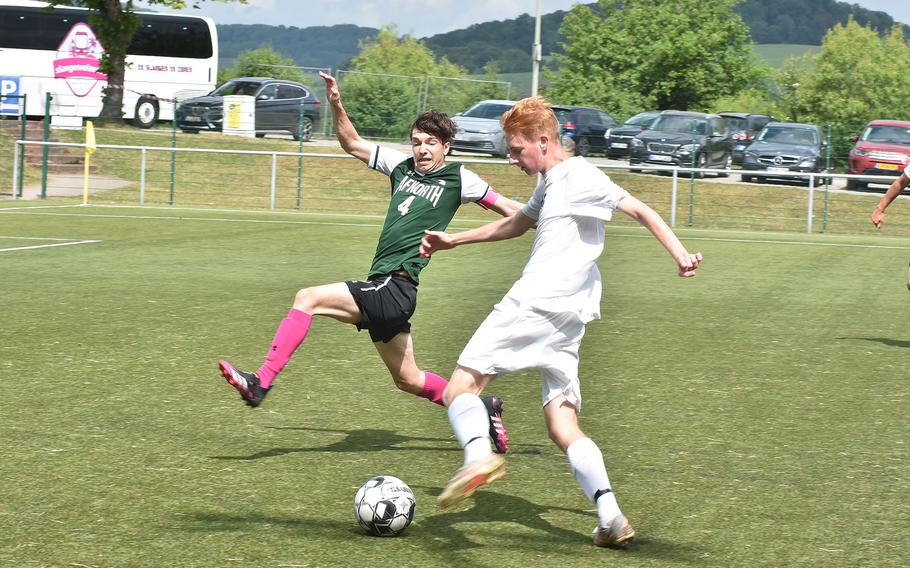 One of four schools fielding co-ed teams in the tournament, Baumholder got its first goal from Kaleena Sais.
Sais, who credited a teammate for setting her up, played for the girls team in past years.
"It's really not much different," she said. "It's a bit more intense, but it's fun."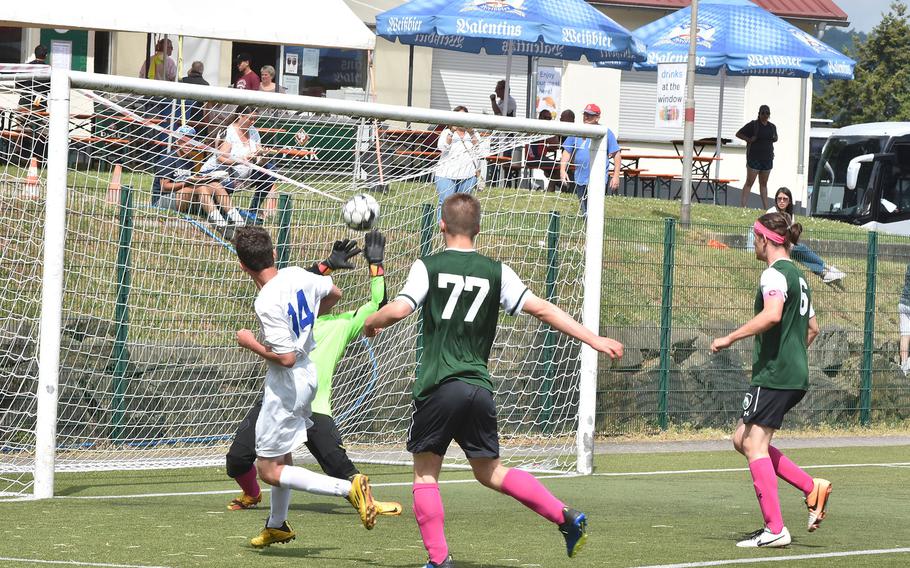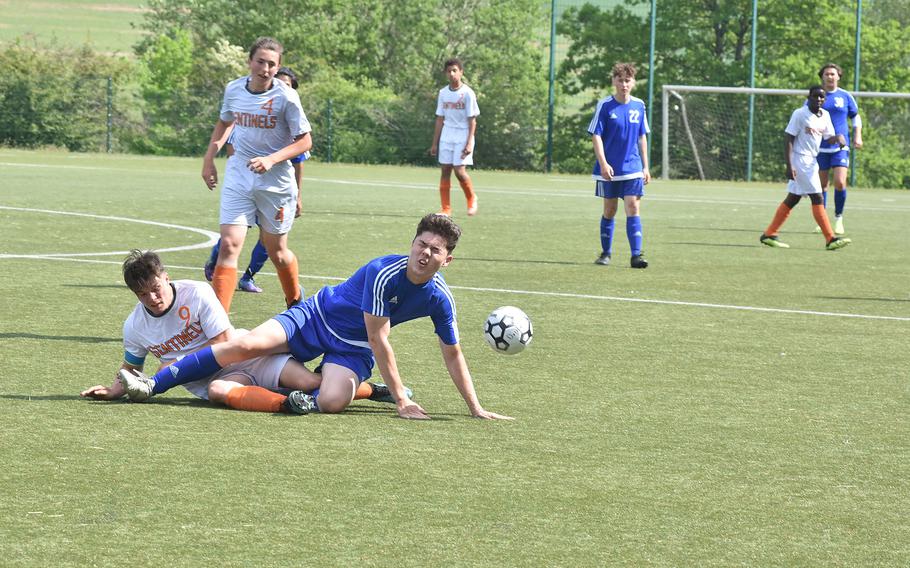 Division II
Several miles away at Landstuhl, the big winners on the opening day of the tournament for mid-sized schools were American Overseas School of Rome, Bahrain and Naples. Each went 2-0.
AOSR topped Rota (7-0) and Aviano (5-1), while Bahrain defeated Marymount (4-1) and Vicenza (3-1). Naples triumphed over Rota (7-0) and Marymount (6-0).
Vicenza, which went 1-1, was the only other team to emerge with a victory.
Division I
At Ramstein, top-seeded Stuttgart and No. 3 Wiesbaden went 2-0 and the host Royals won one match and tied another.
The Panthers defeated Black Forest Academy (4-0) and Lakenheath (7-0). The Warriors won narrowly over Vilseck (1-0) and SHAPE (3-2). Ramstein tied SHAPE (0-0) before beating Vilseck (2-0).
Kaiserslautern and BFA remain in the hunt by splitting their opening games.
Action continues in all three tournaments Tuesday and Wednesday before Thursday's season-ending final games.
Correction
The score of the Naples vs. Rota game has been corrected. It was 7-0.
---
---
---
---