Get set for 110 matches of DODEA-Europe soccer, soccer, soccer
By
Stars and Stripes
May 13, 2022
---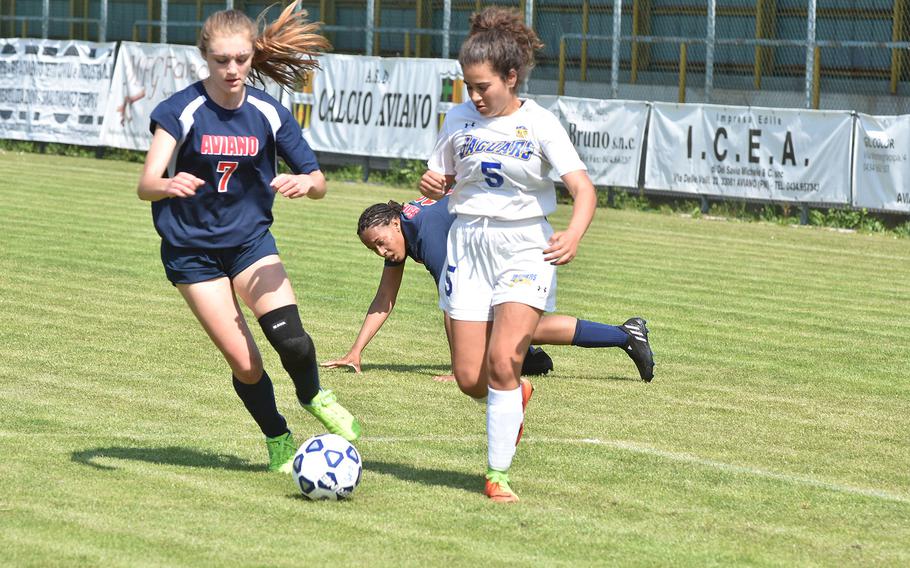 Very few things are certain in high school sports when it comes to winners and losers. So it shouldn't be surprising if a significant number of the 41 teams entered in six DODEA-Europe soccer championships feel they have a shot at a title.
And they have their reasons for the four-day event that begins Monday.
Games are shortened to 30-minute halves until the semifinals. None of the teams participating were able to play against all their competitors during the regular season. And unknown factors always come into play.
"We're not taking anything for granted," said Stuttgart boys coach Chris Kelly, whose team enters the Division I tournament with a No. 1 seed after a perfect 7-0 record over the past five weeks. That might seem a bit odd as the Panthers are coming off a string of 7-0 mercy-rule victories paced by the play of sophomore Itzak Sandoval and senior captain Andrew Wagner.
But Kelly said he's been impressed at the skill level and determination displayed by multiple teams during the season and "sometimes the scores have been deceiving."
The Panthers didn't play Ramstein – perfect this year except for a tie – this season. And they might not see the Royals until the finals if both keep winning. Division I boys and girls and Division III boys feature two pools, with the top four teams from pool play meeting in Wednesday semifinals for a right to play in Thursday championship games.
"I think it just keeps the mystery going a bit longer," Kelly said of not seeing the Royals in person.
Stuttgart's girls team is also unbeaten and top seeded. Junior Anna Thompson anchors the defense and forward Haley Wells is the top scorer.
"We're strong in a lot of places," Coach Robert Loyd said. But he said the Panthers have not only not seen the Royals but haven't played Lakenheath – seeded fourth and in the same pool.
Stuttgart had tough games against Wiesbaden (3-0) and Black Forest Academy (4-2) during the regular season.
Division III girls and Division II boys and girls are using round-robin play the first three days of the competition, with the top two teams meeting for the title Thursday.
Vicenza girls coach Adam Ridgley has one of the middle-school girls favorites as his team went 4-0-2. The Cougars, led by senior Riley West and junior Sara Fitch, has played against everyone but Bahrain.
"We know who their strong players are and they know who our strong players are," Ridgley said of rematches against teams Vicenza has already played.
But citing injuries, absences for college testing and illness, he reconsidered.
"I think every team has been short players every time we've played."
Dirk Lambertson coached the Naples boys to a Division I title the last time the event was held in 2019. Now back at Division II, he said the approach remains the same. That includes a 20-plus hour bus ride just to get there.
"When we go to Europeans, we're going to play soccer," he said. "It's not a sightseeing trip."
Leading scorer Connor Wallace helped the Wildcats to a 6-0 mark. But Lambertson said record doesn't matter when it comes to the tournament and the shortened amount of time players have on the field.
"There's no time to get settled in," he said. "You have to play from the whistle. One mistake can cost you the chance to play for a championship."
The Division III tournaments will have a different look from the other two. For one, girls will be playing on half the boys teams in the field as enrollments and interest were too small for four schools to field girls squads.
That leaves only four schools – AFNORTH, Alconbury, Sigonella and Spangdahlem - to contend for the girls title and those teams will be playing against each other twice in preliminary play.
The eight-team boys field mirrors the Division I setup, with co-ed teams from Ansbach and Hohenfels getting the second and third seeds behind No. 1 AFNORTH.
As is the case in many seasons, Sigonella remains the X factor, having not played against a single divisional opponent during the regular season.
---
---
---
---