Warriors' play indicates they have a shot
By
Special to Stars and Stripes
April 28, 2022
---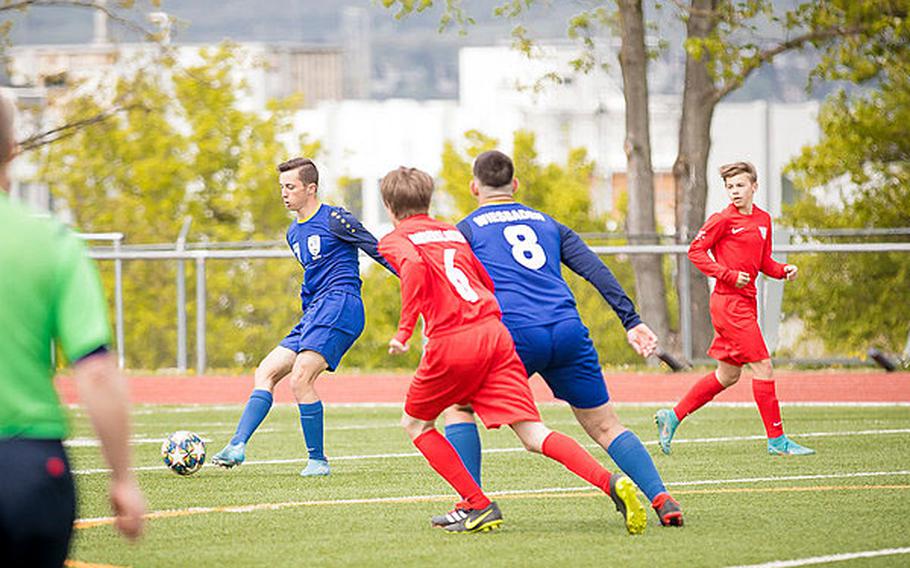 After many years among DODEA-Europe Division I boys soccer contenders, the Wiesbaden Warriors are taking another shot at a breakthrough this spring.
In fact, they're taking a lot of shots.
Wiesbaden unleashed 21 shots on goal in its home-field finale Saturday and netted a half-dozen of them in an impressive 6-3 defeat of the Kaiserslautern Raiders. The offensive explosion came a week after a more defensive-oriented 1-1 draw with SHAPE.
Jared Hinkley and Jacob Goodman each recorded two goals for the Warriors, while Richard Benz and Michael Friel added a score apiece. Defensively, the Warriors limited Kaiserslautern to five shots on goal, not nearly enough to keep up with Wiesbaden's barrage.
That relentless attack on the Kaiserslautern goal was the most obvious and immediate factor in Wiesbaden's win. But the Warriors' success also stems from more deep-seated sources: continuity and practice time.
Wiesbaden has 10 players with Warrior experience, a remarkable number after the COVID-19 pandemic canceled two consecutive seasons. The group's chemistry has proven to be a real advantage in a short six-week season.
"This has benefitted the team tremendously," first-year Warriors head coach Marco Zaccardelli said. "They already know each other and have played together."
Even a team as familiar as Wiesbaden could use a few extra practice reps, however, and the Warriors aren't missing those opportunities. Zaccardelli said his squad enjoyed strong attendance and engagement at practice sessions leading up to their defeat of Kaiserslautern. The results of that extra work are translating to the pitch.
"Every practice is important to improve," Zaccardelli said. "Mistakes from the previous games need to be corrected."
While they'll get their practice kicks in at home, the Warriors will be on the road for the remainder of their matches. Wiesbaden visits Ramstein this weekend, travels to Vilseck on May 7 and begins what it hopes is a long postseason appearance May 16 in the Kaiserslautern Military Community.
---
---
---
---