After long absence, track is back at Kaiserslautern
By
Stars and Stripes
April 16, 2022
---
KAISERSLAUTERN, Germany – Kaiserslautern High School hosted its first track and field invitational in two years Saturday, and for some athletes, it was their first taste of real competition.
Ten teams from Defense Department schools in Germany and Belgium went to head-to-head before a stadium full of parents and athletes cheering them on.
"We had qualifications, we had great weather, it was overall just a great day," said Amy Mathews-Soto, Kaiserslautern's head track and field coach.
Following a canceled 2020 season and a virtual championship last year, the adrenaline that comes with a live competition boosted some to personal records and qualifying marks for the European championships next month, which Kaiserslautern will host.
"I felt amazing," said Wiesbaden senior Elijah Smith, who won the mile in 4 minutes, 40.67 seconds. "The atmosphere, I can see my competition; the start gun always sounds nice."
Among those turning heads was senior Larry Haynes, who won both the 100 meters in 11.52 and the 200 in 23.66.
"It's a home meet. It felt great to have so many friends here," he said.
Haynes also anchored Kaiserslautern's runner-up 4x100 relay team, which lost a nail biter to the Stuttgart quartet of Vincent Allen, Ethan Prier, Josiah Doughty and Tyler Jackson. Doughty, a junior, held off a surging Haynes at the finish. "I could see him out of the corner of my eye," he said.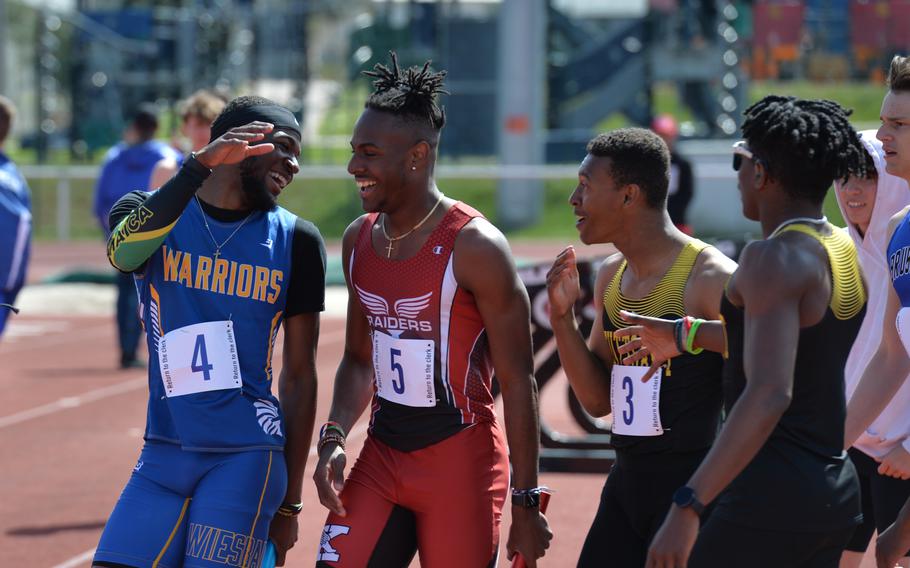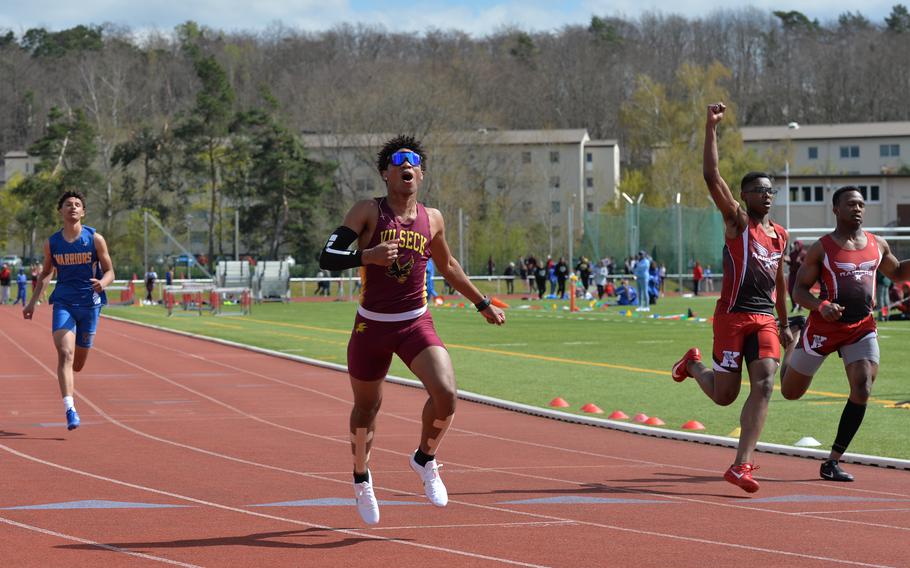 The Wiesbaden girls, led by Wiesbaden sophomore standout Makiah Parker, dominated the shorter distances. Parker won the 100 in 13.21, the 200 in 26.45, the 400 in 1:00.84 and anchored the Warriors' winning 4x400 relay team to a 4:14.91 finish, about 25 seconds ahead of runner-up Stuttgart.
"It actually feels like a track season," Parker said.
Junior Ava Stout also ran a leg on the Warriors' 4x400 and won both the 100 and 300 hurdles.
Kaiserslautern also had a pair of double winners in the throwing events. AJ Evans' toss of 110 feet, 8 inches in the discus was the best of the day, as was his mark of 38-11 in the shot put.
He said it helps to see the marks one has to beat as the competition unfolds, "rather than throwing it by yourself."
Junior Sage Barnes won the shot put for the Raiders in 30-8.5 inches and also the discus, 90-5.
For Barnes, it was her first real track meet, coming a year after she won the discus and placed second in the shot put in the 2021 virtual championships.
Jerrell Thomas won both hurdles events for the Raiders.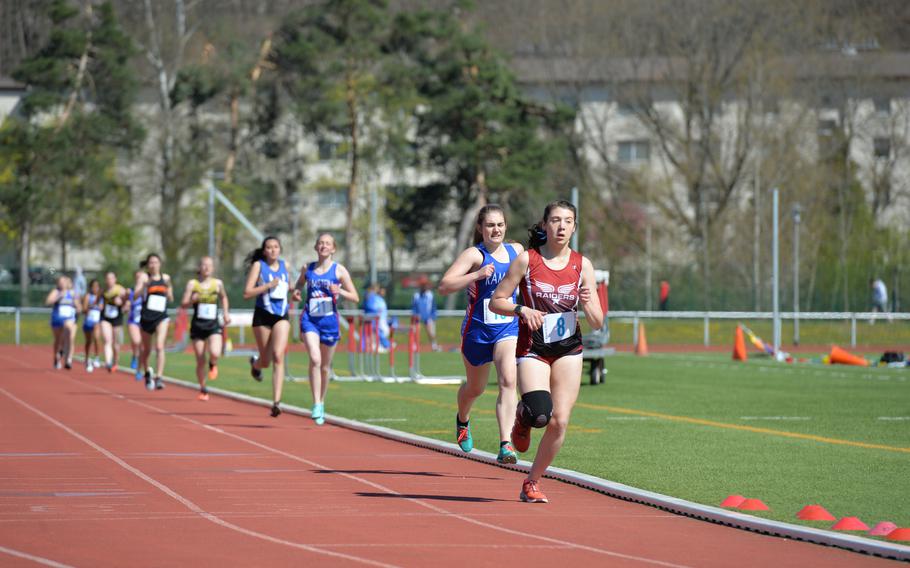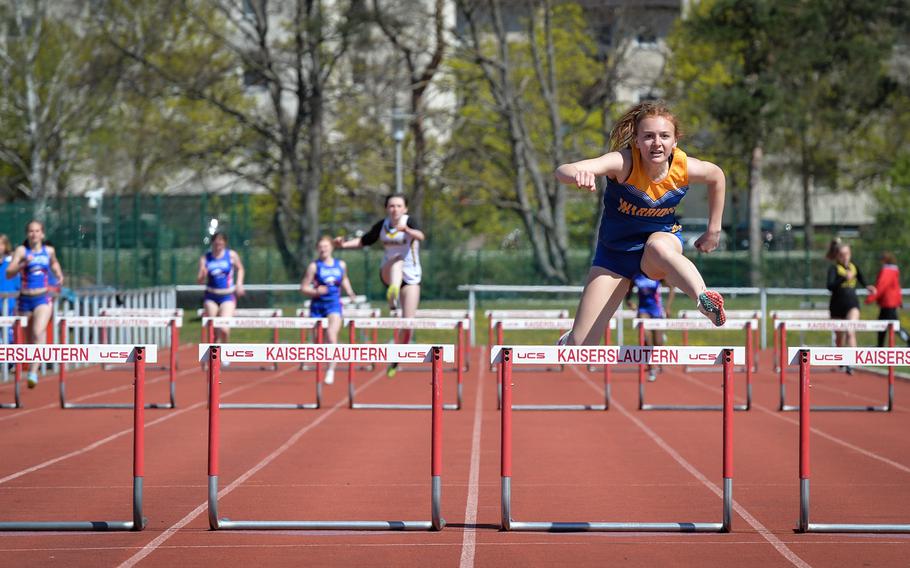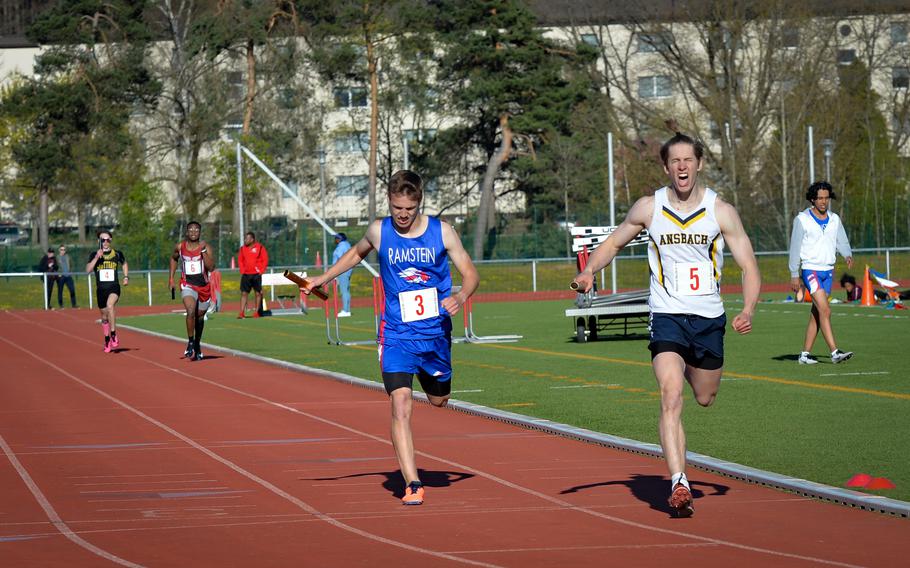 Stuttgart's Ella Bishop showed she'll be a top contender in the middle and long distances at Europeans. Bishop won both the 1,600 (5:45.38) and 3,200 (12:36.37), respectively. In her very first individual 800, she won her heat in 2:37.06 but finished second after Kaiserslautern's Piper Parsells ran a 2:34.41 in the event's second heat. Ansbach's Brody Hoctor topped the boys' field in the 800 with a 2:11.66.
The Ramstein boys' 4x800 team looks poised to defend its European title. Sophomore Preston Jackson, juniors Evan Brooks and Max Furqueron and senior Gideon Zaugg finished in 8:36.99, topping Stuttgart by about 23 seconds.
The team is chasing the school record of 8:07, Zaugg said.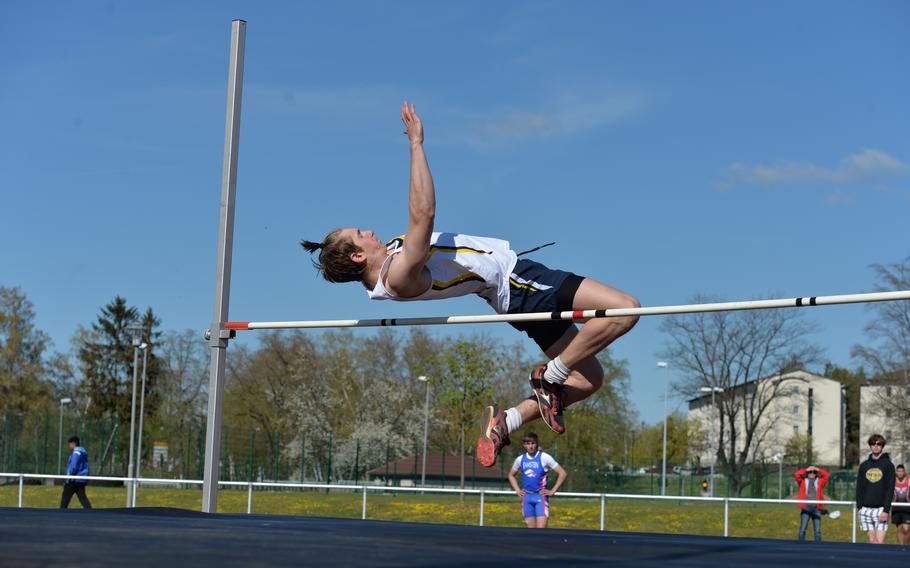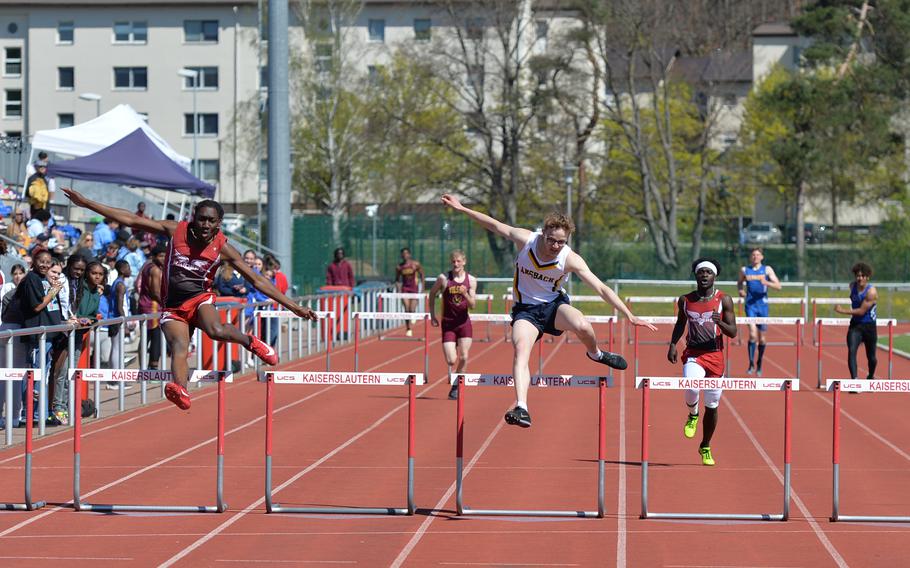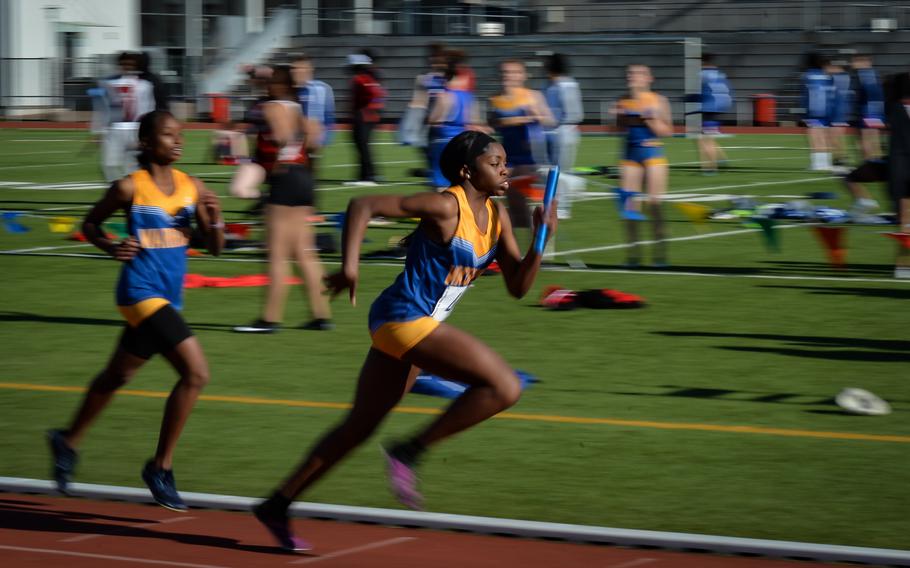 In other notable performances, Brussels' William Pierce won the 400 in 53.42 and finished runner-up to Haynes in both the 100 and 200. He also grabbed another first in the long jump with a 20-5.
Baumholder's Tamia Blakley set a personal record in the girls' long jump of 15-6, finishing right behind Ansbach's Tamia McLaughlin's 16-01.25. In the triple jump, the two swapped places, with Blakley's 32-05 topping McLaughlin's 30-04.
Blakley also was part of Baumholder's winning 4x100 team.
Team scores from the meet weren't immediately available Saturday.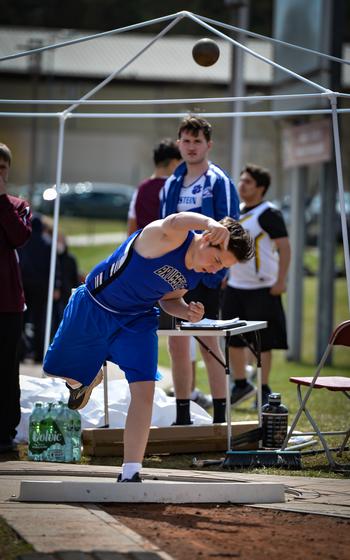 ---
---
---
---