Wildcats know-how too much for Saints
By
Stars and Stripes
April 16, 2022
---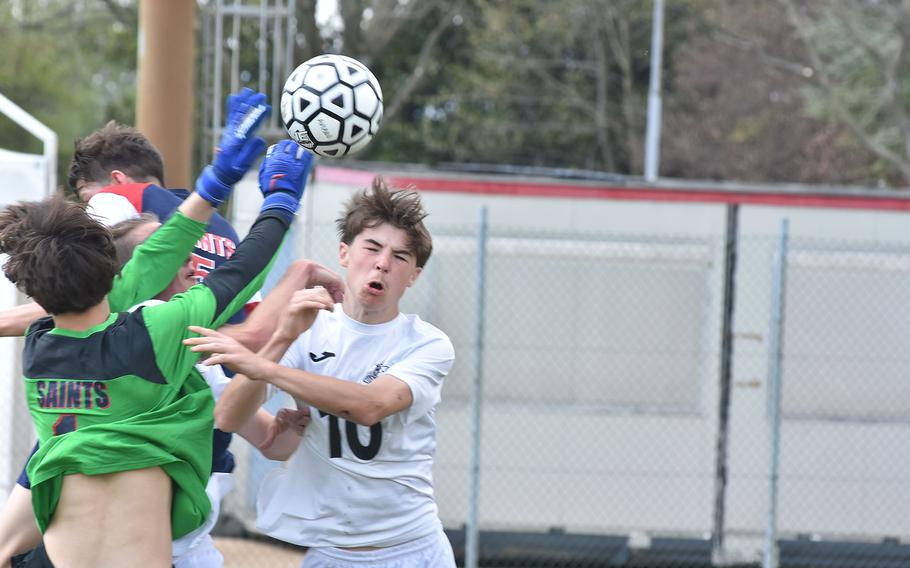 AVIANO, Italy – Experience plays a factor in just about any human endeavor.
But just how much it can matter was in evidence Saturday in a pair of DODEA-Europe soccer games between the Naples Wildcats and the host Aviano Saints.
Thanks mainly to two spring seasons canceled by the coronavirus pandemic, the Wildcat girls only had three players who had played in a high school game before last weekend. Two of them – juniors Emma Kasparek and Nadia Shimasaki – accounted for most of the Naples offense in a 5-3 victory.
The Naples boys won the 2019 Division I title but hadn't played again until earlier this month. Only one player returns from that team. But the Wildcats do have sophomore Connor Wallace, who grew up playing the sport in Scotland and had all three goals in a 3-2 win over the Saints.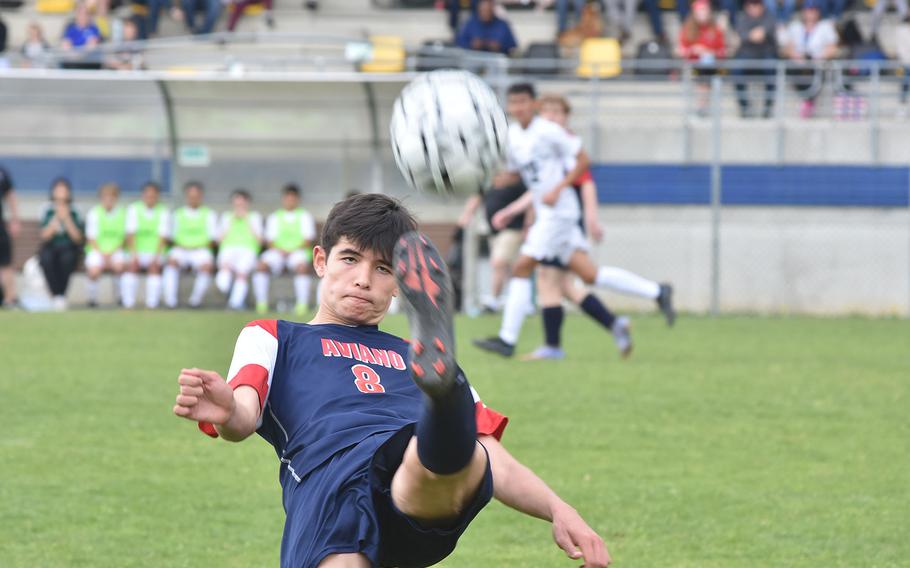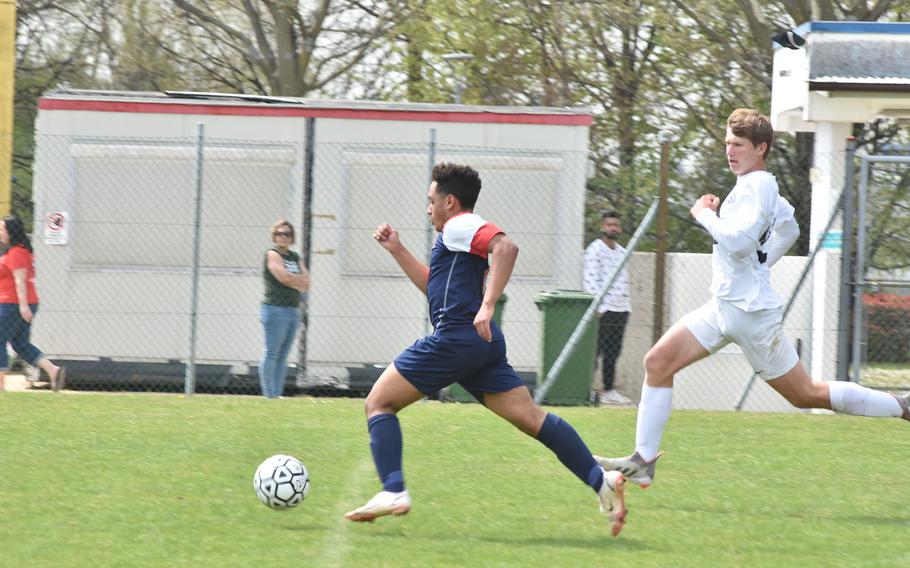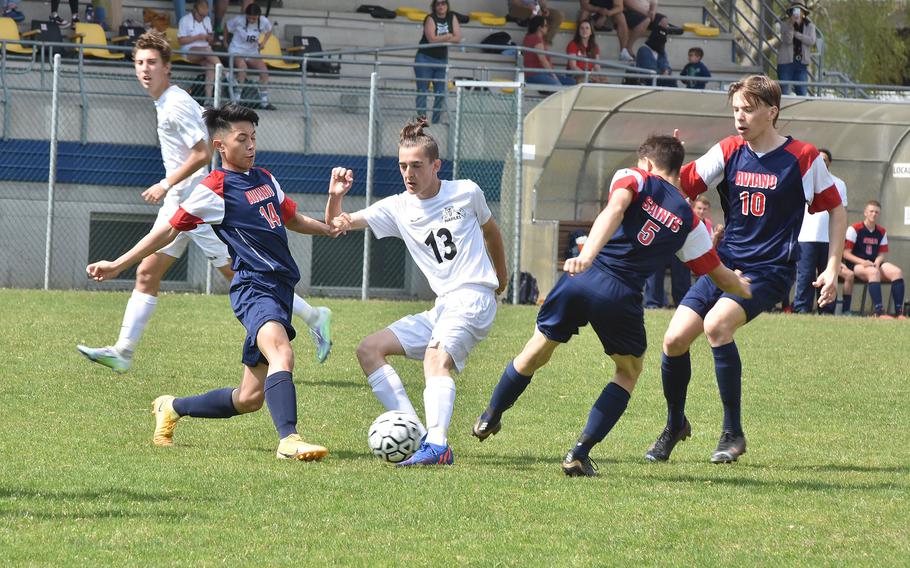 Boys
Wallace was in the right place – or wrong place, if you were an Aviano fan – all afternoon.
That includes three times on the sequence of events that decided the game. With the score tied at 2-2, he was fouled close enough to the goal to get a penalty kick. That kick was deflected by Aviano keeper Charles Udall, but Wallace chased the ball down and booted in the winner.
It was only slightly different than his goal to tie the contest in the first half when Udall tried to catch a kick, only to see the ball drop right at Wallace's feet in front of the goal.
"He's always in the right spot," Naples coach Dirk Lambertson said. "We were very fortunate that he transferred here."
Wallace's middle goal tied the contest and resulted from Aviano failing to clear the ball in front of its net. Several players touched it before it bounced to Wallace, who had a clear shot at goal. Udall, who made a stellar save in the first half to keep the teams tied at 1-1, never had a chance.
Aviano had struck first as Nick Gilbert's assist set up Xavier Fox for an unchallenged run at goal. Gilbert then gave the Saints a 2-1 lead early in the second half by outracing the Naples defense down the field after a booming free kick from Aviano defender Terrence Johnson went over all their heads.
Gilbert is the only player on the Aviano roster from the 2019 season.
"We look for improvement every week and we certainly improved from last week," Aviano coach Ian Birch said. "Hopefully, we'll keep on improving."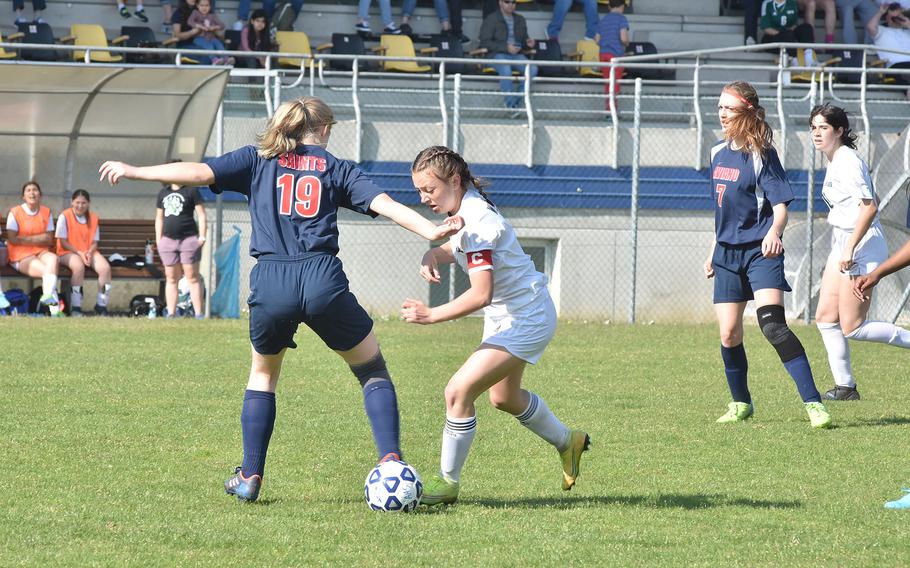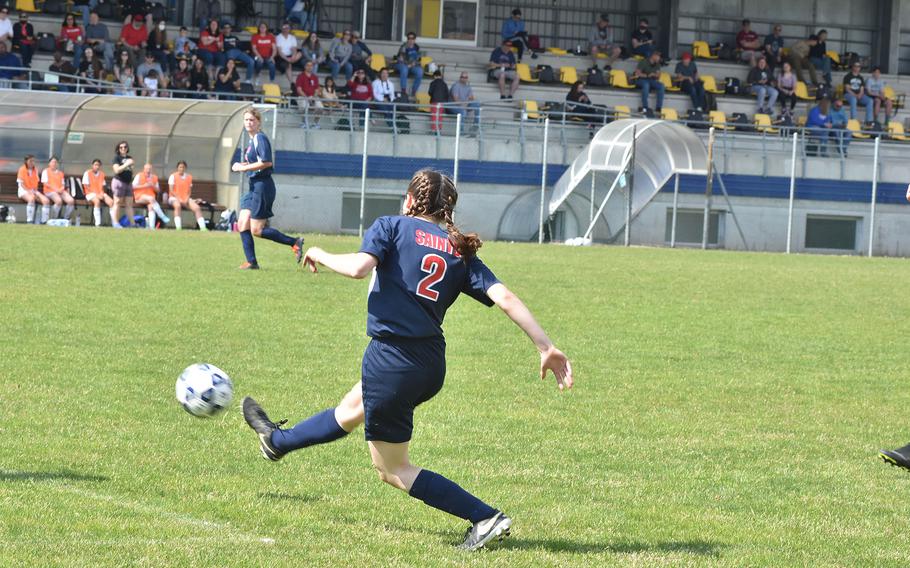 Girls
A lot of work in practice paid off for the Wildcats, according to Kasparek and coach Alyson Parenteau. Naples got to the ball quicker than Aviano for most of the game and dominated the second half with 18 of its 25 shots on goal coming after halftime.
"They don't always like that I run them at practice, but …," Parenteau said.
"They work hard," Kasparek said of her unexperienced teammates. "They've improved so much since we started."
Still, no other Wildcats other than Kasparek and Shimaski had a serious shot on goal until the final minutes. Kasparek's first goal came after a toss in from Amber Ozturkoglu. She dribbled past a few Aviano defenders and then fired on goal. Aviano went on to tie the game, but Kasparek put her team up again just seconds later as Aviano's keeper came out to get the ball but couldn't corral it – leaving an open net.
Aviano tied the game in the opening seconds of the second half before Shimasaki – who's ball skills fueled several Naples attacks – struck with her first goal. The Saints then tied it again when Kylee Carroll scored for the second time after Naples keeper Gabriella Barnard stopped one shot, but couldn't control the rebound.
Kasparek then took matters into her own two feet, dribbling past a few Aviano defenders on the right side of the goal before booting the ball into the right side of the net. McKenzie Smith added an insurance goal minutes later. Kylee Moncur also scored for Aviano.
"More things to work on in practice," Aviano coach Robert Tiffany said. "They did a good job spreading out our defense and then attacking. We'll get better."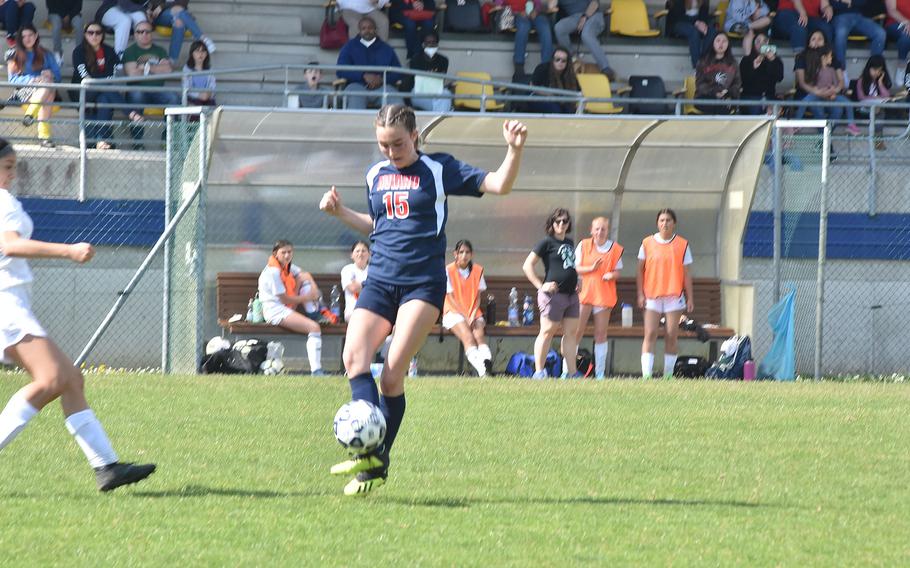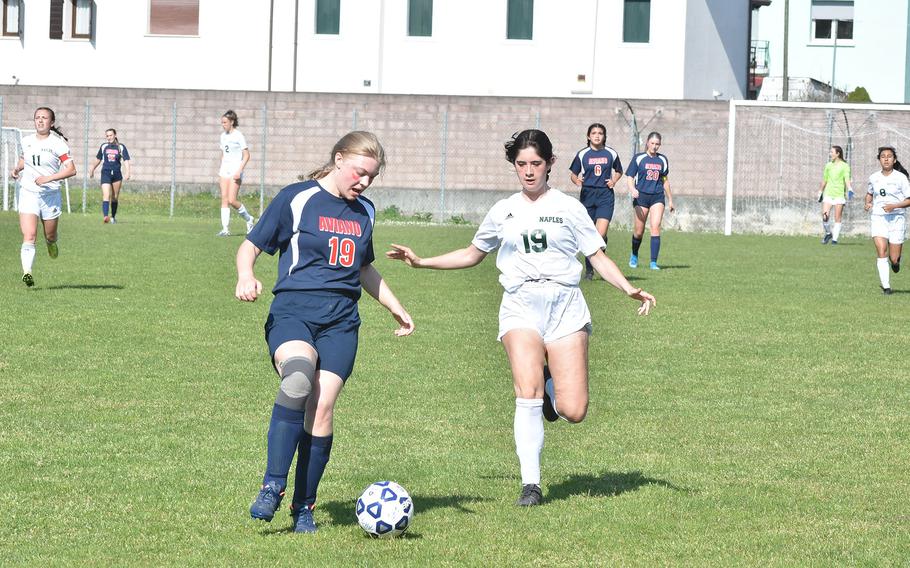 ---
---
---
---