It's early, but Naples looks like a contender
By
Special to Stars and Stripes
April 15, 2022
---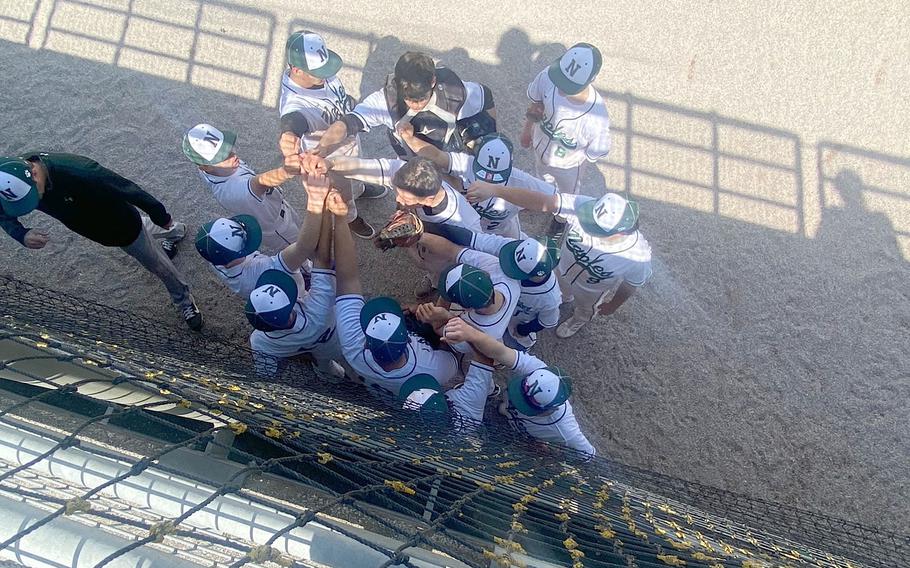 The Naples Wildcats have gotten into the swing of the spring baseball season faster than any of their DODEA-Europe peers.
Naples handled the rival Vicenza Cougars by scores of 12-2 and 10-5 last weekend. The Wildcats followed a similar script in each game, scoring six first-inning runs to build a substantial early lead and plating multiple runs in the later innings to secure the wins.
As encouraging as that performance was, Naples head coach Jim Davis is keeping his team's early results in perspective.
"Week one with two years off," Davis said, referring to the two years of COVID-19 cancellations that disrupted DODEA-Europe sports. "We just made fewer mistakes than our opponents."
But Naples has the talent to turn this strong start into sustained success.
Keith Rascoe, an impactful WIldcat freshman the season before the pandemic, has grown into a senior leader despite the lack of experience in the interim. Rascoe pitched five solid innings in the Wildcats' opening win over Vicenza, allowing just two hits and a walk while striking out six. He also added a pair of hits, including a three-run homer, and scored four runs.
Naples even has a promising new freshman in the former Rascoe mold in Logan Barker, who earned the pitching win in the later game against Vicenza. Davis was impressed with Barker's resilience, explaining that Barker faced some adversity but "fought through it and finished the game."
As smoothly as it's started, Naples is likely to face more challenges in the weeks ahead. Davis is looking forward to this season's encounter with perennially tough Rota. He also expects Vicenza's young squad to "get stronger as the season progresses" with Osvaldo Garcia Carrillo, a former Division I championship coach at Ramstein, at the helm.
Davis won't have to wait long to learn more about his squad. Both Rota and Vicenza visit Naples for a consequential set of games the weekend of April 29, a mini-preview of the European tournament just three weeks later. This weekend, the Wildcats have a date with Aviano, 2019's breakout Division II champion.
While baseball in Italy has heated up quickly, the teams to their north are digging out of unseasonable winter weather and navigating the ensuing delays. Luckily, there's a full slate of opportunities this weekend for those teams to find their respective strides. Historic large-school powers Ramstein and Stuttgart meet for the only time this regular season, while Lakenheath visits Germany for games at Vilseck and Wiesbaden.
---
---
---
---