Athletes look to get back on track against real competition
By
Stars and Stripes
April 7, 2022
---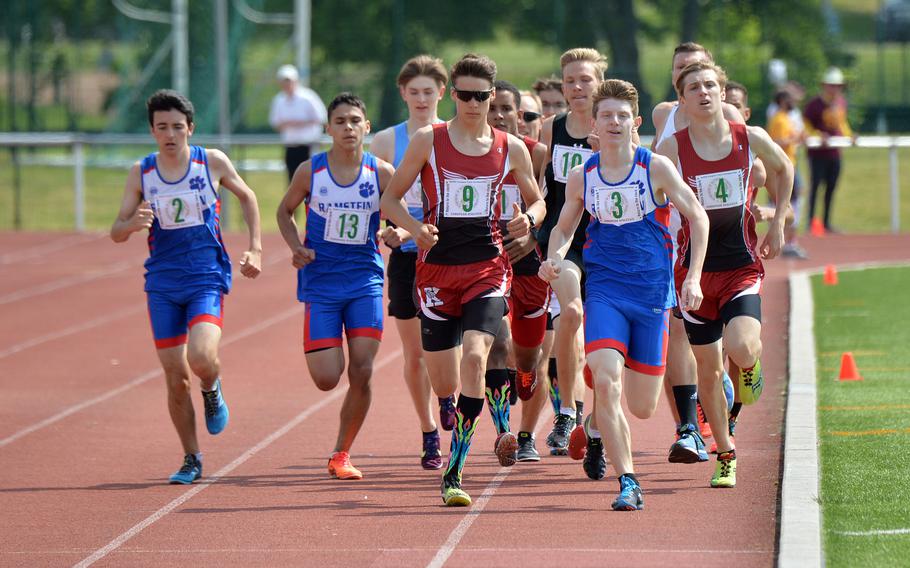 "Warriors … come out to play-ay."
It's the most memorable line from a cult movie, "The Warriors," produced long before Makiah Parker and Ava Stout were even born.
But the two Wiesbaden standouts will be able to follow that advice beginning Saturday as DODEA Europe returns to the track fully for the first time in more than two years. Fortunately, the competition the two Warriors face won't suffer the same fate as the movie villain who quickly regretted those words.
Parker, a freshman at last year's virtual championships, won the 100, 200, 400 and anchored the winning 4x400 relay team. Stout, a sophomore a year ago, was also on the 4x400 relay team and dominated the competition in the 100 and 300 hurdles.
Now a year later, the two are hoping to help Wiesbaden repeat as girls champion.
"Although we appreciate the fact that we were afforded the opportunities to 'compete' last year it just isn't the same virtually," coach Jessica Jacobs said. "There's something about facing another school, an opposing competitor that brings out something in your athletes that you just cannot replicate in a virtual format."
Stout, in particular, won impressively week after week in the hurdles events held last year as each school had meets on home tracks and then compared results to other schools. That was a definite step up from the previous year when no competitions were held due to the coronavirus pandemic.
The two aren't the only standouts on the Wiesbaden roster. Jacobs also mentioned juniors Faith Maina, Kendall Kaloostian and Mary Kemmer (relay teams), senior Theresa Carballo (shot put), senior Elijah Smith and junior Zach Watts (relays) as athletes to watch.
And there might be more Warriors standouts making their debuts this season.
"Although we lost some seniors or athletes due to PCS season, we are blessed with some fresh talent and incoming underclassmen," Jacobs said. "These athletes are ready to make their mark and have an impact on our success moving forward."
Kaiserslautern won the boys contest a year ago and finished second in the girls competition. And with dozens of individual and team events up for grabs at the finals May 20-21 in Kaiserslautern, athletes from many schools are likely to stand at the top of the podium.
A look at what coaches responding to a query from Stars and Stripes say their teams will look like in April and May:
AFNORTH
Paulo Aponte (800), Marques Williams (long jump) and Tori Morris (high jump) have the most experience for AFNORTH, according to coach Mark Jackson.
The Lions have 30 athletes out, including two newcomers to watch, sophomore Spencer Johnson and freshman Richele Reyes.
"The kids are so excited to compete again in person," Jackson said.
Rota
Coach Carie Sundberg moved from an assistant in Brussels to head coach at Rota. She has 19 athletes out for the team and just one who placed at the virtual meet: her senior daughter, Daphne (third in 100 and 300 hurdles, sixth in triple jump and seventh in long jump).
Sundberg lists seniors Kye McGrady (sprints, middle distances) and Brianna Leiba (sprints, jumps) and sophomores Brian Leiba (sprints, jumps) and Sophia Dickkut (sprinter) as others to watch.
Black Forest Academy
Black Forest had only one athlete compete in the virtual finals. Senior Colby Liesen (400, 800, long jump, triple jump) earned a second-place finish for the school in boys Division II.
This year, the school has 49 athletes out to compete at the D-I level – roughly a quarter of the school's enrollment.
Coach Caleb Turner said athletes to watch include juniors Josh Jung (jumps, sprints) and Josiah Alexander (triple jump, distance), freshmen Jacob Alexander (shot put, long jump, sprints) and Nathan Gray (long jump, sprints) and sophomore Samuel Yakuba (jumps, middle distance) for the boys. Senior Zoe Miller (sprints, long jump) and Kiki Dunette (throwing events) lead the girls.
Ansbach
Seniors Lucas Morecraft (400, jumps), Jeremiah Tran (discus, hurdles, 400) and Delana Creech (200, 400) are back for a final season at Ansbach and joined by sophomore returners Brody Hoctor (400, 800, high jump), Laila McIntyre (jumps, 400) and Trinity Batin (hurdles, jumps).
Coach Shannon Daniels has about 30 athletes out, including newcomers-to-watch Ryan Surens-Garcia (high jump, 200, 400), Grace Robinson (jumps, sprints) Gabby Hursey (shot put, discus) and transfers Allison Schuck (SHAPE - shot put, discus) and Tamia McLaughlin (Texas – jumps, sprints).
Alconbury
The Dragons currently field a squad of 15 athletes – three of them middle schoolers.
Senior Kate Sprouse (long distance) and juniors Jonathan Reyna (sprints) and Gavin Winkler (sprints, distance) provide the experience for coach Nicole Andre.
Newcomers James Miller (sprints, middle distances), Bohdan Andre (discus) and Lorna Lee (sprints, distance) hope to make impacts in their first years on the team.
Harris.kent@stripes.com Twitter: @kharris4stripes
---
---
---
---