Wrestlers based in Italy, Spain get a final shot for a title on the mats
By
Stars and Stripes
March 5, 2022
---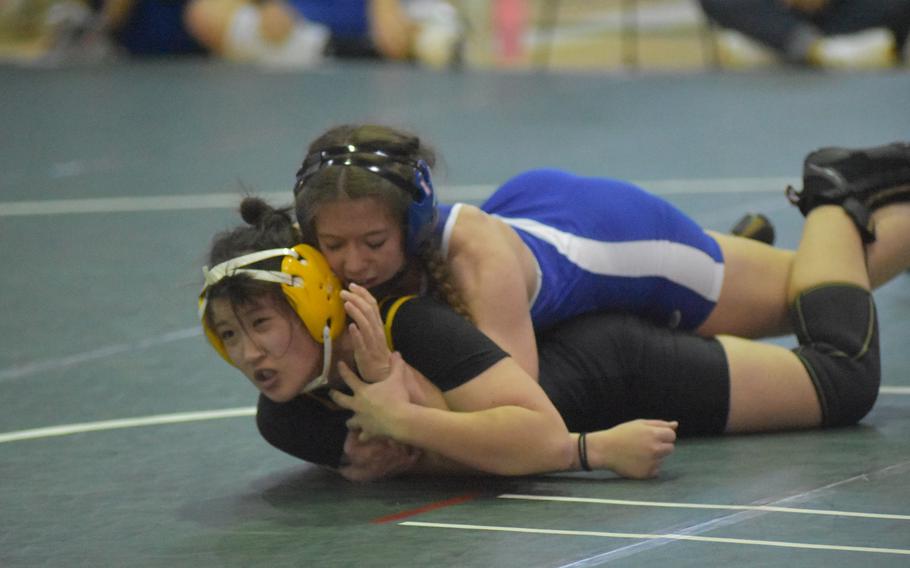 NAPLES, Italy — Two times previously during this year's short wrestling season, Rota's Sarah Chambers bested fellow 120-pound weight class competitor Ivy Anderson.
On Saturday, Anderson, a Vicenza Cougar, broke that streak beating Chambers in opening rounds of Saturday's DODEA Southern European Finals at Naples Middle High School.
Experience from previous matches, during which Chambers eluded Anderson's efforts to pin her, meant a strategy was needed.
"I tried to win on points," said Anderson, a 15-year-old freshman, who succeeded in two takedowns, a reversal and an escape. "I'm glad I stepped over my fear and went for things this time."
For Chambers, a skilled wrestler who was undefeated until the match, the chance to compete in her final tournament after a "choppy season" cut short by COVID was victory enough. The 17-year-old senior hoped Anderson would continue to compete next year.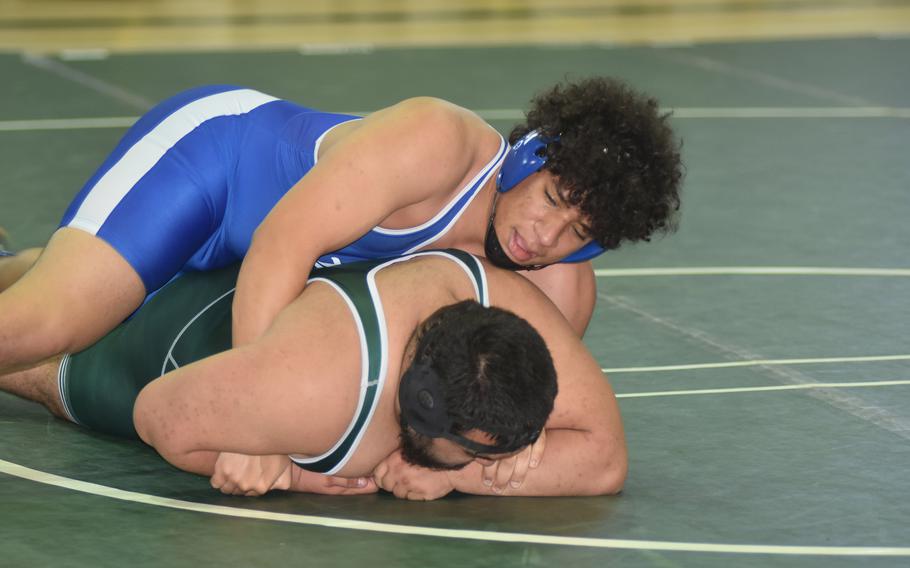 "She's really tough and she has the spirit for it," Chambers said.
Anderson went on to win the 120-pound title and Chambers was third.
Chambers and Anderson were among 58 competitors from Rota, Aviano, Vicenza, Naples and Sigonella in the two-day tournament that included team dual meet competition on Friday and individual brackets Saturday.
Before Saturday's competition would finish, some 100 matches in 14 weight categories would take place, Naples coach Vito Vitulli said.
Normally, the season would include about eight meets but with restrictions due to COVID there were only three this year, he said.
"Even our practices were shut down," Vitulli said. "It's been really difficult to have consistency for practice, to have mat time which is necessary (for athletes)."
The short season hurt teams such as the Rota Admirals that struggled to maintain forward motion in building their programs, coach Luke Spencer said.
Before COVID, Rota had more than 30 wrestlers out and had won back-to-back Division II championships, Spencer said. On Saturday, there were 16 Rota competitors.
"I'm proud of what we've done. I'm proud of the kids that came to compete on such short notice," Spencer said.
With opening rounds behind him and the semifinals looming, Naples' Alexander Suzsko thought his chances in the tournament were good, but he didn't want to lose focus and "get ahead" of himself.
Rather, the 18-year-old senior was glad just to have any sort of competitive season for his last year of high school.
"It's been really nice having these three weeks, and I'm grateful for it," Suzsko said.
He was a bit more grateful Saturday night after winning the 165-pound weight class and being named the tournament's most outstanding wrestler.
Other winners included: Connor Tapping (106) and Matteo Toliver (190) from Naples, Benjamin Taylor (113), Andrew Caprio (126) and Colin Clark (285) from Rota, Vicenza's Jacob Kloepper (138), Jack Ryan Peterson (175) and Daniel Bagadou (215), Sigonella's Norman Nguyen (132) and Collin North (144), Javen Sherrod (150) and Keegan Elliott (157) from Aviano.
Vicenza took the team competition with 125 points, followed by Rota (121) and Naples (109).
---
---
---
---