Wiesbaden, Spangdahlem honored as cheerleading champs
Stars and Stripes
February 26, 2022
---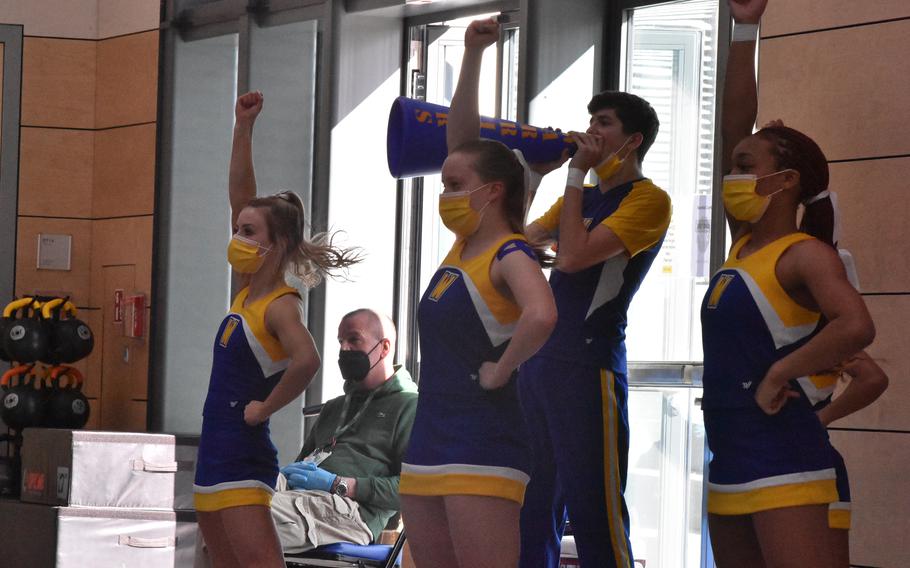 At a time there's seemingly not a lot to cheer about – a Russian invasion in Ukraine at least temporarily eclipsing a pandemic that's lasted more than two years – DODEA-Europe celebrated groups of teenagers whose job is to keep spirits up.
Cheerleading squads from around Europe submitted routines via video earlier this month and the results were announced Saturday before the action got underway at the Division I and III basketball championships at Ramstein and Kaiserslautern high schools.
Wiesbaden won the championship in the Division I race, followed by Vilseck and Ramstein. In Division III, Spangdahlem took first, followed by Sigonella and Alconbury. Sigonella's squad will actually be cheering their basketball teams in Italy next week as the Jaguars will be playing against Division II competition in Vicenza.
Cheerleaders got to show off their routines Saturday morning. It was the first time some of the squads had seen each other as the coronavirus played havoc on the winter sports season and curtailed traveling by cheerleading squads.
Many competitors impressed the judges, with a dozen D-I athletes named to the All-Tournament team and eight more named to the D-III All-Tournament squad:
D-I
Kaiserslautern: Kiki Davis, Taliyah Haywood; Lakenheath: Lydia Schaeffer; Ramstein: Jasmine McKinley, Skylar Polite; Stuttgart: Rachel Turner; SHAPE: Ava Kettinger; Vilseck: Connor Oliver, Jazmine McNair, Quincy Lazo; Wiesbaden: Elisabeth Daigle, Jessica Hall.
D-III
Alconbury: Savannah Winkler, Reagan Boyett; AFNORTH: Maria Randveer, Eden Skariah; Baumholder: Carina Sepulveda, Emma Rodriguez; Spangdahlem: Cassandra Price, Kian Williams.
Vilseck earned the D-I spirit award and AFNORTH took the same honor in D-III.
---
---
---
---