D-I and D-III teams ready to battle it out for titles
By
Special to Stars and Stripes
February 22, 2022
---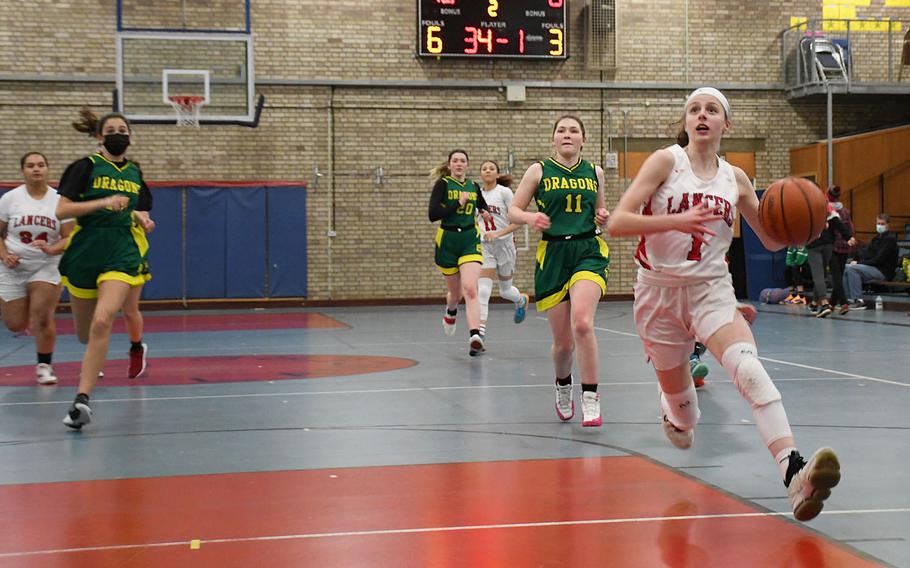 At the end of a season marred by COVID-19 disruptions, and a year after losing a season entirely to the pandemic, DODEA-Europe basketball teams will once again play for championships this week.
The Division I and Division III European girls and boys basketball tournaments run Wednesday through Saturday at Ramstein Air Base. Wednesday's opening tip will represent DODEA-Europe's first postseason hoops game since Vilseck's defeat of Ramstein for the Division I boys title in February of 2020.
Division II teams will not participate in the event due to continued COVID-19 restrictions, and international school Black Forest Academy, a regular participant and frequent contender in DODEA-Europe events, is not in the Division I brackets this week. The D-II teams will compete at the beginning of March in Vicenza in a similar event.
All four of this week's brackets will follow a round-robin format over three days of preliminary play, the results of which will create matchups for the championship games and third-place games on Saturday. The Division I tournaments will be held entirely at Ramstein High School, while the Division III tournaments, along with the annual cheer showcase, are set for Southside Fitness Center. The small school finals will be at Kaiserslautern High School.
Much has changed since the last time these schools convened in Germany for a postseason, and a delayed start to this season gave the new rosters limited opportunity to build cohesion. The result, in most brackets, is a wide-open tournament where multiple teams have a real chance to play on Saturday.
Division I boys
A thrilling doubleheader between the Kaiserslautern Raiders and Stuttgart Panthers on Feb. 12 offered a tantalizing preview of what should be an extremely competitive large-school tournament. Kaiserslautern won Friday's opener by one point in overtime; Stuttgart won Saturday's rematch by one point in two overtimes.
Those teams will bring that recent close-game experience into an evenly-matched seven-team bracket of contenders. The reigning champion Vilseck Falcons and Wiesbaden Warriors played to a doubleheader split late in the season. The Ramstein Royals, whose half-decade title streak ended this time two years ago, are a threat to restart their reign. The SHAPE Spartans and Lakenheath Lancers make the trip south to challenge the German programs.
Division I girls
The Wiesbaden Warriors capped a strong regular season last weekend with a statement win over the dynastic defending champion Stuttgart Panthers. Wiesbaden outscored the Panthers by eight points in the final quarter to earn a 43-37 victory.
A late Friday preliminary matchup between Wiesbaden and Stuttgart might serve as a key qualifying game for Saturday and/or a preview of Saturday's championship game.
The homesteading Ramstein Royals and nearby Kaiserslautern Raiders, along with the Vilseck Falcons, Lakenheath Lancers and SHAPE Spartans, will seek to prevent a Wiesbaden-Stuttgart final.
Division III boys
The reigning champion Baumholder Bucs have managed to retain their status as a title favorite despite heavy roster turnover since earning its third straight title in 2020. But familiar foe Ansbach remains a persistent threat. The Cougars launched a stirring second-half comeback Feb. 11 before taking a 45-42 loss to the Bucs. A potential title-game rematch this Saturday is a strong possibility.
Northern visitors AFNORTH, Alconbury and Brussels and German programs Spangdahlem and Hohenfels comprise the field looking to disrupt that rematch.
Division III girls
Ansbach and Baumholder are also favorites to advance in the small-school girls bracket. The Cougars cruise into this week coming off a 41-30 defeat of Baumholder on Feb. 11.
AFNORTH expects to be a factor this week as well, especially after a convincing sweep of defending champion Spangdahlem the weekend of Feb. 11. The Lions will look to bounce back from a season-ending 34-23 loss to Baumholder last weekend.
Brussels and 2020 runner-up Hohenfels round out this highly competitive six-team bracket. Alconbury will not participate.
---
---
---
---