Stuttgart wrestlers lead a parade of winners on the mat
By
Stars and Stripes
February 12, 2022
---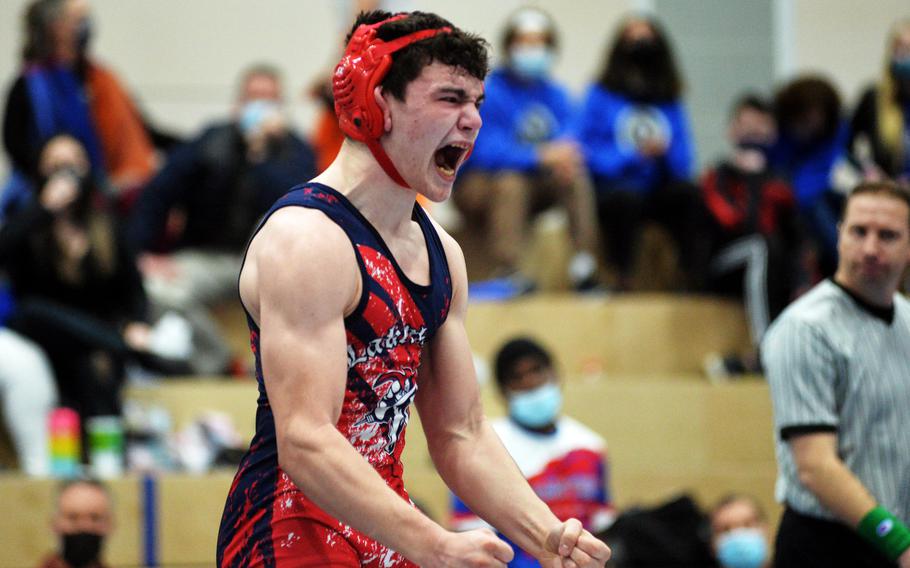 RAMSTEIN AIR BASE, Germany — Unlike the last DODEA-Europe wrestling championship in 2020, this year's wrestling tournament in Germany had a clear winner: Stuttgart.
"Well, we won," said Stuttgart assistant coach Frederick King when the raucous home crowd cheers died down after the referee raised Ramstein 285-pounder Lebron Thomas's arm in the center of the mat.
Thomas had just bested Stuttgart's Hayden Kniss with a pinfall late in the final seconds of the first period, but it wasn't enough for Ramstein to overcome its rival's lead in team scoring.
Stuttgart, which had five wrestlers in the finals, finished with 225.5 over 218 for Ramstein, which sent seven of its team members to the finals.
"It came down to the point where (we asked) what will it take to bring home gold," King said, describing as chess-like his and head coach Matthew Fisher's strategy for securing a few key wins in the finals.
In the first finals match of the night at 106 pounds, Brayden Aperauch "started the ball rolling," King said.
But the night was bitter-sweet for the Panthers, who paid tribute to Lt. Col. Benjamin A. Fielding, a former volunteer coach who died of a sudden heart attack in July at Fort Drum, N.Y., shortly after qualifying to compete for Team USA Veterans at the World Championships.
"He was with us for six years, helped us win six championships back-to-back," said former Stuttgart coach Norm Matzke, who was moved to tears during a speech before the championship round.
Fielding's daughter, Mckinley, had been the first female wrestler to make it to a DODEA-Europe championship match and competed in the finals for Stuttgart in 2020. His two oldest sons both won multiple titles.
The audience observed a moment of silence for the husband and father of four, who Stuttgart's Christian Just credited with making wrestling a lifestyle for him. The senior made it to the finals for the third time this year, securing his second championship.
"Coach Fielding, besides my dad, was my biggest influence," said Just, who said he pictured Fielding in his corner of the mat before each bout this year.
A total of 10 schools were represented among Saturday's finalists in the three-day tournament, which featured only 12 teams from northern Europe. The schools in southern Europe will compete next month.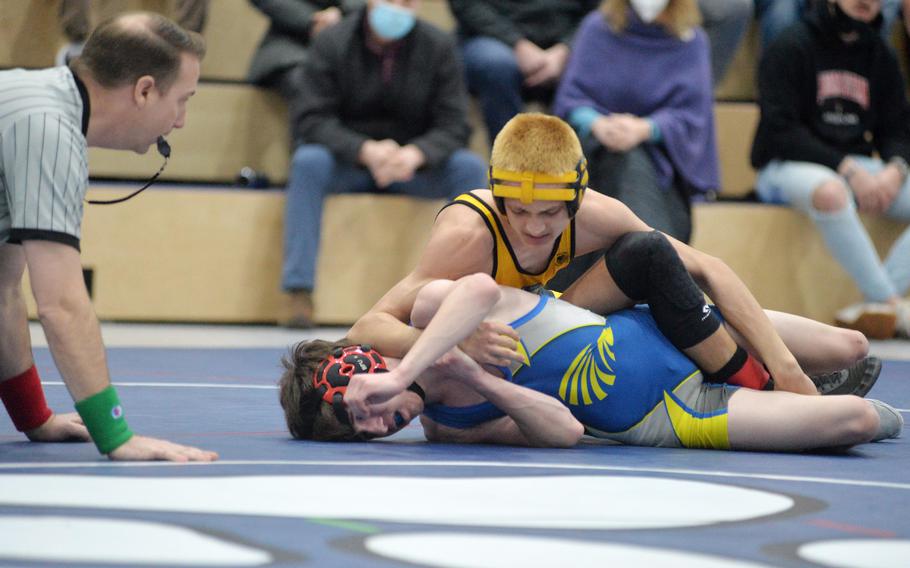 106 pounds: Stuttgart sophomore Aperauch earned his first European title with a pinfall over Wiesbaden's Luca Pitaniello in the second period.
After sprawling on Pitaniello's double-leg takedown attempt and fighting off an attempted reversal, Aperauch managed to put his opponent on his back late in the first period, but only long enough to score nearfall points before time ran out.
After starting on the bottom in the second period, Aperauch was able to counter a suplex and put Pitaniello into a crucifix, using his leg and arms to splay out Pitaniello's arms, pinning his shoulders to the mat.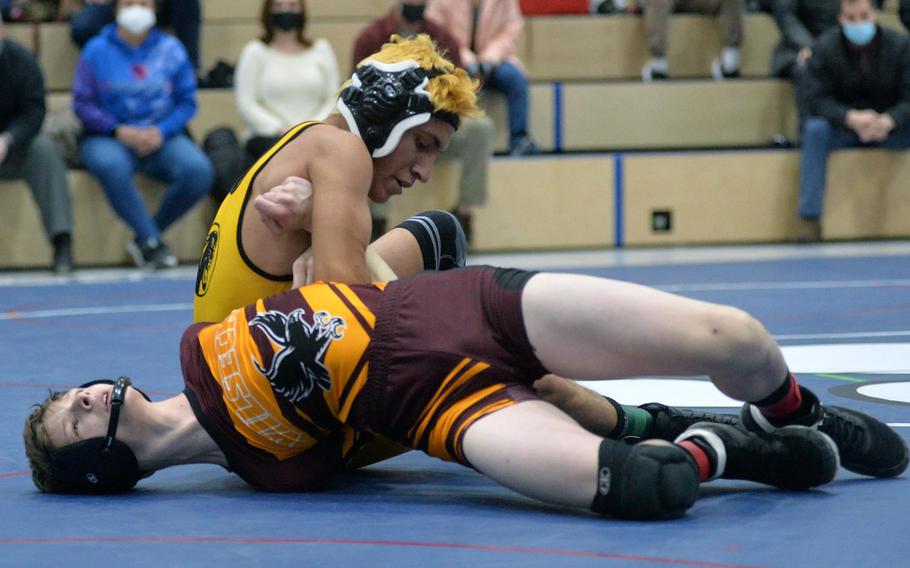 113: Securing a second critical win for Stuttgart was Michael Lurvey, who pinned Vilseck's Cameron Ganger in the first period.
Ganger was one of just two Vilseck wrestlers to make it into the finals. He was able to keep Lurvey from cradling him early in the period, but could not withstand a double arm-bar.
After barring both arms behind his opponent's back, Lurvey walked his way over Ganger, winding him onto his back for a pinfall.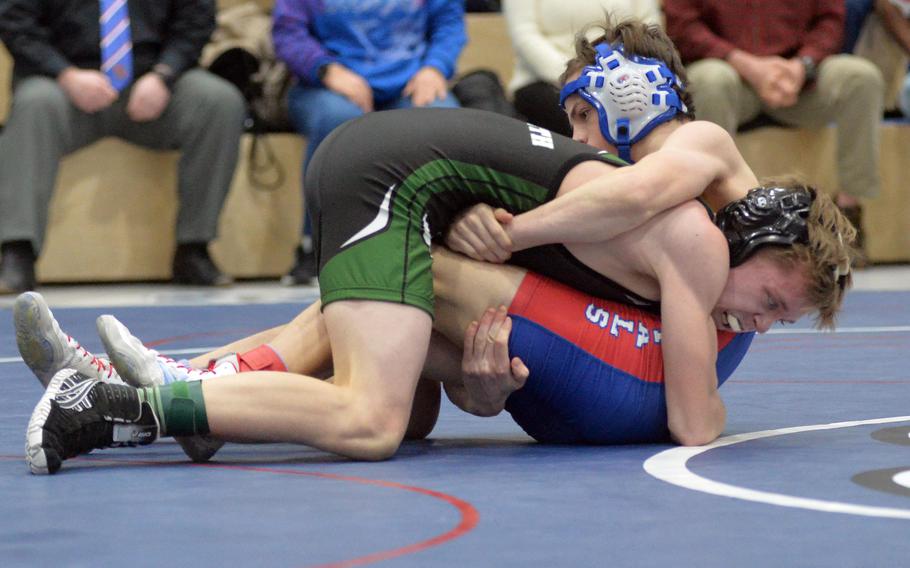 120: Casey Matthews became the first of two champions from AFNORTH in Saturday's action after pinning Ramstein's Jayden Andrew in the first finals match of the night to stretch into three periods.
A succession of takedowns and nearfalls left the score tied at 5 as the first period ended. That pattern would repeat in the second period after both started in the standing position, boosting the score on each side into double digits by the start of the third period, which again began with the wrestlers in a neutral position.
After attempting a takedown, Matthews was put on his back for nearfall points, but managed to work Andrew over and pin him 46 seconds into the final period.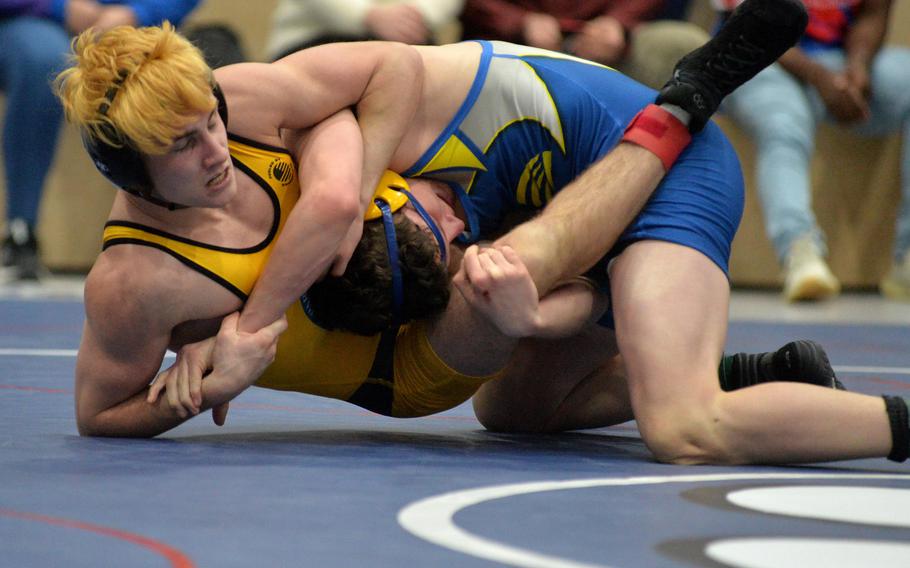 126: The next key win for Stuttgart came with Evan Vertuli's sudden death victory over Wiesbaden's Linx Lawless after coming back to tie with a late third period takedown in a grueling match.
Vertuli scored the first takedown of the match, but Lawless was able to score on a reversal and nearfall before the first bell. Lawless reversed a Vertuli takedown and managed to keep the Stuttgart senior from scoring again in the second period.
Starting the third period on bottom, and down by 7-4, Vertuli managed a reversal of his own, which was countered by another Lawless reversal. An escape brought Vertuli back to within two, a gap he closed with a quick ankle pick takedown.
In the one-minute sudden death round, a fireman's carry by Lawless took them out of bounds before any points could be scored. Vertuli then managed a throw of his own to score a takedown 46 seconds in.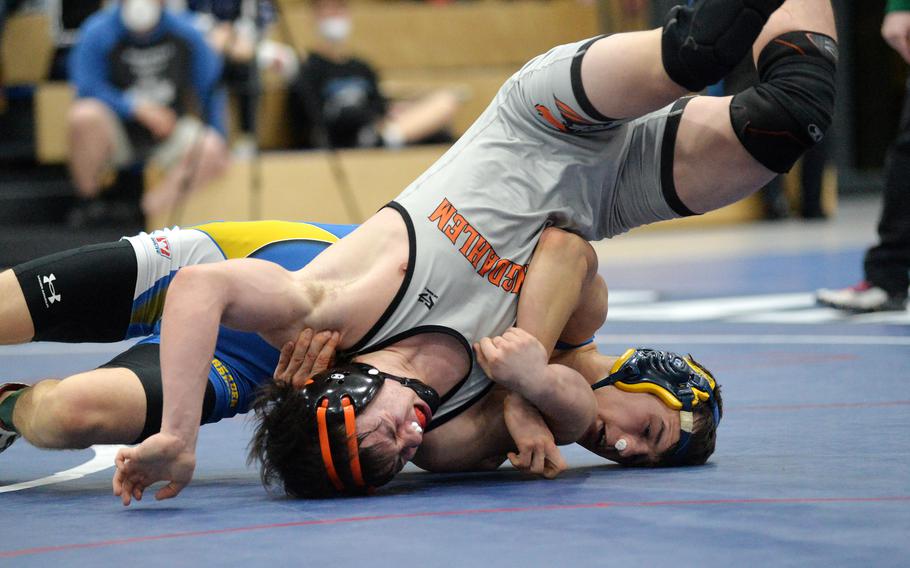 132: Brenden Castillo of Spangdahlem had his sights set on a championship this year and coach Joe Hicks said he put in more effort than anyone he's seen in over a decade of coaching.
It paid off for the senior, who fought a tough match against SHAPE's Zack Call in the semis before going all the way in a 9-2 decision over Wiesbaden's Caleb Rothmeyer to secure the championship.
"It was so much fun," he said before the awards ceremony. "Granted it was a lot of work."
The two started off pummeling, but Castillo quickly put Rothmeyer on his back, racking up five points for the takedown and nearfall.
Rothmeyer scored two for a reversal in the second period after choosing to start in the bottom position, but Castillo managed to keep him from scoring again.
In the stands, the fans tried to drown each other out with cheers and foot stomping, as both wrestlers appeared gassed from the bout in the third period, where Castillo scored only one more point himself for an escape.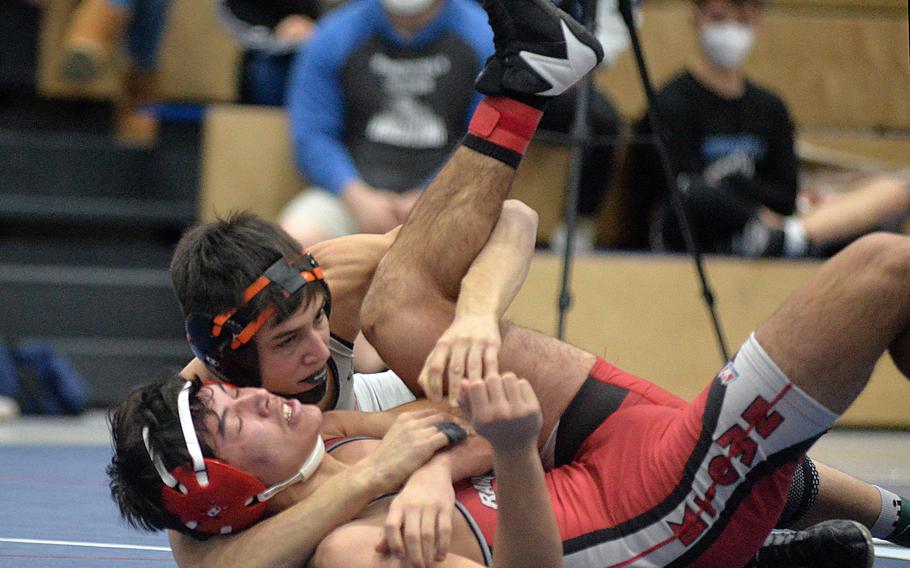 138: Castillo's practice partner Carson Hicks, also a senior at Spangdahlem, nabbed his third title with a pinfall defeat of Kaiserslautern's Joseph Rodriguez.
Hicks was one of the most dominant wrestlers at the tournament, pinning opponents in early bouts in as little as 10 seconds.
The three-peat was his primary goal, but the 78-0 wrestler also achieved a "subgoal" of not allowing opponents to score any points on him in the tournament, he said.
After a few takedown attempts that put them out of bounds, Hicks managed to take Rodriguez down and work him into a near cradle to pin him 41 seconds into the period.
144: Wiesbaden's Patrick Iverson won the title match against Ramstein's Hayden Bashem with a decisive pin after a close 2 1/2 periods.
Nearly any match that followed Hicks would likely have looked drawn out in comparison, but the 144-pounders grappled for nearly the whole first period before Iverson managed a takedown in the last seconds. The score ticked up with an escape for Iverson in the second period, followed by a Bashem takedown in that period and a reversal in the third.
With 54 seconds left, Iverson managed to put Bashem on his back for a pinfall.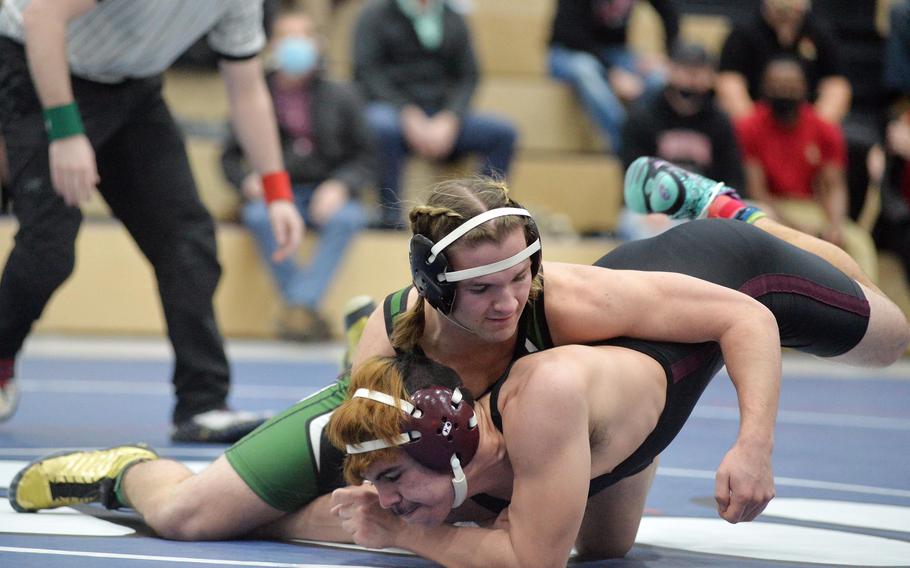 150: Paolo Aponte of AFNORTH defeated Vilseck's Pierre-Jovan Fuentes with a pinfall in the second period, after ending the first period up by three points.
Fuentes, who made it to the finals on a 7-5 decision over Stuttgart's Josiah Doughty, scored an early takedown, but Aponte was able to tie it up with a reversal before putting Fuentes in danger of a fall near the end of the period.
Fuentes began the second period in the bottom position, but was put on his back 37 seconds in, before he could fight his way to his feet.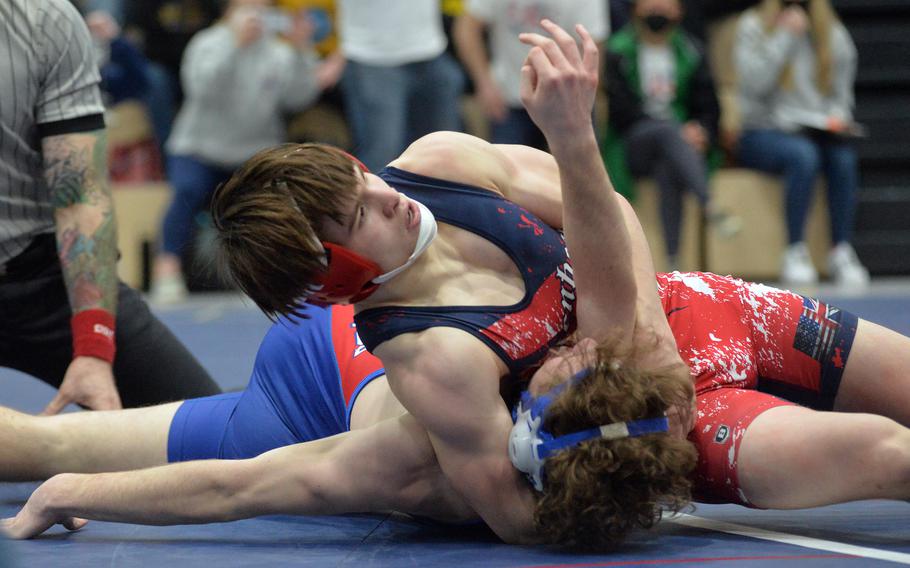 157: Gavin Idleman of Lakenheath pinned his way through the tournament this week to a first-place finish. His finals match pitted him against Ramstein's Matthew Abell, who earned his chance at the title with a 13-9 decision over AFNORTH's Caden Snider.
Abell took Idleman down early on, but he scrambled away for an escape. They stalemated as each wrangled to dominate the other.
After a double-leg takedown, Idleman was able to muscle Abell into a headlock and pin him at the edge of the mat with 32 seconds left in the first period.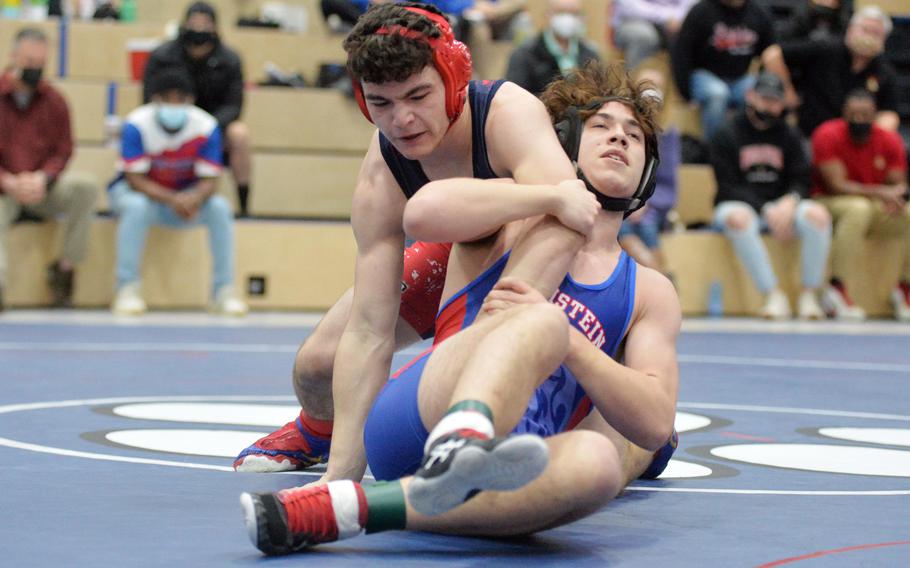 165: With a heavy-handed paw to the head of his opponent, Steven Kofron of Lakenheath gave up the first point in his finals match, which would go into overtime before he could secure the title.
Kofron and Ramstein's Caden Umphlet-Martinez appeared to be well-matched as they locked horns in the scoreless first period.
The penalty for boxing Umphlet-Martinez's noggin was the only point awarded after four minutes of wrestling. Kofron put him on his back to score two nearfall points in the third, but Umphlet-Martinez evened it up with an escape in the final seconds.
In sudden death, Umphlet-Martinez attempted a hip-toss, but Kofron slipped out of it to get behind him for two points and the victory with 8 seconds on the clock.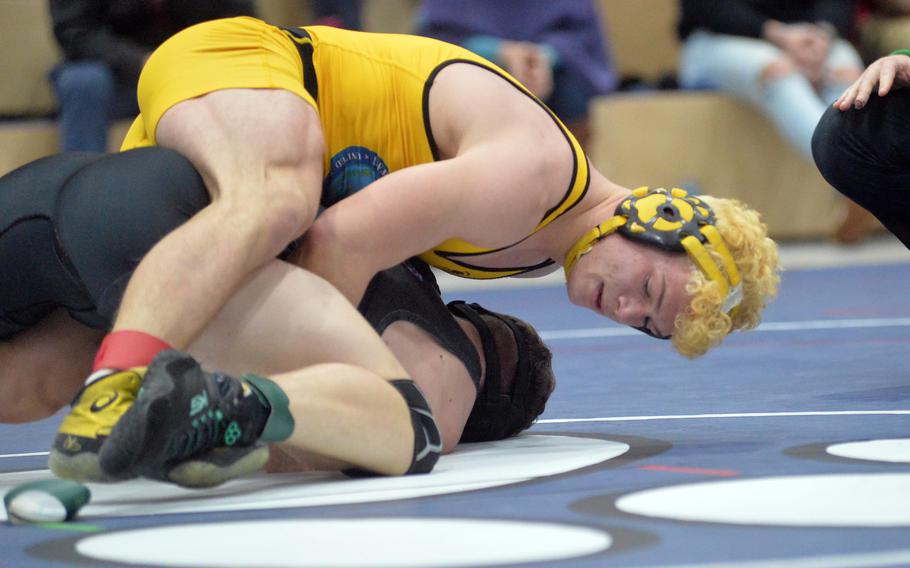 175: Stuttgart's Christian Just was fueled to victory this year, as he said he has been in past years, by the fact that Stars and Stripes gave more coverage to his opponent than to him.
Just faced William Pierce, a junior from Brussels who cobbled together his six-member team this year and served as its coach early on, when they trained in a school foyer that was too small for their mat.
While Pierce won his first preliminary match with a fall in 36 seconds and won his semifinals match with a pin in 21 seconds, he didn't stand much of a chance against his opponent in the finals.
Just scored with a fireman's carry that put Pierce into a nearfall, then locked his legs around him until he could ride him over into a fall a little over a minute into the match.
Just had hoped to face Jaiden Workman of Hohenfels and had trained the past two weeks on countering his throws. But, Just said, "he skirted me" by wrestling at 190.
"He's the only one who's put me on my back in three years," he said.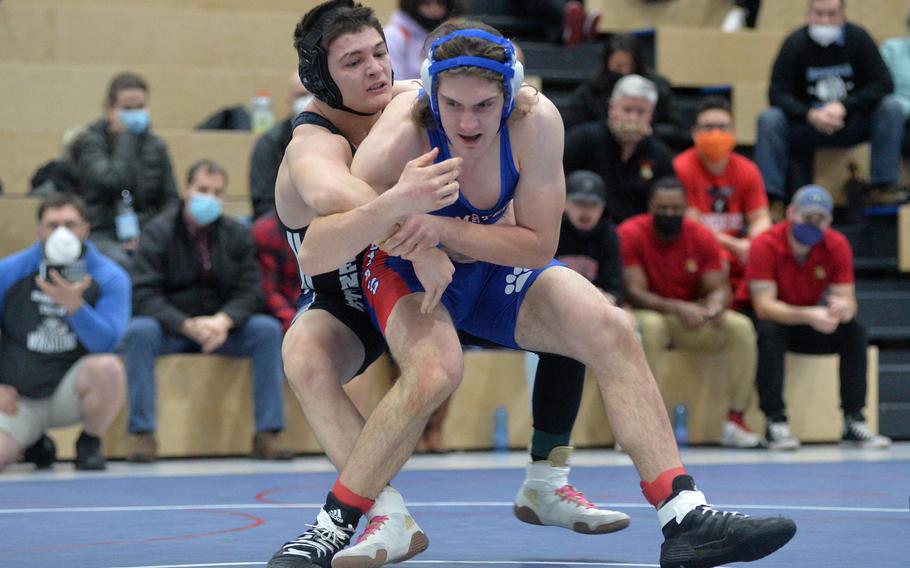 190: Workman battled his way to a championship with a fall over Ramstein's Evan Brooks in the second period of their finals match.
Brooks countered Workman's throws a few times in the first period, scoring backpoints a few times as well, racking up a 10-5 lead at one point.
But after scoring a hip toss and backpoints to even it up at 10-10, Workman was able to put Brooks' shoulders to the mat for a fall with 1:33 remaining in the second period.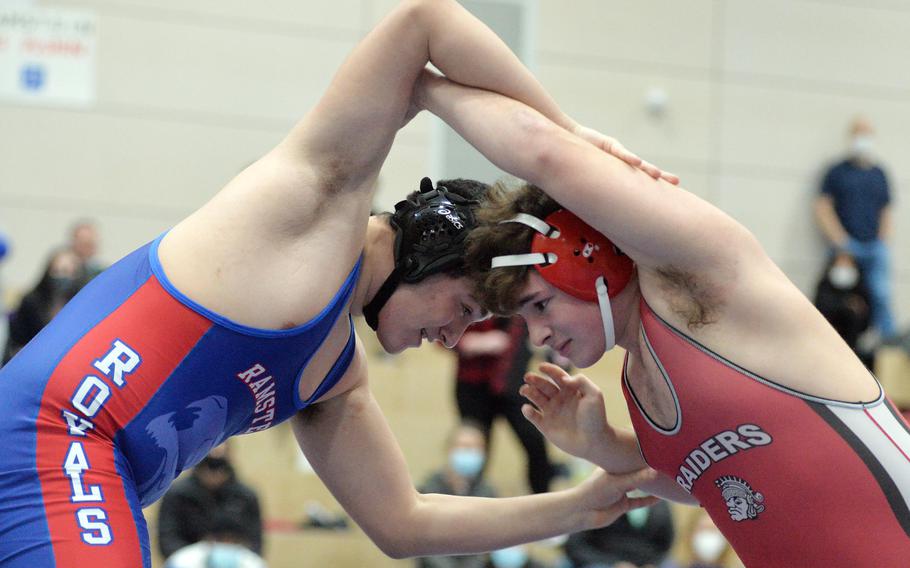 215: Caden Bellmore was the only first-place finisher for Kaiserslautern with a third-period pin against Ramstein's Colton-Lee Ploetz.
Bellmore started strong, scoring a takedown to take the early lead 2-0 in the first period, then scoring a stand-up escape from the bottom position in the second period and another takedown.
Ploetz rolled out from underneath Bellmore to get on the board with an escape with about 20 seconds left in the second period. But an attempted takedown cost him two after Bellmore was able to get around behind him before the clock ran out.
After a brief timeout at the start of the third period for Bellmore to get some help with a shoulder complaint, the Kaiserslautern 215-pounder was able to score another takedown and turn Ploetz with a half-Nelson to pin him with 50 seconds left in the match.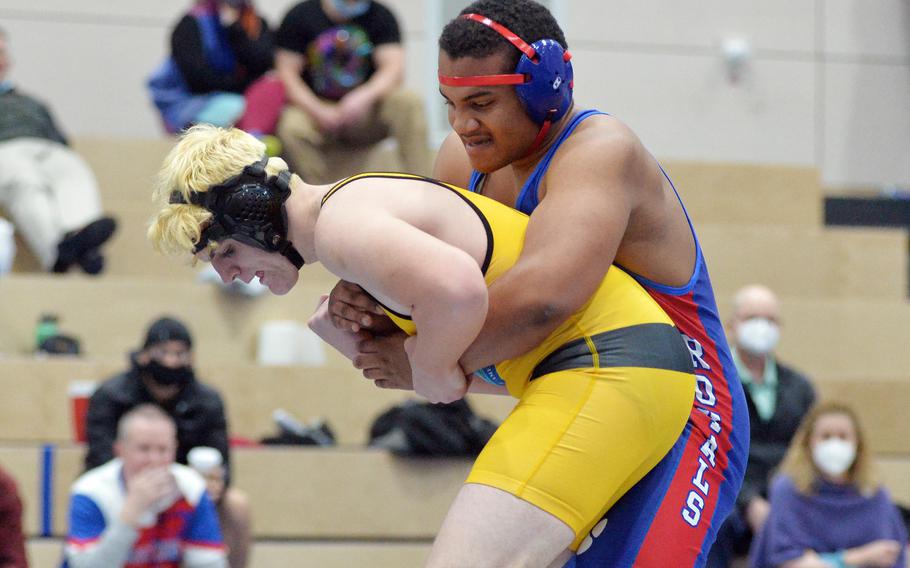 285: As Ramstein's Lebron Thomas worked a deep half-Nelson on his Stuttgart opponent Hayden Kniss in the final match of the night, some spectators embraced each other in joyful anticipation and the cheers reached a deafening crescendo.
Early-on, Thomas had dodged Kniss' attempt at a takedown and got behind him for two points, but the match was stopped for an illegal move and a point was awarded to Stuttgart. 
The match restarted with a bang, as Kniss nearly put Thomas on his back, but they went out of bounds. After another reset, with the Ramstein wrestler on the top position again, Kniss was able to escape and face Thomas in the neutral position, tied 2-2.
But Thomas again dodged a single-leg takedown shot and swept around behind for two points of his own. 
With his arm under Kniss' arm and over the back of his neck, Thomas turned him and put his shoulders to the mat with just six seconds to spare.
---
---
---
---