Unconventional wrestling season could have conventional ending
By
Special to Stars and Stripes
January 28, 2022
---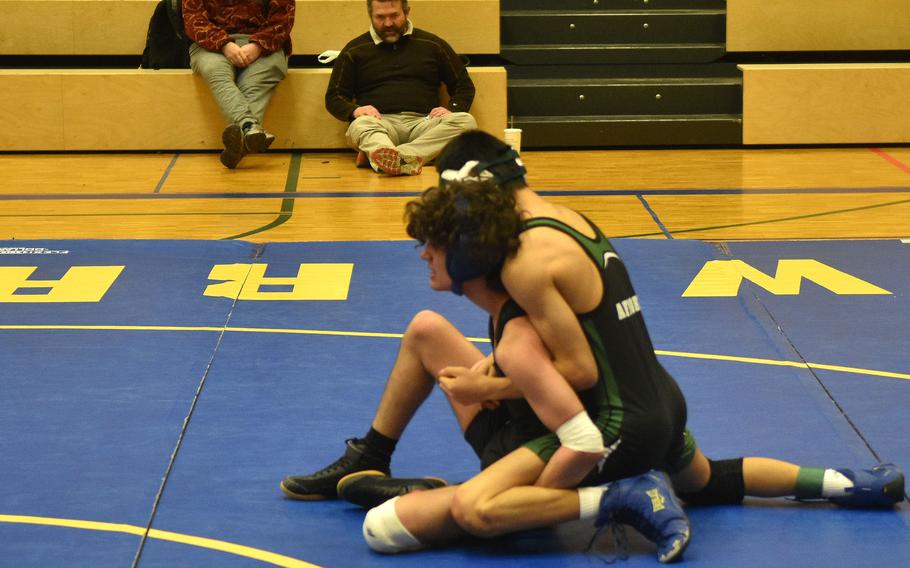 Stars and Stripes is making stories on the coronavirus pandemic available free of charge. See more stories here. Sign up for our daily coronavirus newsletter here. Please support our journalism with a subscription.
As expected, this DODEA-Europe wrestling season has been difficult to pin down.
The December portion of the winter sport's original schedule was eliminated due to the ongoing COVID-19 pandemic, and more January meets have been canceled than competed as planned.
Southern European Navy programs Naples, Sigonella and Rota have been sidelined entirely, leaving Italian teams Vicenza and Aviano to wrestle each other exclusively.
Division I powerhouses Ramstein and Stuttgart were each scheduled to host multiple-school meets last weekend, but neither took place.
Still, DODEA-Europe athletic director Kathy Clemmons confirmed this week that the organization is still planning on a European tournament. That event, originally slated for Wiesbaden, is now set for the Kaiserslautern Military Community from Feb. 10-12.
Live-action preparation for the postseason has been at a premium this winter, but this wrestling season has produced at least a few compelling moments on the mats.
The Jan. 8 season-opening meet between the Ramstein Royals and Stuttgart Panthers was a worthy entry in those schools' ongoing rivalry. Those teams tied for the Division I championship in February of 2020, the last DODEA-Europe meet held until this month, and their long-deferred rematch nearly ended in the same fashion.
But Ramstein eked out a 45-43 victory in an intensely competitive head-to-head match featuring action in all 14 weight classes.
A slew of cancelations over the following weeks stalled the momentum of that excellent opener, but a four-team meet in Wiesbaden last weekend got the season back on the right track.
Hohenfels seized its opportunity against a much larger Wiesbaden squad beset by COVID-related absences. The Division III Tigers, seasoned by large-school competition against Vilseck and Stuttgart the prior week, made good with a 39-35 defeat of the Division I Warriors. Later, Hohenfels held off a late push by AFNORTH for a 42-20 decision and handled Spangdahlem 54-30 to complete its quad-meet sweep.
As sparse as they are this winter, those highlights are a glimpse of vintage DODEA-Europe wrestling amid the COVID-caused chaos. If all goes well, there will be more to follow.
DODEA-Europe has several meets scheduled over the final two weeks before the tournament. A total of 10 teams are slated to compete in meets set for German bases Kaiserslautern, Ramstein and Vilseck, while Aviano and Vicenza are due to face off again in Italy. The three Navy schools may start again in February.
Stuttgart and Ramstein are involved in a pair of head-to-head Division I duels set for Feb. 2. The Royals will host Wiesbaden, while the Panthers host Kaiserslautern.
Finally, AFNORTH hosts a three-team meet and Ramstein a four-team event on Feb. 5, the last regular-season date before, hopefully, DODEA-Europe is again able to crown champions in a centrally located celebration of the sport.
---
---
---
---