Vilseck, Stuttgart off to strong starts if there are titles to defend
By
Special to Stars and Stripes
January 21, 2022
---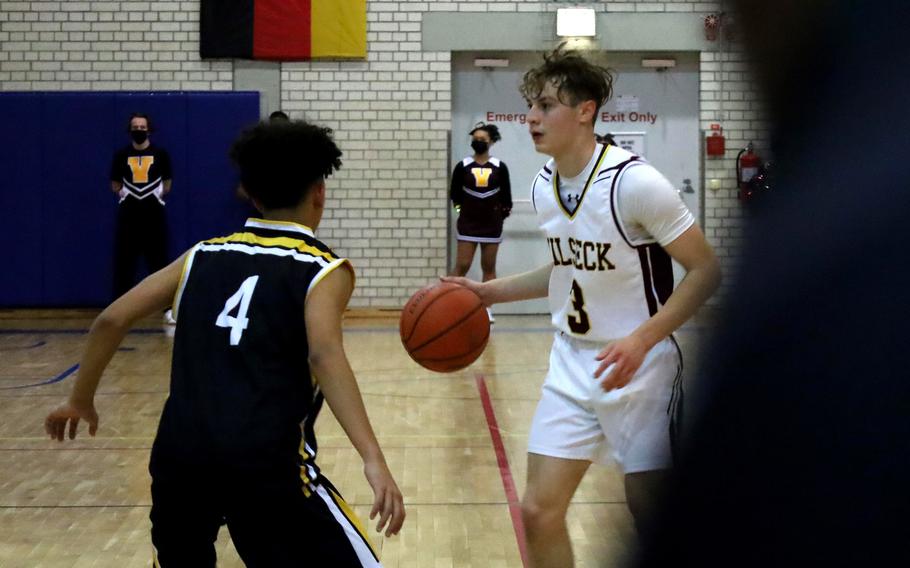 Stars and Stripes is making stories on the coronavirus pandemic available free of charge. See more stories here. Sign up for our daily coronavirus newsletter here. Please support our journalism with a subscription.
A delayed and disjointed season such as the 2021-22 DODEA-Europe basketball campaign does not allow the league's reigning big-school champions to mount a proper title defense. But those teams are doing the best they can with the schedule available to them.
On the Division I boys side, the VIlseck Falcons broke through in a big way in February 2020 with a stunning title game defeat of the dynastic Ramstein Royals in the last DODEA-Europe hoops game before the pandemic took hold.
The well-rounded roster that made that stirring title run had been replaced by a promising new group of Falcons eager to build on that success. This new group has had few chances to prove itself in a season of non-stop schedule disruptions.
But Vilseck got off to a solid start Jan. 7 with a 63-62 defeat of a tough Stuttgart team. The Falcons flashed some of the school's signature grit in the game, overcoming an early 17-9 deficit to earn the victory.
Coach Richard Ritter knows that nothing comes easily early in a new season.
"We just say OK, there will be mistakes," Ritter said after the Jan. 7 victory. "This is the first game and this is the journey and where we are starting."
The reigning Division I girls champion Stuttgart Panthers are taking a similar approach to the season despite an ongoing four-year championship reign. Longtime head coach Robin Hess said in the preseason that this season is "somewhat a new beginning" for every DODEA-Europe team after widespread roster turnover and a year on the sidelines.
That's true even for the Panther girls, one of DODEA-Europe's most accomplished programs in any sport. But this Stuttgart edition is back to its dominant ways this winter.
The Panthers throttled regional and divisional rival Black Forest Academy on Jan. 15, building a quick double-digit lead in a runaway 44-14 victory.
Hess is impressed with her team's early returns.
"I'm encouraged at how quickly the girls have come along, even after missing an entire year of basketball," Hess said. "They are fighters and they give 100% the entire time."
DODEA-Europe's reigning champions and their hungry challengers will have to fight through continued uncertainty for the duration of the season. The COVID-19 pandemic is still going strong across Europe and will almost certainly cause continued cancelations or delays over the final month of the scheduled season.
Vilseck and Stuttgart are still slated to host each other Friday and Saturday even though much of the weekend's competition has been canceled.
The true title defense for Vilseck and Stuttgart will come at the European championship tournaments Feb. 23-26 at Wiesbaden if the event is able to proceed as currently planned.
---
---
---
---