Lakenheath, Alconbury learning lessons on courts again
By
Stars and Stripes
January 21, 2022
---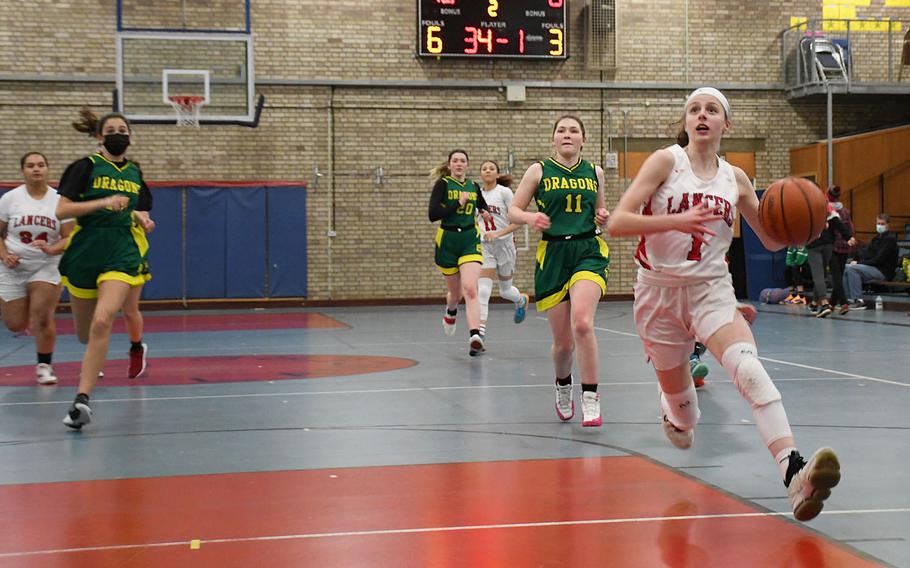 RAF LAKENHEATH, England – Basketball has returned to the two American high schools on U.S. military bases in the United Kingdom. Close games could be a bit further away.
Alconbury and Lakenheath squared off for the second time this season on Tuesday and the results were a pair of mercy-rule victories that went in favor of the larger school.
Jessie Moon scored 18 points as the Lancer girls rolled in a game that was officially over at halftime with a 48-6 score. Gabriel Stevenson then had 25 points for Lakenheath in a contest that was officially over in the third quarter before a final tally of 75-31.
But coaches and players from both Alconbury (112 students) and Lakenheath (358) were glad to just be on the court again after more than a year off due to COVID-19 protocols.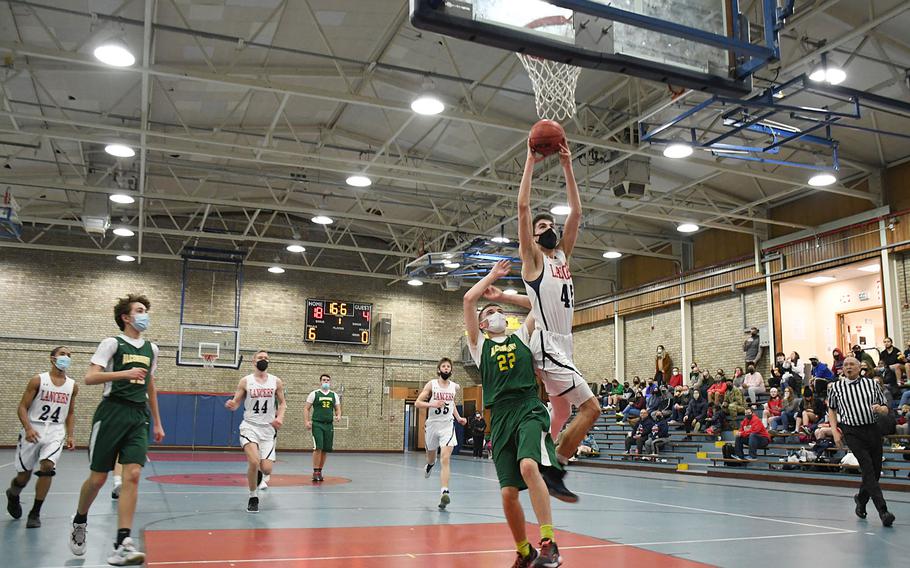 "It's a relief being able to play since we've bene stifled by COVID for the last two years," Lancers girls coach Jonathan Mittenzwey said. "There have been a lot of concerns that we would still be in that position this year. It's good to be able to get the girls some games in."
The Lancers took a 27-2 lead through one quarter and continued to expand it. Their more experienced players shined against the more inexperienced Dragons. But that did not deter Alconbury. The Dragons kept the energy high throughout the game and continued to force the Lancers to execute.
"We have a lot of new kids who have never played before," Alconbury coach Justin Saunders said. "It's important that we can get them out here and get them some experience. They're starting to come together and they have a lot of heart coming from a small school."
Moon also had six assists, six steals and three blocks. A'Lydia McNeal had 12 points and Laela Britt 10 for Lakenheath. Kennedy Liddell led Alconbury with seven points.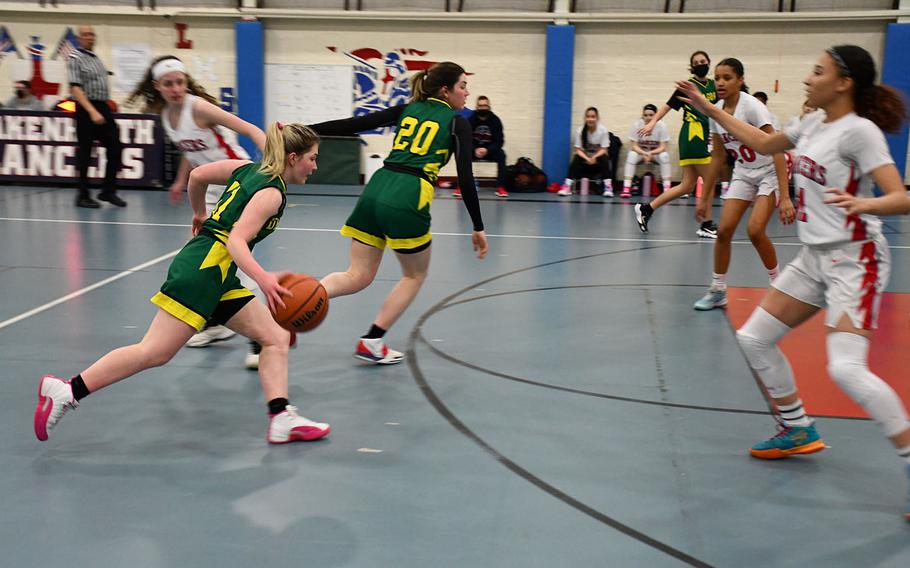 The boys game was fairly similar, though Alconbury kept it closer in the first half.
Stephenson's dunk highlighted a first quarter that saw Lakenheath taking a 21-7 advantage.
Alconbury's offense came alive in the second quarter, but the Dragons still trailed 41-23 at halftime. Lakenheath's defense stiffened in the second half, limiting Alconbury to just eight points.
"It's good playing teams like the Lancers because all we can do is improve," Alconbury coach Ron Behr said. "And if we do get to go to Euros, we'll be ready to play other DIII schools, teams our size."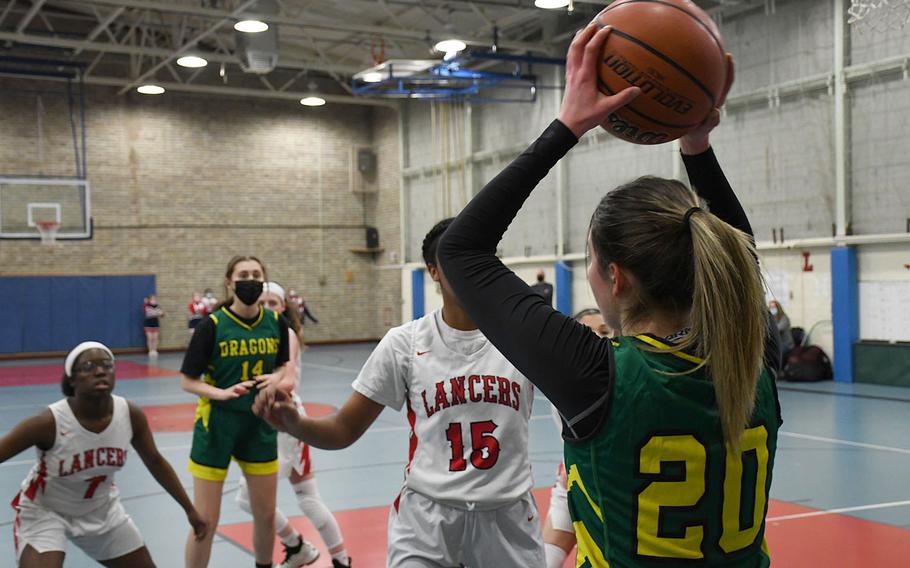 Both schools are scheduled to play this weekend against local national competition in Cambridge.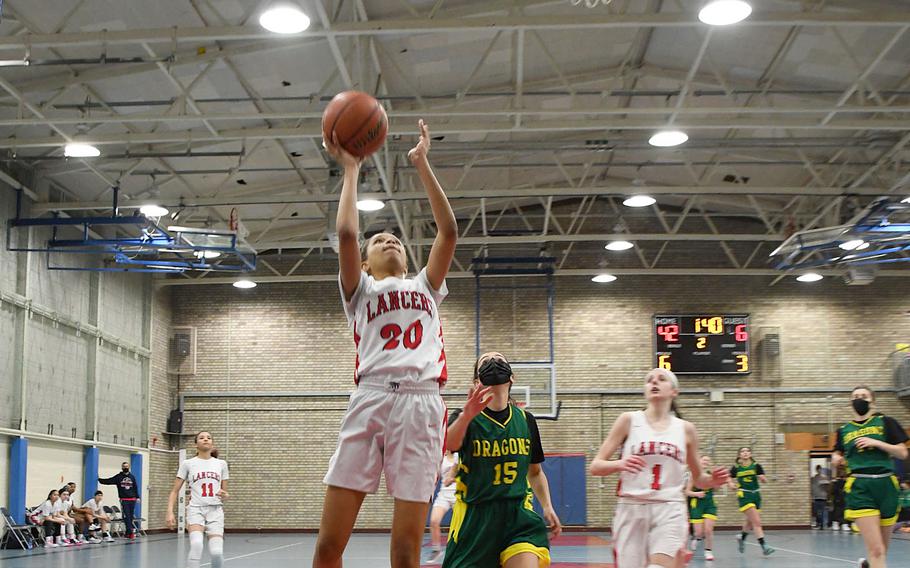 ---
---
---
---