Faces change, but Baumholder's hoops success does not
by
Gregory Broome
Special to Stars and Stripes
January 13, 2022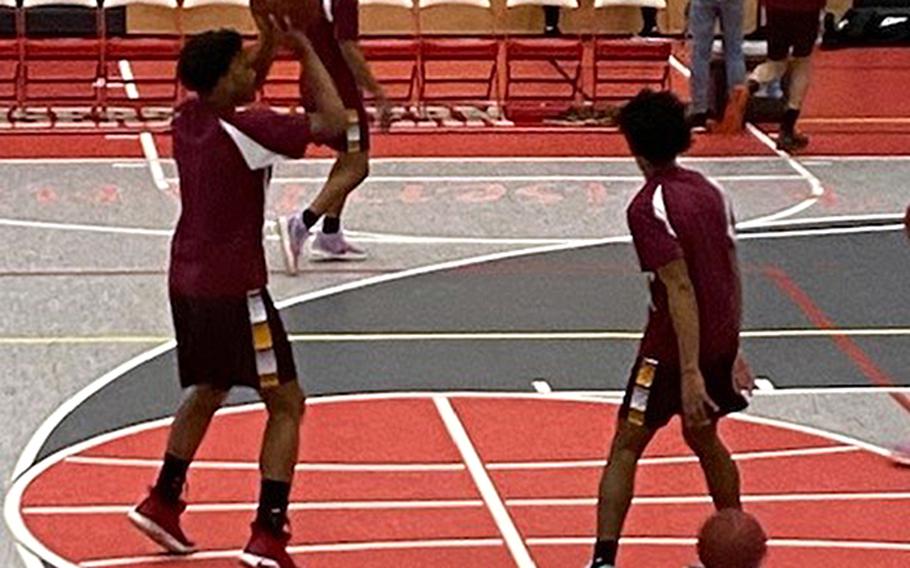 After nearly two years of COVID-related cancellations, DODEA-Europe basketball teams took the court last weekend with a clean slate. Time had passed, talent had moved on, and the pre-pandemic status quo no longer necessarily applied.
But some things haven't changed.
In Baumholder, one of DODEA-Europe's smallest schools continues to produce one of its best boys basketball programs. The Bucs, who extended their Division III dynasty in February of 2020, are still capable of landing punches well above their weight class.
The Bucs opened their season Jan. 7 with an impressive win at Kaiserslautern, the big Division I school looming just an hour away. The next day, Baumholder visited another large-school power in Wiesbaden, grabbing a seven-point lead through one quarter before falling by a respectable 48-44 margin.
Baumholder hasn't avoided the dramatic roster upheaval most DODEA-Europe teams have experienced over the long hiatus from the court. The Bucs are now without phenom Chandler Pigge, one of the most gifted basketball players in recent league memory, along with several valuable upperclassmen from the program's most recent championship roster.
But those Bucs instilled a culture of success that has persisted into a new era of Baumholder basketball.
"The momentum just comes from within," returning head coach Dewayne Pigge said. "Our players who have heard or seen what our past players have done, preparing themselves physically and mentally for the task at hand during the entire pandemic break."
The cancellation of the December portion of the DODEA-Europe schedule cost its teams a few games, obviously, but it also extended training camp. The Bucs made the most of that time, coach Pigge said, developing "unity and chemistry" on a roster that includes senior guards Hiro Maranga and Carlos Sepulveda, both Bucs since their freshman year, and promising newcomers such as Jovan Velasquez and Caleb Pigge.
The work paid immediate dividends on opening weekend. Velasquez scored 21 points in Friday's victory, while Maranga scored a game-high 15 on Saturday. Caleb Pigge produced 12 and 13 points, respectively, in an early display of consistency.
The Bucs have just one more Division I team on their agenda this winter, namely a Feb. 5 visit from the Ramstein Royals. They'll spend the rest of their remaining schedule squaring off against small-school rivals in advance of defending their Division III crown at the European tournament starting Feb. 23.
Regardless of the opponent, Baumholder will bring a level of confidence sturdily built over many successful years and freshly reinforced just last weekend.
"It definitely boosts our team's morale as a small school to know that we can do anything when we put our hearts and minds to it," Dewayne Pigge said.
---
---
---
---